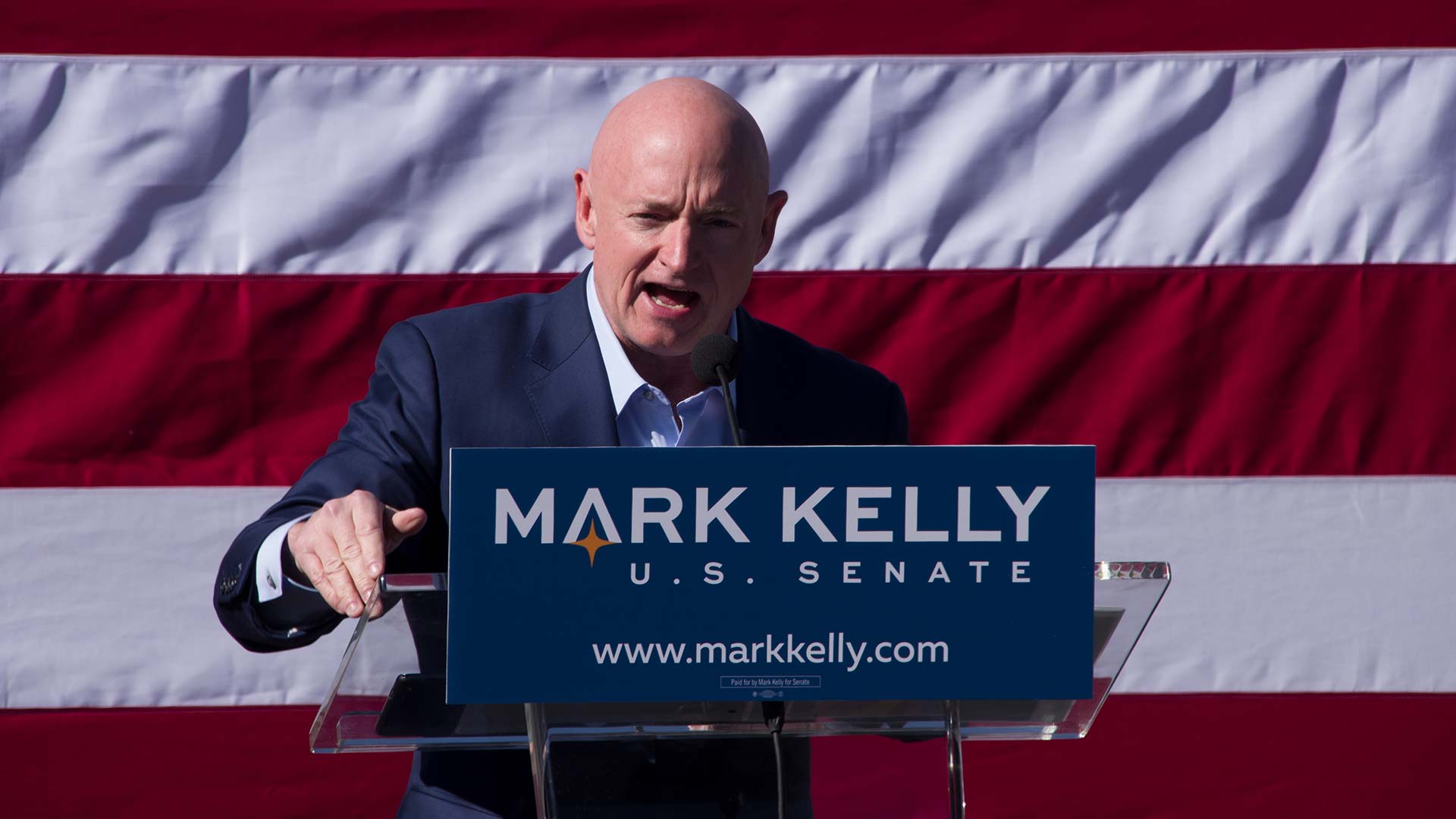 Democratic candidate for U.S. Senate Mark Kelly hits the campaign trail in Tucson. February 23, 2019
Christopher Conover/AZPM
Mark Kelly became a familiar name in Southern Arizona before he decided to run for the remainder of John McCain's term in the US Senate.

Kelly is married to former Congresswoman Gabrielle Giffords. He is also an astronaut who flew four Space Shuttle missions, spending a total of nearly 60 days in space. Kelly is also a retired Naval aviator who flew combat missions in Operation Desert Storm.
The campaign for Senate is happening during a pandemic and as such, health care and the economy have grown into major themes for Kelly.
"We had 500 thousand Arizonans lose their jobs through no fault of their own and so many of them now are trying to get by on $240 of state unemployment insurance payments each week. That's not enough. I've spoken to Arizonans across the state who have to make these crazy decisions about whether or not to pay their rent or buy groceries for the week and these are impossible choices and it's up to the federal government to step up and come to an agreement," Kelly said.
Republicans have tried for years to repeal the Affordable Care Act, also known as Obamacare. Kelly said one of the biggest concerns he has heard while campaigning is that repealing the law could leave people with pre-existing conditions unprotected.
"Folks are worried about losing their health insurance if they have a preexisting condition, they are worried about the price of prescription drugs. Seniors have to pay way too much. I've heard seniors telling me the price of their prescription drugs went up 300% in a year with no explanation as to why and no way to pay for it. And I think we know why, its because Congress won't act on this issue," he said.
The southern border is always an issue in Southern Arizona. This year, the focus is on the rapid wall construction undertaken by the Trump administration. Kelly thinks the wall is the wrong way to get control of the border.
"I served at NASA for 15 years. If you were to ask our space agency to work on the issue of border security, which is incredibly important, they wouldn't give you that 17th century solution that you mentioned for a 21st century problem. It would be apply the right technology in the right area after studying the problem," said Kelly.
Education is often regarded as a local issue since many funding and policy level decisions are made by school boards. Since the start of the pandemic, the digital divide and other factors, have raised education to national attention.
"You know we often haven't valued education where we need to. If elected to the United States Senate, I'm gonna make education a priority. We're at 45th for teacher spending and 47th in per pupil spending, that's not a good investment in our future," Kelly said.
Kelly said if elected he will not blindly follow what the Democratic party tells him to do. He said he wants to be an "Arizona senator."

Read more coverage of national, Arizona, and local elections at our 2020 elections portal,
Your Vote 2020
.