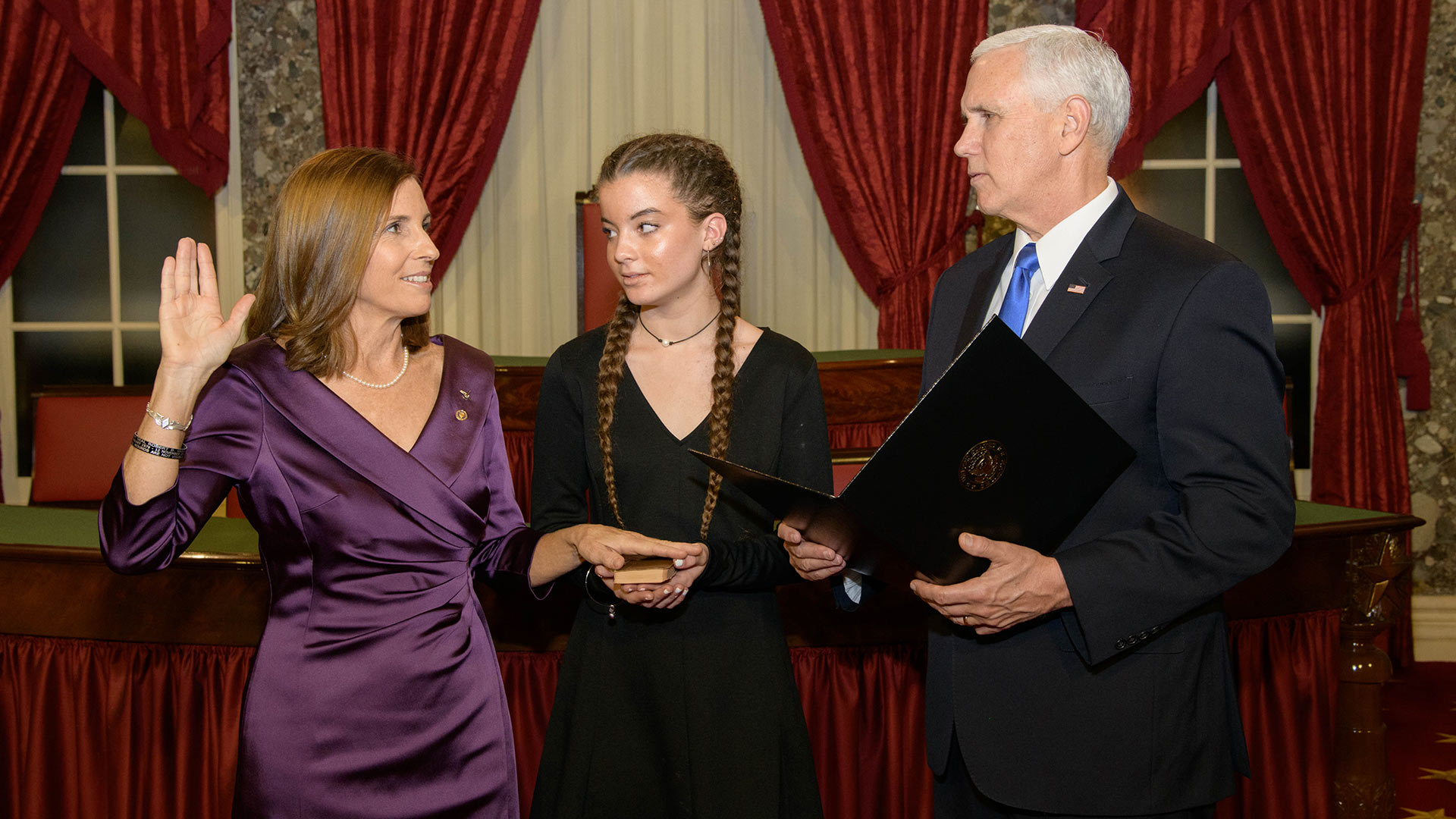 Sen. Martha McSally takes the oath of office for the U.S. Senate, January 4, 2019. Vice President Mike Pence administered the oath while McSally's niece, Ella, held the bible. McSally borrowed the bible for the University of Arizona Special Collections. The copy of the New Testament was recovered from the body of an unknown sailor killed during the bombing of the U.S.S. Arizona in Pearl Harbor.
Office of Sen. Martha McSally
Martha McSally is a well-known name in Southern Arizona. She represented the Second Congressional District for two terms before losing the U.S. Senate race to Kyrsten Sinema in 2018.
After the narrow loss, Gov. Doug Ducey appointed McSally to the Senate to fill John McCain's term until an election could be held. She has held that seat since Jan. 2019.
Before McSally was a member of Congress, she was an Air Force pilot. She was the first woman to fly in combat. She flew missions in the A-10 during Operation Southern Watch in Kuwait. McSally is also the first woman to command an Air Force combat unit. She was the commander of the 354th Fighter Squadron at Tucson's Davis-Monthan Air Force Base.
The COVID-19 pandemic has marked McSally's second year in the Senate. She said she supported legislation to help people through the crisis.
"I've gone to the Senate floor to extend the unemployment benefits unfortunately is was blocked by Chuck Schumer. I have voted yes on a bill that would provide another, over $200 billion in PPP support to small businesses that are still being hurt. And also, additional unemployment support, an extra $300 to just help us get through this. Unfortunately, a lot of people voted no on that and we just couldn't get past the threshold but I'm going to keep fighting for Arizonans out there to put food on the table for their families and get through this difficult crisis," McSally said.
The southern border is always an issued in Southern Arizona politics. McSally supports the new spate of wall building pushed by President Trump.
"I was down in Cochise County, just last weekend, and these fifth-generation ranchers will tell you that this border wall system is really a game changer for them. We know border security is national security and the cartels are well resourced trafficking people and drugs into our communities and also the impact environmentally that illegal activity has. So, we can be good stewards while also ensuring border security for Arizonans. We see the system is not just wall. It's lighting, its roads for Border Patrol to be able to patrol up and down the border," McSally explained.
Racial justice and policing have become an issue throughout the country this year. McSally said she does not approve of the Defund the Police movement.
"Now, every once in a while, there's a bad actor, like those who murdered George Floyd, and just like in the military what do you do? You take them up on charges you put 'em in jail. But you don't vilify, you don't vilify the military when someone commits a crime, so I support the men and women in law enforcement," she said.
The political eyes of the nation are on the Senate race in Arizona because it could determine the balance of power in the Senate. McSally is acutely aware of that fact.
"The implications of the vote are clear. If you want freedom, opportunity for everybody, lower taxes, a stronger economy, border security and a strong military, I'm your girl," McSally said.
---
UPDATE: This version of the story corrects an earlier misquote .

Read more coverage of national, Arizona, and local elections at our 2020 elections portal,
Your Vote 2020
.