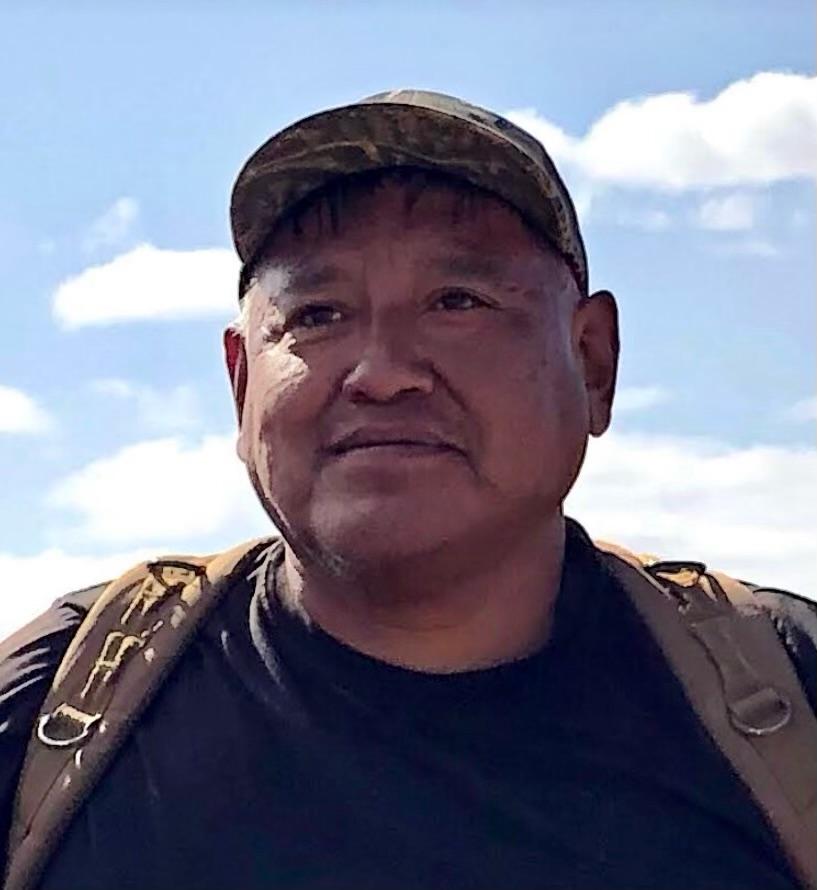 Raymond Mattia was shot and killed by Border Patrol outside his home on May 18.

Courtesy the Mattia family
The family of a Native American man killed on his property by Border Patrol agents on May 18 are looking for justice for their loved one.
Border Patrol agents from Tucson Sector Ajo Station shot and killed 58-year-old Raymond Mattia, a member of the Tohono O'odham Nation, west of the Menagers Dam Village while responding to a call for help.
Raymond didn't deserve to die that way, says his sister Annette Mattia.
"That was excessive force," she said. "It didn't have to happen. There were so many gunshots. Just knowing that was all for him is something that should have never ever happened to him or anyone."
Customs and Border Protection says three agents shot Raymond several times outside his home after he threw an object toward an officer, which landed a few feet from the officer's feet, and then abruptly extended his right arm away from his body.
Raymond turned 58 the day before he was killed, and after his death, his daughter was crying remembering the cake she had made that she never got to give him.
Annette Mattia, Raymond's sister who lives very close to his house, was home the day he was shot. She had received a text earlier saying there were undocumented migrants on Raymond's property who asked to use his phone. He said no, but they didn't leave his property, so a call was made to law enforcement for help.
Shortly after, Annette saw a bunch of Border Patrol vehicles drive into the yard. She grabbed her phone and called her brother. She told him Border Patrol were all over and asked what she should do.
Laughing it off, Raymond said, Just tell them to go away. Annette told him she didn't want to talk to them as she watched the agents rush toward Raymond's yard. He said he'd go out and talk to them.
"Next thing you know, I heard all the gunfire," she says. "I didn't know if it was him or not. I was shaking. I was scared. I was crying because I had that feeling that they did that to him."
She also asked a Border Patrol agent who ran by who they were shooting at and if they shot her brother, and he told her that they possibly did, she says.
Annette lives by herself and was in shock and uncertain what to do, so she went to Raymond's children's home, also nearby.
"I got there and they were already crying. They knew what happened," she said.
She went with his children, who are 24 and 21, to the crime scene. Though they weren't allowed in, they stayed on the outskirts.
While they feared Raymond had been shot, they spent hours not knowing what condition he was in.
Raymond's body lay in his yard for seven hours until the coroner arrived, Annette says.
"We just got to say our goodbyes in a bodybag," she said. "It's so heartbreaking because just hearing all those gun fires, and I keep hearing it in my mind, just reliving it every day and it's so hard."
Under investigation
A Customs and Border Protection statement on the incident says that at about 9 p.m. on May 18, the Tohono O'odham Nation Police Department requested help from the Ajo Border Patrol station to respond to a shots fired call, west of the Menagers Dam Village.
An officer with the Nation Police Department and several Border Patrol agents arrived at Raymond's property at about 9:30, the statement says without naming him.
After shooting him several times, he fell to the ground.
The officer and agents slowly approached him, "secured him," and then began a medical assessment and requested emergency medical services. Agents began CPR and requested air life medical evacuation but were told there was no air life evacuation available due to inclement weather. They continued CPR until a physician at St. Mary's Hospital in Tucson, who they contacted over the phone, pronounced him dead at 10:06 p.m.
The Pima County Medical Examiner's Office took custody of his remains.They performed an autopsy on May 19, but have yet to release the full report other than to say he died of gunshot wounds sustained during an interaction with law enforcement.
The agents involved in the incident are on administrative leave, which is standard practice at this point in an investigation following a use of deadly force. All three agents who discharged their weapons and seven additional agents activated their body-worn cameras during the incident, the CBP statement says.
The agency says they will release the footage as soon as is appropriate to do so without impacting the ongoing law enforcement investigation.
The incident is under investigation by the Tohono O'odham Nation Police Department, the FBI and CBP's Office of Professional Responsibility.
U.S. Representative Raúl Grijalva is asking for accountability and for the Department of Homeland Security to limit the internal investigation due to previous allegations of misconduct in investigations within the agency.
"Like many others, I am disturbed by the reports of excessive force and want to know the exact circumstances of this fatal event," Grijalva said in a statement Friday. "As the FBI and the Tohono O'odham Nation Police Department investigate, the findings must be independently verified and given full public disclosure."
'Now we feel scared to even call anybody'
Raymond's family remembers him as a father, brother, uncle and friend to many. He was a traditional singer for the tribe and would sing all night during traditional ceremonies held in their community.
He was also an artist, a sculptor, a hunter and a prospector. He loved to go out to the mountains and look for gold, Annette says. Raymond was also a member of their local council.
"Raymond was a very peaceful man, a very loving man," says his niece Yvonne Nevarez. "He cared about his family and his community. He always had a voice to protect our land and our people, and he didn't deserve what happened to him. We just can't understand why, and we just want people to know that he was a very good man, and we have been getting a lot of people reaching out to us saying the same thing about him, and we just feel like our lives are torn apart for no good reason."
Annette doesn't know what she's going to do without her brother.
They live in a rural area, far from everything. Undocumented migrants coming through their property is common. Raymond would often tell them to leave, and if it felt more serious, they would call Border Patrol for help. Annette says sometimes they come and sometimes they don't.
One time, Annette was chased by three men in camouflage as she came out of her house.
"They came out of the bushes running toward me," she says. "I called Border Patrol, I called police, no one showed up. I was traumatized from that, and so after that my brother was always there."
With him gone, she feels unsafe because of people who may come onto her property, but also because now she doesn't feel safe to call for help.
"Now we feel scared to even call anybody because look what happened," she says.
The family is holding a "peaceful gathering to support all victims of the unmonitored violent actions of the Border Patrol and other agencies" on Saturday from 10 a.m. to noon outside the Border Patrol station in Why, Arizona, and the Tucson Sector station on Golf Links Road.
A GoFundMe for defense funds will be available soon.