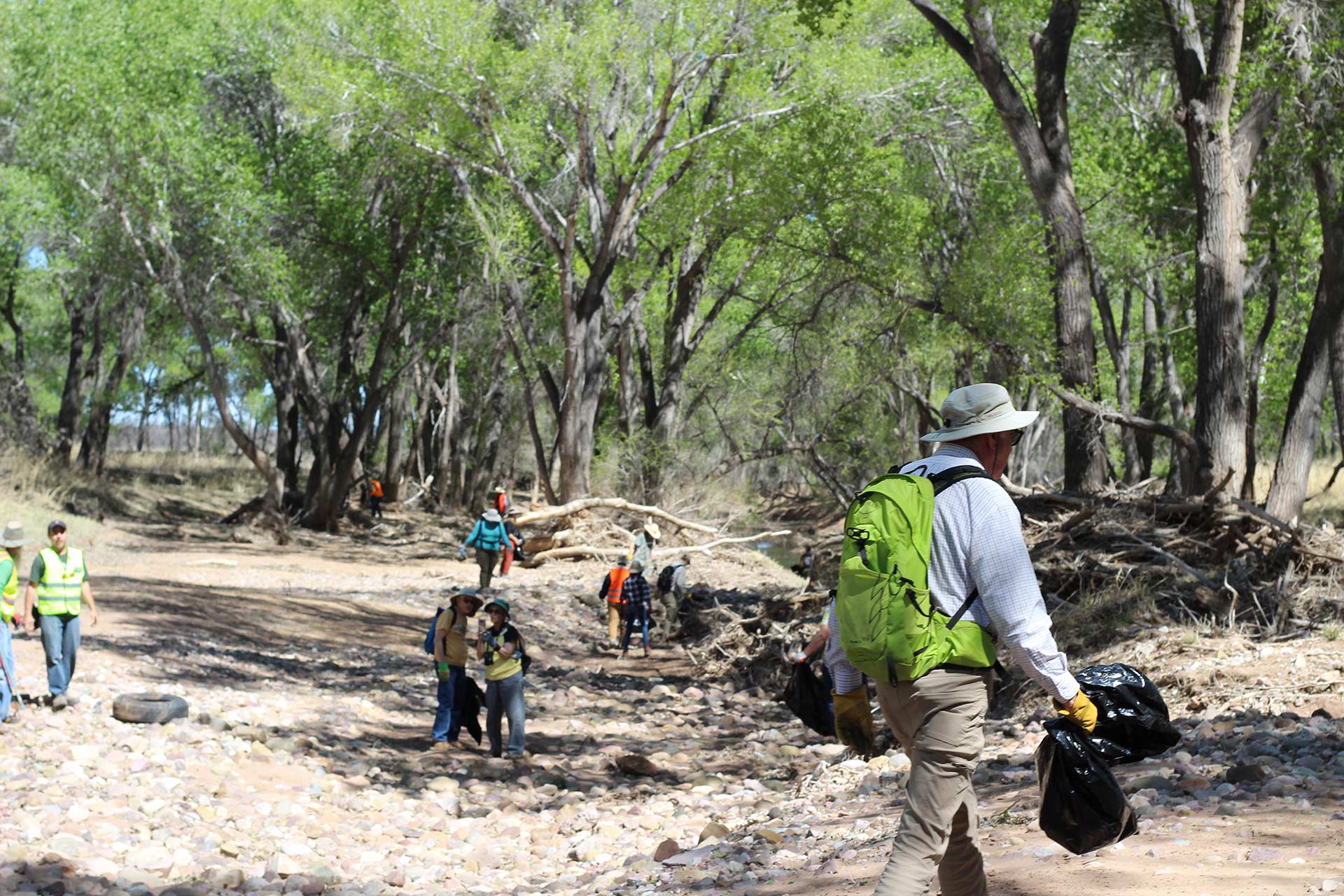 Border BioBlitz volunteers help cleanup trash at the San Pedro River on Saturday, April 1.
Katya Mendoza, Arizona Public Media
Beneath the canopy of cottonwood trees, trash clean-up volunteers hear the wind rustling through the vibrant green, heart-shaped leaves. The poplar species, commonly found in seasonally wet riparian areas, overshadows a nearly dry river bed of the San Pedro River, a well-known stop-over habitat for migratory birds and other wildlife species. The juxtaposition of the ecosystem is contrasted by 30 miles of 30 ft high rust-colored steel.
The San Pedro is the last free-flowing river in Arizona, and home to approximately 18 federally recognized endangered species. According to the Sky Island Alliance (SIA), 45% of the 900 species in North America use the San Pedro River at some point in their lives.
As an effort to document the biological diversity within the 3-mile radius alongside the U.S. - Mexico border, the annual community science effort, the Border BioBlitz kicked off on Saturday, April 1, by the SIA and the Sierra Club Grand Canyon Chapter. The campaign will run for the duration of the month.
Program director of the SIA Emily Burns, called the event a celebration of life that brings people together on both sides of the border.
"To document our shared biological neighbors," Burns said.
The event asks participants to submit observations through the smartphone app, iNaturalist, which will be integrated into a project that allows researchers to track ecological changes.
"It helps those of us that are working on conservation science, wanting to protect the borderlands, (and) want to make sure that it's a healthy, thriving environment for so many different species," Burns said. "The first step in doing any of that conservation work is just understanding what species are there."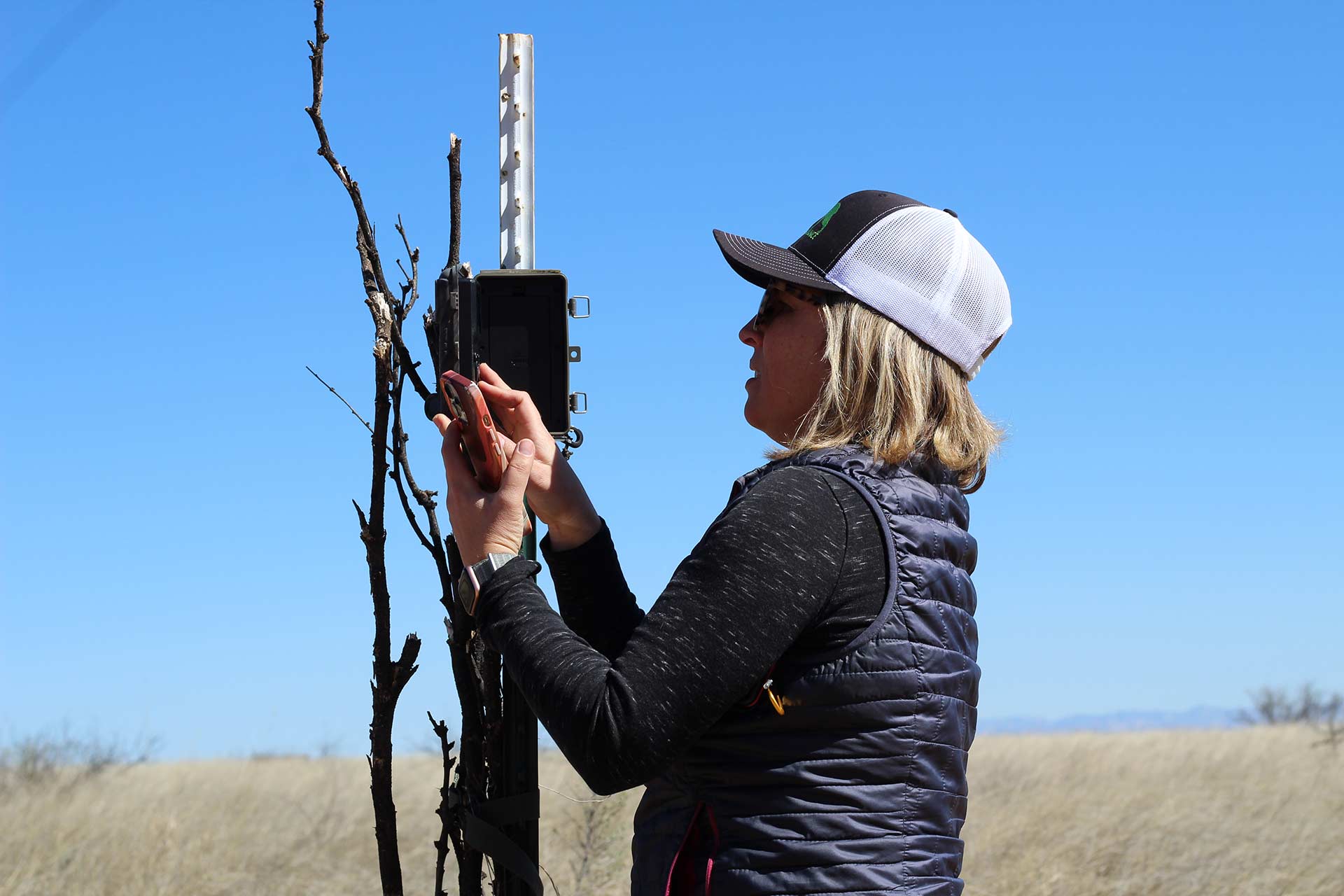 Sky Island Alliance Program Director Emily Burns adjusts a wildlife camera near the San Pedro River.
Katya Mendoza, Arizona Public Media
Back in March 2020, the SIA's Border Wildlife Study established an array of wildlife cameras throughout 30 miles of the U.S. - Mexico border.
"We have dozens of cameras that have been running in this area for three years now," Burns said.
The organization is trying to figure out how effective the area is as a corridor and how the combination and community of mammals, in particular, has changed over time.
"It's a really special place because this is one of the larger areas that doesn't have a border wall through it… and of course, we want to see it stay that way. We want to make sure that it does stay open so that species can move between sky islands like they have for 1000s of years," Burns said.
Borderlands coordinator for the Sierra Club, Erick Meza says the environmental organization partnered up with the Sky Island Alliance through a borderlands coalition.
"I collaborate with them a lot because they do have the capacity to set up cameras in areas that we consider priority areas where the border wall was constructed… that information is really helpful for us to be able to provide the evidence when we're doing a legal battle or when we're (educating) the public."
Meza says that environmental justice near the border is driven by people, that if people are unable to feel a sense of belonging and connection to the land, the less likely they are to protect it.
"When we talk about social justice here in the border, we really need to address some of the social dynamics that are happening," Meza said. The turnout on Saturday morning was nearly 30 volunteers. For some, it was their first time visiting the wall.
June Moore, a resident in Bisbee says it was an emotional experience for her to come to the wall. Moore said she's originally from Northern California. "I cried when I first came here because it makes me think of my family and my husband's family," she said. Her husband is Mexican American, whose family emigrated from Mexico.
"I've never seen anything like this being so far removed," Moore said. "It's been very powerful and of course, we're here in this beautiful habitat and just being present and of course, we're here to pick up trash, but I think there's a more powerful message in terms of how important this ecosystem is and the relationship that we have with the land and each other."
University of Arizona student Ash Avila, who studies planning and landscape architecture, from Nogales, Arizona, said she heard about the Border BioBlitz cleanup through mutual nonprofit work with Meza.
"Here, you just see the range and range of it, and how far it goes along this natural reserve area, and similar into Nogales you have the Santa Cruz and here you have the San Pedro so I think that's a really interesting parallel," Avila said.

UA student Robin Bradley, who is studying natural resources and the environment said the amount of biodiversity was eye-opening.
"I think it's really important that people know just how many other beings live with them and near them and their effect on them," Bradley said. "Events like this are really important."
Volunteers found a variety of objects dispersed throughout the sand, from rusted hubcaps, abandoned backpacks, tires, detergent, and shoes. David Iversen, who lives in Phoenix, says it was a mystery of what he was expecting to clean up.
"I don't know how many steps we took but we found a lot of bottles, water bottles, Pedialyte things like that but more than anything it's the shoes, they're made out of carpet."
He and Andrea Frantz stumbled across about 100 pairs of what border patrol calls "carpet booties."
"This was pulled out of the river…The story is that this is used for migrants to walk from the Mexico side to the US side so they're not leaving footprints, so they just put these over their shoes and there's a dumping ground, probably I'd say into the US," Iversen said.
"I think that when they get rounded up, these shoes get dumped there and they're never cleaned up afterward," Frantz said. "So it's not like people are just leaving them there on purpose."
"You think about everyone wearing these, just the fear and desperation of putting these on and deciding that this is your path forward like this is what you have to do and you think about what they're running from and what happens to them after they take these off, I wasn't expecting to think about that but here I am," Iversen said.
"We saw, I don't know, three or four doe on this side and there was a buck on this side, it looked like he was trying to sort of get through and that was just really sad to see you know, I didn't expect to see that," Frantz said.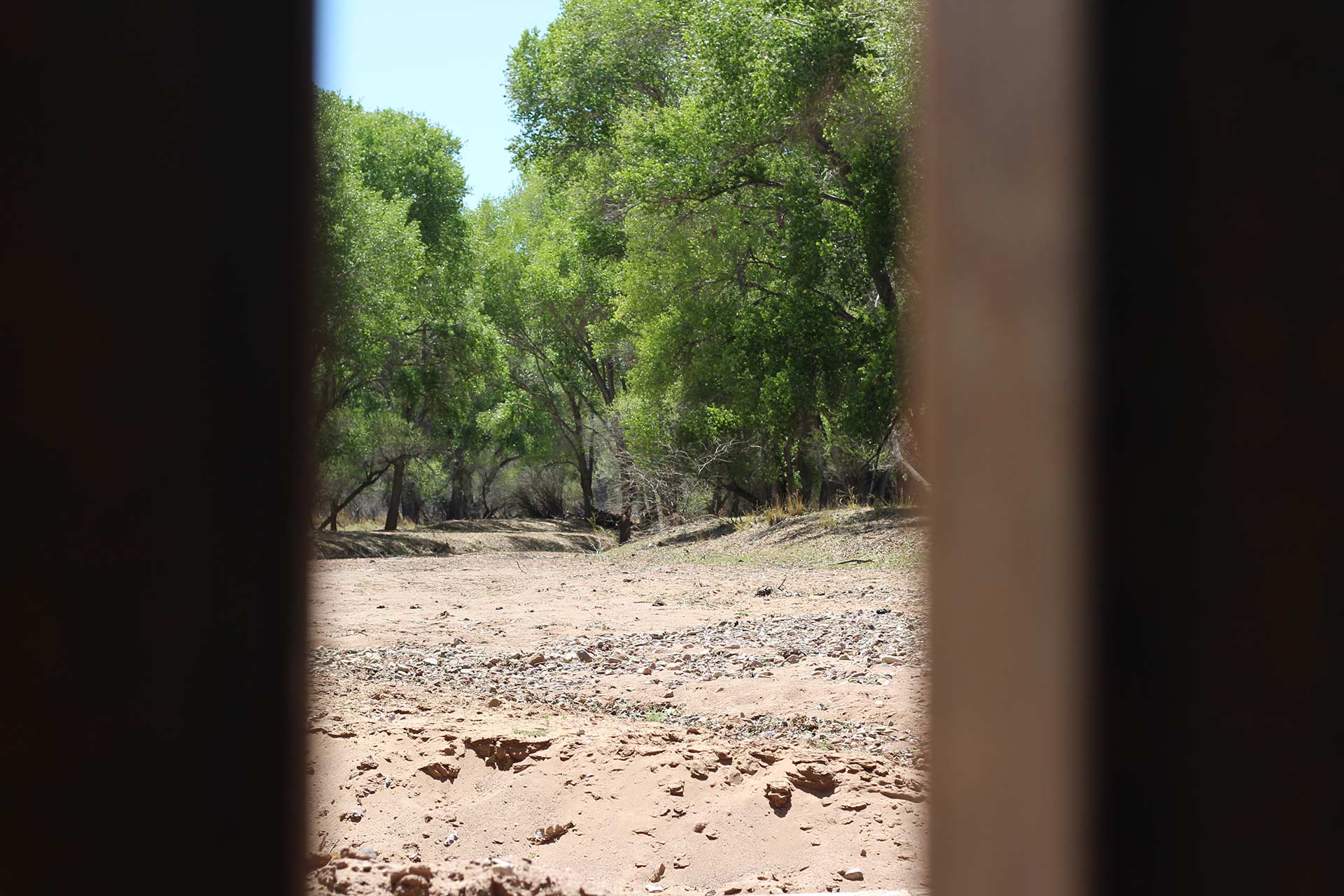 Looking through the rusted-steel border wall into Mexico, at the San Pedro River bed.
Katya Mendoza, Arizona Public Media
For many volunteers, this was their first time being by the border wall, rather than seeing it in the media as part of a bitter political debate.
Ruskin Hartley, executive director of the International Dark Sky Association, a designated authority that protects night skies from light pollution said that the organization is deeply worried about stadium-level output lights that were installed along sections of the walls. He said that law enforcement said that they are probably not even needed. The downside is if they are energized, the impact of these high output lights will be felt for dozens and dozens of miles, he said.
"We know from countless studies in terms of looking at the impact of bird migration that insects and bugs tend to be drawn in those areas," Hartley said. "We actually, honestly have no understanding what the long-term ecological impacts will be. We know there'll be changes and we know that they won't be good."
In November 1988, the San Pedro riparian area was designated by Congress as a National Conservation Area (ACA) as a way to protect the ecosystem. Almost 32 years later, construction of the wall began.
"It's complicated to be honest, the mainstream narrative tends to lean on the negative side," Meza said. "It's important for people to understand that the border is an area worth protecting."
The SIA recently released footage of the last three years of wildlife activity along the 30 miles of the border in southeast Arizona. There were over 43,000 wildlife detections and 132 species identified. The organization hopes to apply its collected data towards further research and advocacy on behalf of wildlife and keeping corridors open.