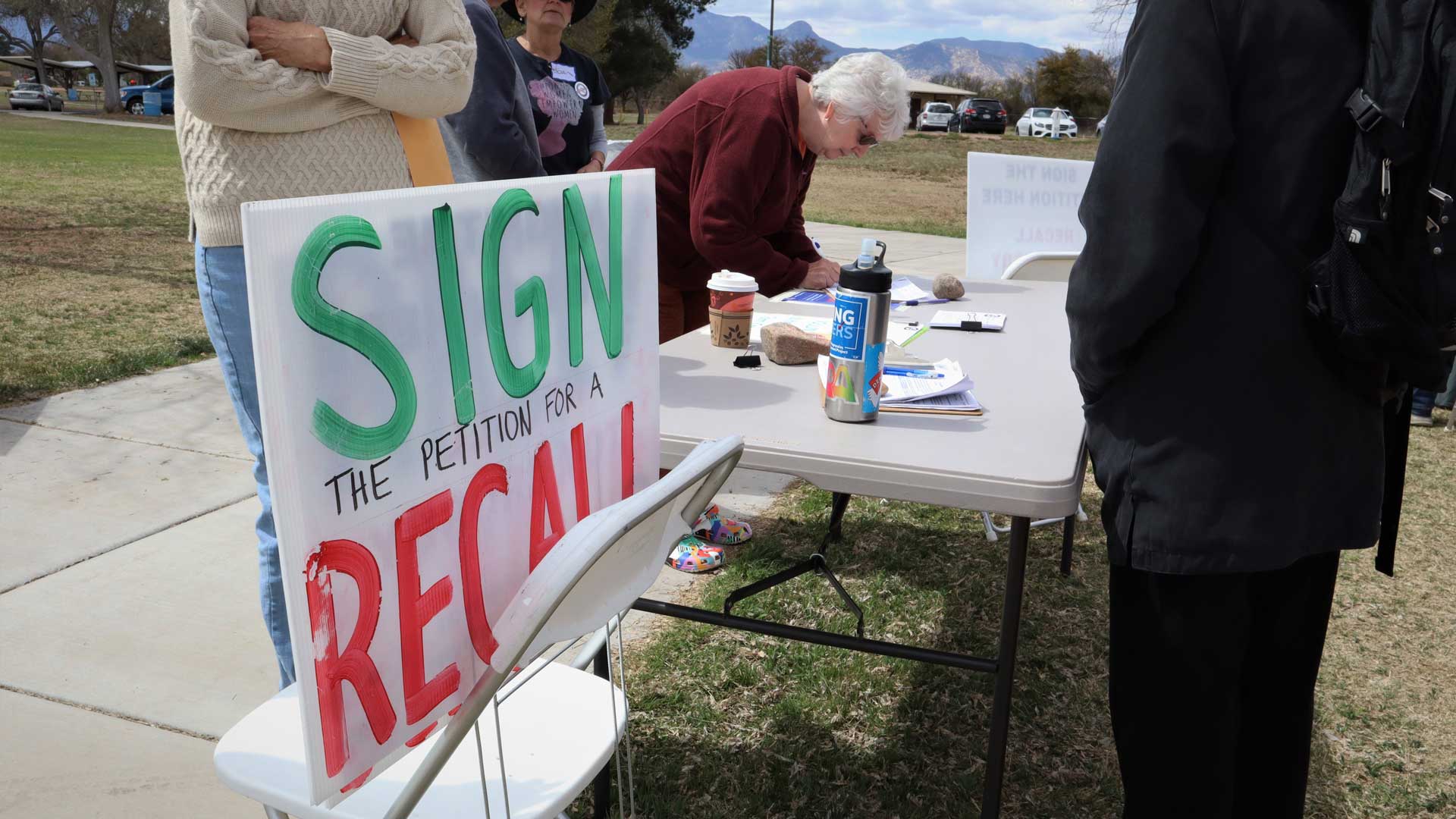 Supporters of the effort to recall Cochise County Supervisor Tom Crosby gather petitions to get the recall on the ballot. April 2023
Summer Hom, AZPM
The recall effort for the District 1 Cochise County Supervisor is racing to the finish line to gather 4,865 signatures in order to successfully trigger a recall election. The group has until May 3 to submit their signatures to the county recorder.
The Recall Tom Crosby Campaign had 120 days to gather more than 4,800 signatures since they filed on January 3 this year. The number of signatures required is dependent on the number of votes cast for that office in the last election for that office.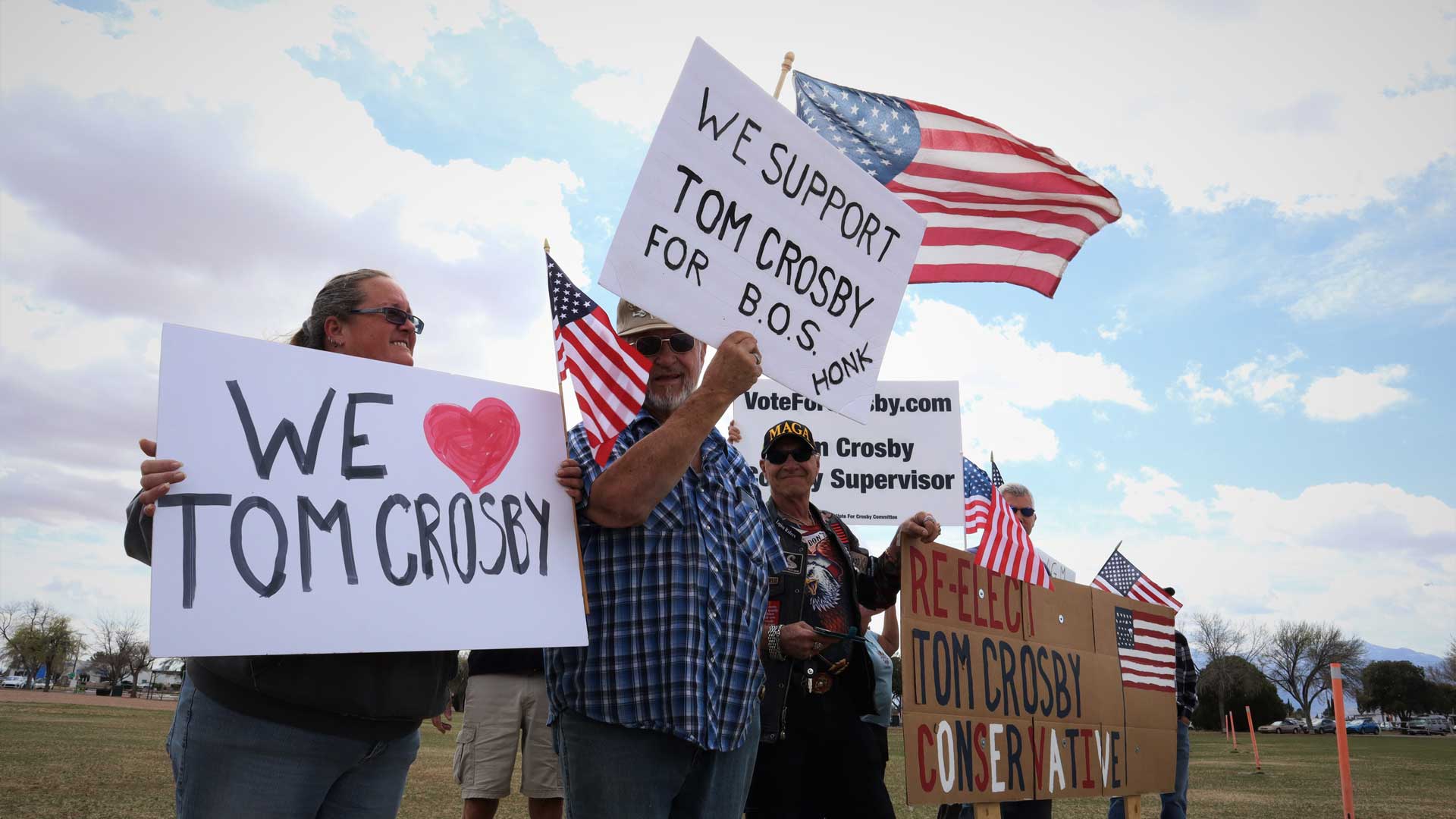 Supporters of Cochise County Supervisor Tom Crosby. April 2023
Summer Hom, AZPM
There were 19,460 votes cast for District 1 Supervisor position in the 2020 election — when Supervisor Tom Crosby was re-elected. 25% of the votes — or 4,865 — is needed in order to successfully trigger a recall election.
Eric Suchodolski, the chair of the Recall Tom Crosby Committee, said that they have about two-thirds of the number of signatures needed.
"It's like 3,200-plus, which is a lot," said Suchodolski. "We have a week left — a little less than a week. And right now, we're about two-thirds there. So, a minor miracle, actually, to be honest."
Throughout the nearly four months that the roughly 60 volunteers have been gathering signatures, Suchodolski said that they've been called names and harassed.
On March 31, Cochise County Recorder and Interim Elections Director David Stevens approached two volunteers with the recall, asserting that the volunteers were on federal land next to the Hereford Post office, and therefore, breaking the law by gathering signatures there. The claim ended up being false.
"The Interim Elections Director I feel overstepped what his duties are," Suchodolski said. "I don't think it's right for that person to be enforcing a complaint, which is what he was doing and calling in the Sheriff's Department. It was pretty ridiculous …
"We had one of our persons say that somebody called her a name — an expletive," Suchodolski continued. "A couple had been chased by a guy who said 'you can't be doing this.' He was trying to say it was illegal. This was back in March. And he turned out to he was — like — Tom Crosby's election manager."
AZPM reached out to Supervisor Crosby for comment, and he responded via email and said he does not have a campaign manager.
Suchodolski said volunteers will be at events this weekend in Sierra Vista as they try to make the most of the last opportunities to sign the petition before the committee submits them on Monday, two days before the deadline.
Supervisor Crosby is running for re-election in 2024 and has one opponent so far, Democrat Theresa Walsh. City of Sierra Vista Council Member Gregory Johnson, a Republican, announced on April 7 on Facebookthat he was terminating his campaign for the District 1 Supervisor.
"I have decided to terminate my candidacy for the Cochise County Board of Supervisors, Division One," Johnson wrote. "Given my age, physical condition, and medical issues I have thought and prayed about continuing. I have come to the conclusion it is time for me to step aside after my term on Sierra Vista City Council has ended in December of 2024 and not run for this important position."