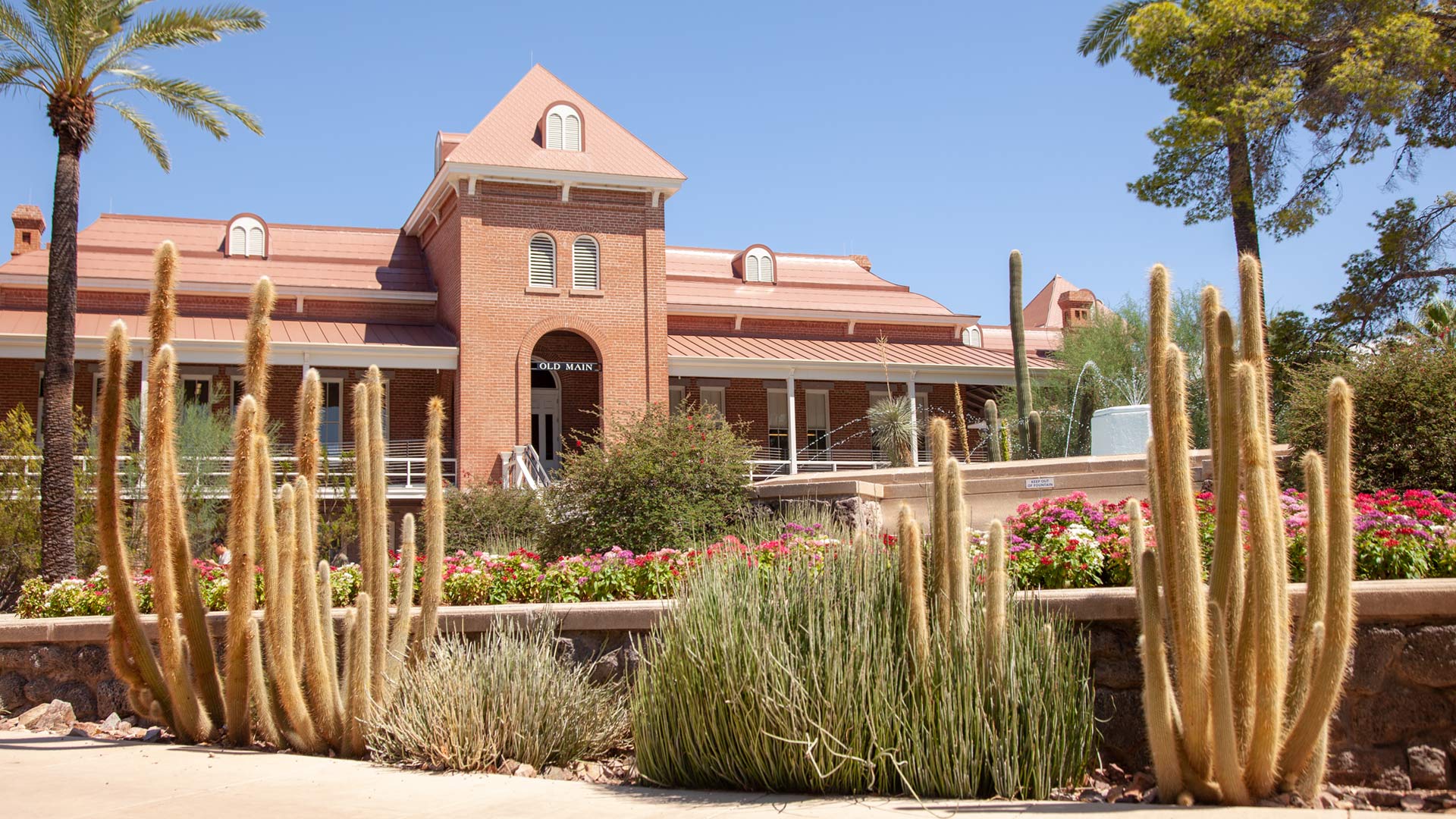 Old Main on the campus of the University of Arizona.
AC Swedbergh/AZPM
University of Arizona President Robert Robbins says the university has "overinvested and that some colleges and units have overspent" following news about UA's falling financial state. Robbins emailed the campus community on Saturday.
Earlier this month, Robbins along with Senior Vice President and Chief Financial Officer Lisa Rulney reported to the Arizona Board of Regents that the university's financial health is fragile.
During the Nov. 2 meeting, Rulney said that an outdated financial model projected 156 days of cash on hand. In reality, the university had 110 days cash on hand at the end of fiscal year 2023 and a projected 97 days cash on hand at fiscal year 2024. ABOR requires universities to maintain a minimum of 140 days cash on hand.
"It did not account for the collective accelerations in spending," Robbins said in his campus-wide email. "The model has been replaced."
At the time of their report to ABOR, UA leadership pointed towards overspending in areas such as athletics and financial aid.
However, according to board documents, the major causes associated with the decrease include inflationary cost increases on travel, supplies, and services, market pressures to raise salaries faster than underlying revenues, and the recently acquisition of UArizona Global Campus, an online university. That acquisition, which was finalized this summer, "added $265.5 million in operating costs, thus increasing the denominator in the days cash formula."
UAGC's acquisition met with opposition from faculty and staff, many of whom expressed concerns over the university tying itself with former Ashford University, a for-profit college.
"From the very first minute that we heard about it, it caused us to question our administration's wisdom, good faith, and perhaps even fiduciary duties to the university," UA faculty chair Dr. Leila Hudson said.
In August, the U.S. Department of Education announced it would cancel $72 million in student loans for borrowers who attended Ashford University after a court ruled that the college misled students about its accreditation, estimated time to graduate and costs.
The department is now looking to recover money from UA. However, the UA claims it had "absolutely no involvement in, and is not directly or indirectly responsible for, the actions of Ashford and its parent company" and will be "assessing its options."
If the university is found to be on the hook, it will further deepen challenges to restore its central reserve funding.
"I think many of the faculty of the University of Arizona are very nervous about having our name on the degrees issued by UAGC," Hudson said. "We don't have oversight; we don't have quality control. We have a lot of suspicions based on what we know about its predecessor, Ashford."
Hudson added she is "disturbed" at UA's current financial status and how it was addressed in the ABOR meeting.
"The President and the Chief Financial Officer were not straightforward in identifying the UAGC operating expenses as the source of our liquidity crunch," Hudson said. "The University of Arizona is a public trust, right? It should be treated as a conservative investment to be sustained with some public monies albeit a shrinking share of public monies. We are not a venture capital fund."
Now, UA has implemented a 2% budget cut and is reconsidering the amount of financial aid given to students, selling off downtown property and re-examining some athletic programs. Some departments have already begun hiring freezes.
In his email, Robbins reassured the campus community that he will be working with "faculty, staff, and shared governance partners to take the actions necessary to ensure this University continues its upward trajectory and remains strong in its core teaching, research, and outreach mission."
"The last few years have been some of the most challenging, and most successful, in University of Arizona history," Robbins said. "Through every challenge, we have rolled up our sleeves, come together as a community, and emerged on the other side even stronger. I am confident we will face this challenge with the same grit and determination to ultimately position the University of Arizona for tremendous ongoing success"
The university has until Dec. 15 to create a plan to address its financial issues.
Disclosure: AZPM stations are licensed the to the Arizona Board of Regents.