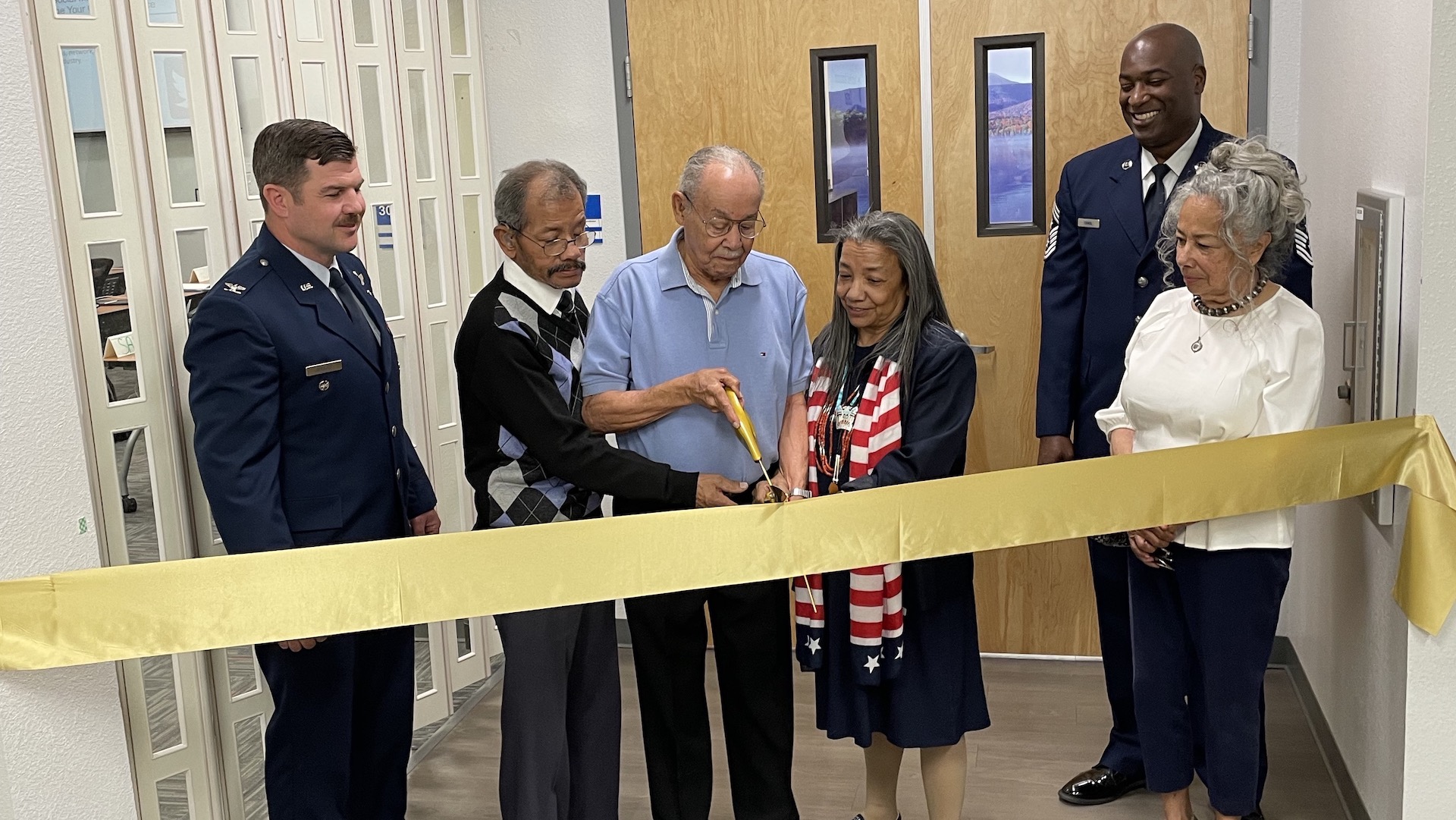 The family of Tuskegee Airman George W. Biggs cut the ribbon as the Davis Monthan Resilience Center is named after Major Biggs - April 2022
Duncan Moon/AZPM
A trip through Davis Monthan Air Force Base is like a visit to a museum of names – streets, buildings, monuments - named for Air Force heroes or noteworthy individuals who served at the base.
The most recent addition is George Washington Biggs, a native of Nogales and one of the legendary Tuskegee Airman - the first Black military aviators in the United States Army Air Corps.

The choice to name the resilience center after Major George W. Biggs was fitting. By all accounts he was a man of courage, who displayed remarkable resilience his entire life.
One might say it was in his blood. His father set a high bar – as one of the famed Buffalo Soldiers, Levi Biggs, overcame extraordinary racial discrimination to reach the rank of Master Sergeant in the U.S. Army.
Major Biggs daughter, Rosario Biggs-Dickinson says her father did not like to be called a hero and would not have enjoyed all the fuss, but she says he earned the recognition.
"It is humbling for us," she says. "We are a very proud, proud Arizona family and we are extremely honored and grateful that he would be recognized in this role."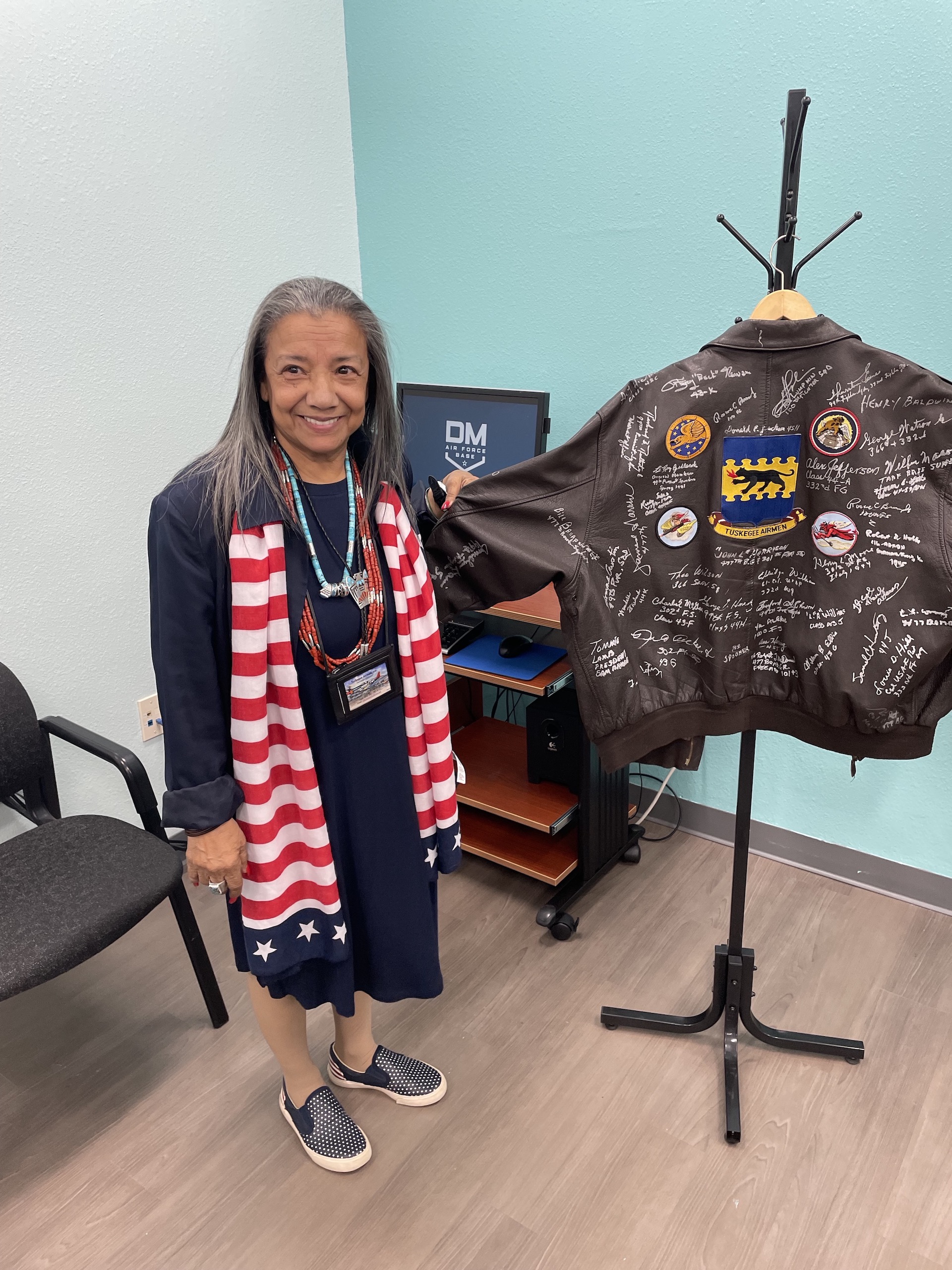 Rosario Biggs-Dickinson, the daughter of Tuskegee Airman Major George W. Biggs stands beside his flight jacket that bears the signatures on his fellow Tuskegee Airmen (PHOTO: Duncan Moon/AZPM)
Biggs-Dickinson calls her father steely disciplined and unbending. Like his father, she says, he believed deeply in honor, and knew that a black man had little margin for error in a white man's military. He knew he could not make mistakes and was rigorous and exacting with himself and everyone around him.

"There were no gray areas. He didn't have to explain it," she says. "Oh my gosh, he was so strict. My whole vocabulary was yes sir, no sir. If we asked if we could do something is school, and he said no, we never questioned it. It was absolute."

Dr. Nate Carr, a retired Lt. Col and son of Col Nathaniel Carr, one of the original Tuskegee Airmen, was a friend of Major Biggs. He said Biggs achieved he called the Double V: the victory of the the Nazis and Axis powers in WWII and the victory over racial discrimination and segregation. Dr. Carr says he can only imagine the prejudice and bigotry Biggs faced in the early 40's. Carr says 30 years later when he himself was looking to enter officer's training, the discrimination was still deep-rooted.
" I come along in 1971 and asked my commander to recommend him for OTS – I have to read what he said, because I dumped this from my mind," he says. "He told me: Sorry, I can't endorse a negro to be an officer because all negros are lazy and slow."
Major Biggs really had two military careers. He tried to join in 1941 when he was 16, when he was working in the laundry at Fort Huachuca, where his father was stationed. He was too young, but the day after his 18th birthday he registered for the draft. At the time he did not yet know how to drive a car, much less have any experience with aircraft.
He trained at the Tuskegee Army Air Field in Alabama during World War II and finished his enlistment as a Master Sgt. in 1946. Two years later, Biggs reenlisted as a non-commissioned officer in the newly created U.S. Air Force. He flew combat missions over North Korea and North Vietnam - and before retiring from the Air Force, he was the first African American officer assigned to Davis Monthan.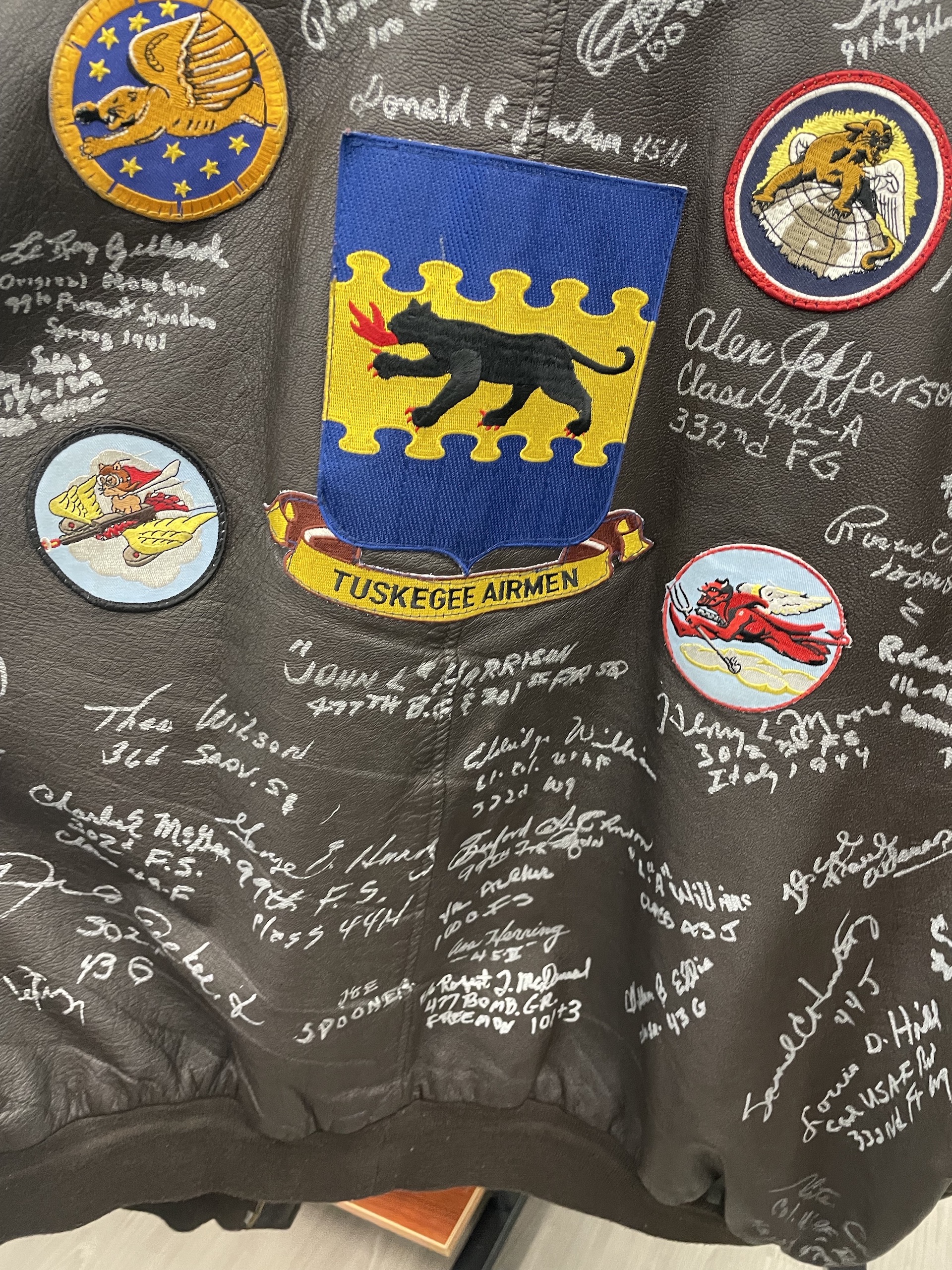 Flight jacket of Major George W. Biggs, signed by his fellow Tuskegee Airmen (PHOTO: Duncan Moon/AZPM)
After such a storied career in the military, retirement might have loomed as a logical next step for Major Biggs, but after he retired from the Air Force in 1970, he continued to lead a life of service. He joined the United States Customs Service in 1974 working another 20 years before retiring for good in 1994.
Dr. Carr said Biggs career took him all over the world and that was rightly reflected in his memorial when he died 2 years ago.
"At his memorial, we said goodbye in many languages," he said. "In Spanish, adios, in Korean, since he served there, Vietnamese, then Japan, sayonara, French, au revoir, and in German, auf weidersehen, just said goodbye, farewell."
But he says Davis Monthan choosing to name its resilience center after Major George W. Biggs brings him new life.
"That name can now go on," he said. "And now he can say hello, buenos dias, sin chow, koneechiwa, guten tag."