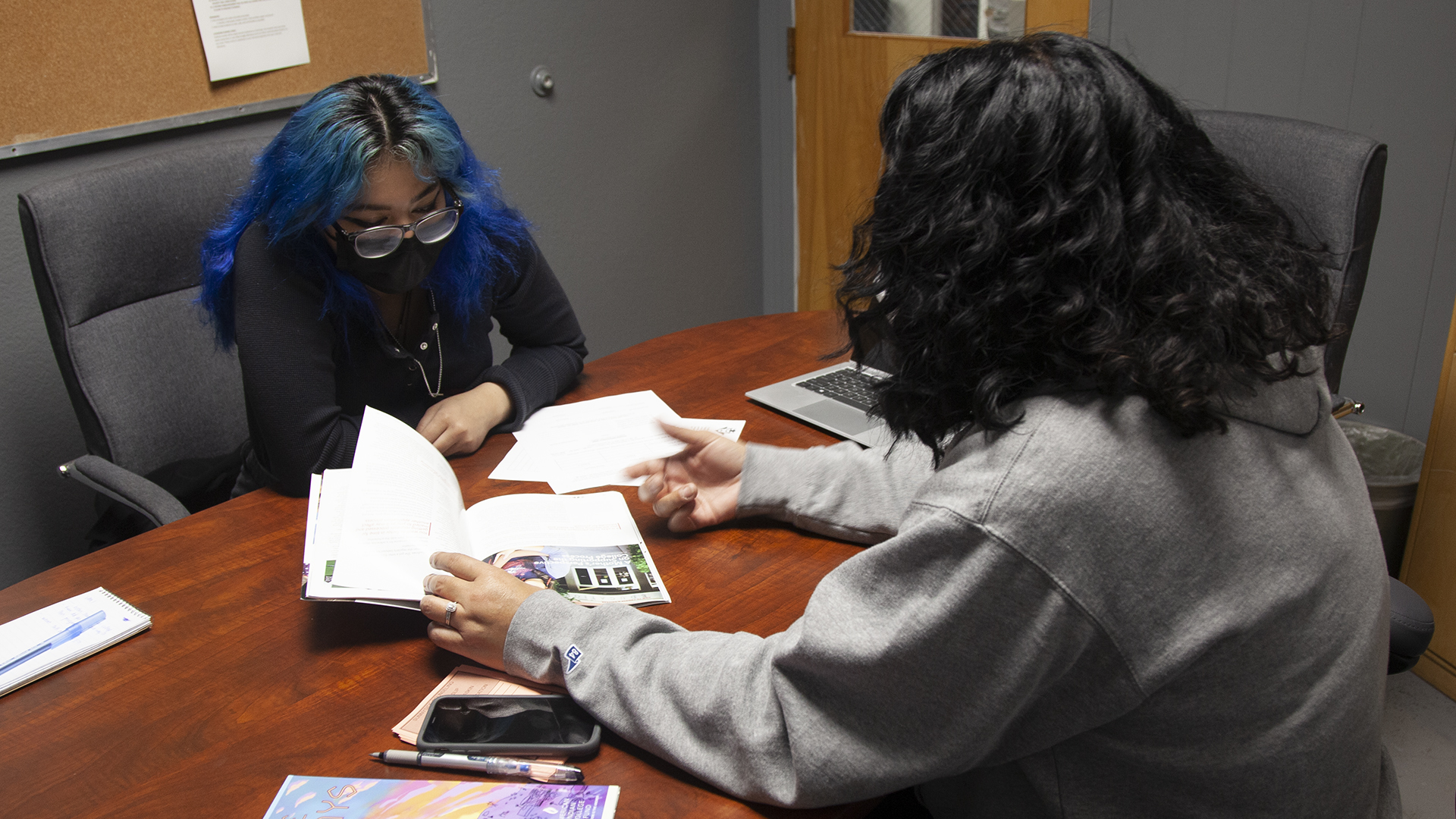 Mya Yazzie, a Diné 17-year-old senior at Sunnyside High School, looks at an Indigenous focused college guidebook with Felisia Tagaban Gaskin, a Diné UA and Sunnyside Unified School District employee supporting Indigenous high schoolers in higher education.
Emma Gibson/AZPM
A University of Arizona doctoral student asked in her 2019 dissertation how universities recruit and which students they tried to woo.
Her findings inspired a program to connect students from a local majority Hispanic, low-income school district to University of Arizona recruiters.
Dr. Karina Salazar is an assistant professor in the Center for the Study of Higher Education at the UA. When she was in the department's doctoral program, she was curious about college access.
When she was ready to graduate from Sunnyside High School in 2007, her mailbox wasn't full of college brochures and her high school did not have big recruitment fairs.
Her parents immigrated from Mexico, and he grew up in southside Tucson. She said she had above a 4.0 GPA when she graduated and is a first-generation college student.
"Somehow I was just lucky to end up at the UA because I never knew anyone that went to the UA. Nobody helped me through my financial aid process, through my admissions process," Dr. Salazar said. "The only folks from higher ed or recruiters who were on my campus were Pima Community College and military. The military was there every single lunch period."
Ozan Jaquette, her former advisor who is now an assistant professor at UCLA, has a radically different story, according to a Los Angeles Times op-ed. He's from a wealthy suburb of Massachusetts. His parents were both college-educated and he was a B-student in high school. Yet, colleges and universities heavily tried to recruit him.
Dr. Salazar's dissertation looked at why some kids are heavily recruited by colleges and others are ignored.
"Is there something systematically biased against low-income communities of color but privileging affluent, predominantly white communities," Dr. Salazar.
She found there were biases. By studying a sample of research universities, she found most were visiting more out-of-state high schools than in-state schools. From those out-of-state schools the focus was on schools with wealthy and mostly white student populations.
This ties back to how much more money universities can get from out-of-state tuition.
Dr. Salazar's work and that of others inspired a UA recruitment program in her former district — Sunnyside Unified.
For the 2021-2022 school year, SUSD has 90% Hispanic students and 83% of SUSD students qualify for free and reduced lunch, said Marisela Felix, a district spokesperson.
Felisia Tagaban Gaskin works for both the UA and the Sunnyside district to recruit Indigenous high school juniors and seniors to the university. She sits with students and talks about their next steps.
"A lot of it is just hearing their hearts about their future. Just sorta sitting down with them and listening to them about their dreams, their goals," Tagaban Gaskin said. "Sometimes it's very clearly connected to higher education, other times not so much."
Right now, she's working with five Indigenous students admitted to the UA. One is Mya Yazzie. She's Navajo, like Tagaban Gaskin, and about to graduate from Sunnyside High School. She's admitted to the UA, and her after graduation interests are wide. She is toying with the idea of becoming a surgeon.
"I'm also looking into psychology, too, like counseling or becoming a therapist or something — that too, that too," Yazzie said. "And then my other one is the military. It's kind of like a family thing, so I'm like maybe I'll do it, too."
During their meeting Yazzie and Tagaban Gaskin talk about the FAFSA — the Free Application for Federal Student Aid — which calculates how much federal funding a student qualifies for.
Tagaban Gaskin then pulls out a college guidebook from the American Indian College Fund. It's called Native Pathways. It covers how to get into college, how to choose a college and much more.
Before the two met, Yazzie said she hadn't really considered college.
"I was only, like, thinking of my other options — because I didn't really want to do college at first. Because, like, another year of school after all this, and I'm like almost done, you know? So I just wanted to kind of like — leave," Yazzie said. "But then we started talking and I'm like, 'Ok, maybe college now.'"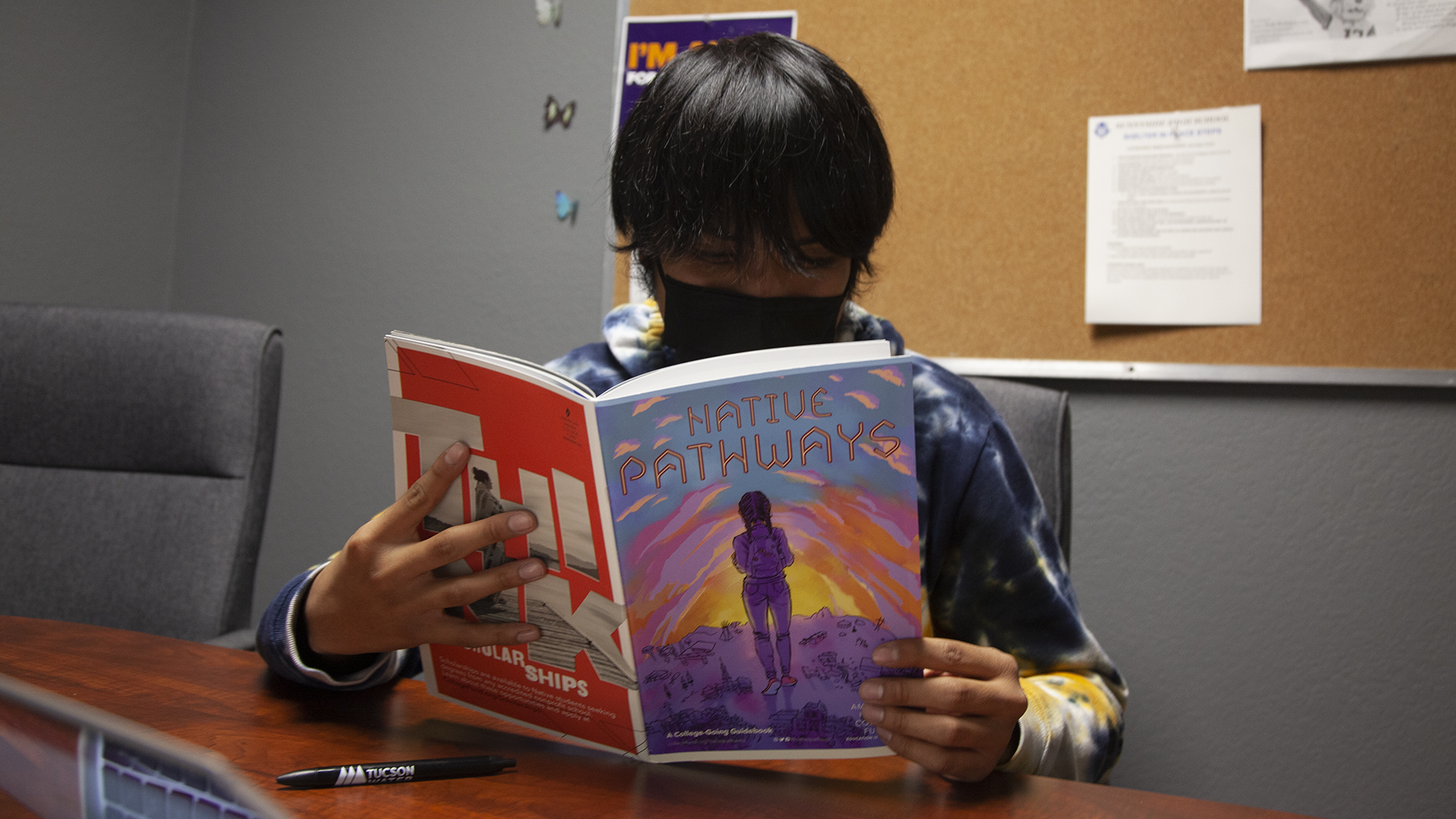 Kayo, a Tohono O'odham 18-year-old senior at Sunnyside High School, looks at Indigenous focused college guidebook with Felisia Tagaban Gaskin, a Diné UA and Sunnyside Unified School District employee supporting Indigenous high schoolers in higher education.
Emma Gibson/AZPM
Kayo, 18, is also a senior at Sunnyside High School. He chose to keep his last name private. He's a member the Tohono O'odham Nation and is ready to go to the University of Arizona.
"My grandpa would always tell me, 'We're going to get you into college,'" Kayo said. "He was like the only person in our family to go to college, so he was always constantly just talking about that to me."
He is interested in studying math or journalism when he's not running. He said meeting with Tagaban Gaskin has helped keep him on track and at their next meeting they're going to talk about admissions essays.
"I think it would be powerful to see more Arizona students in University of Arizona or pursuing higher education in general," Tagaban Gaskin said. "I think it would absolutely change the trajectory of our state."