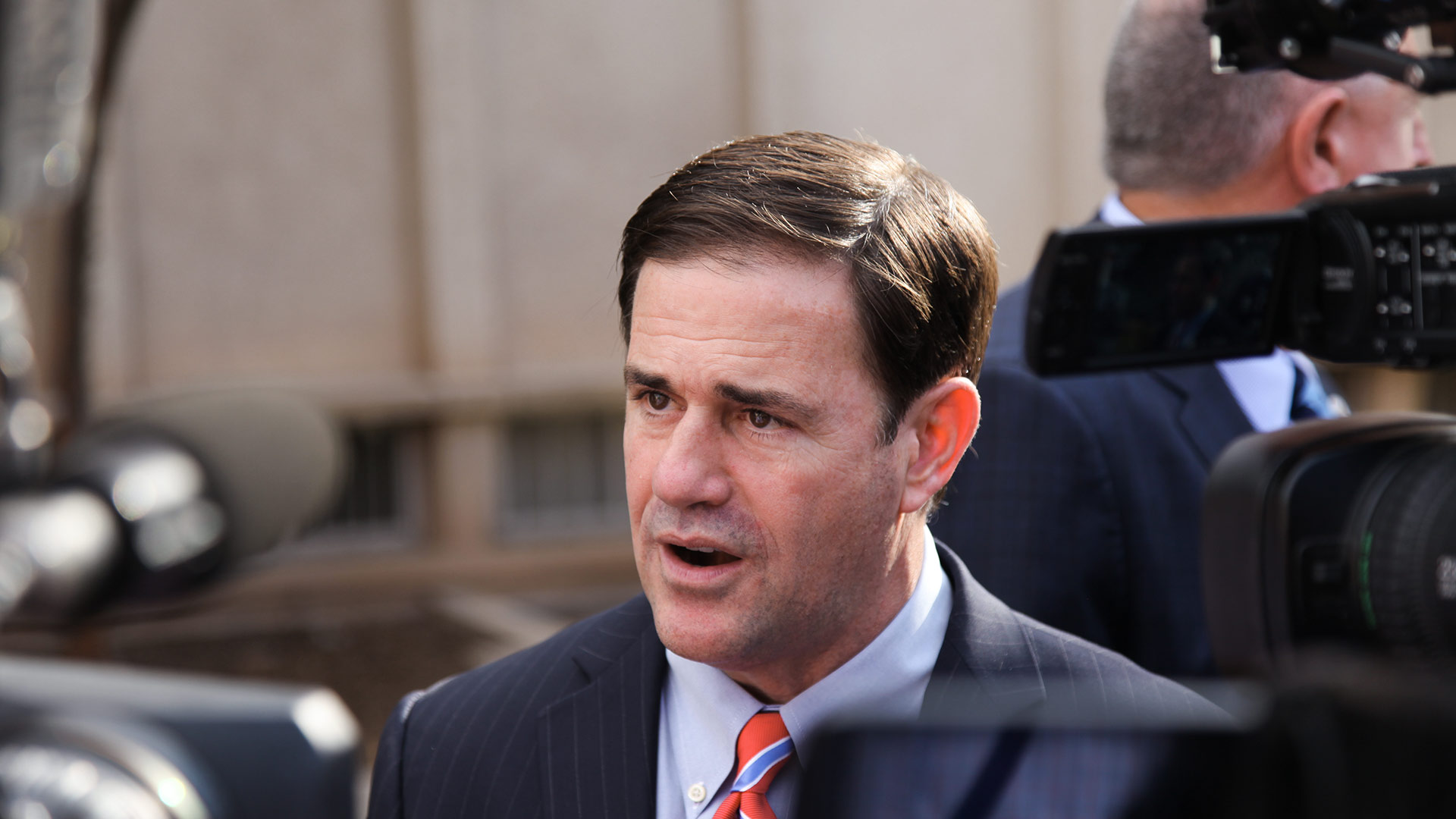 Arizona Gov. Doug Ducey speaks to members of the media Oct. 4, 2017 on the University of Arizona campus.
Nick O'Gara, AZPM
Summary of Gov. Ducey's proposed FY2023 budget

View at Google Docs
|

Download File
Gov. Doug Ducey on Friday proposed a $14 billion state budget for the year ahead, outlining more than $1 billion in new spending as he touts a surplus on his way out of office.
The plan includes an earned income tax credit the Ducey administration estimates would amount to an average of $128 annually for about 577,000 eligible Arizonans.
The budget also calls for saving an additional $425 million in the state's reserve, or rainy day fund, which already totals nearly $1 billion.
The budget calls, too, for putting $400 million into expanding Interstate 10 between Phoenix and Casa Grande.
The governor also wants to put $50 million into a Border Security Fund, which would pay in part to build fencing on private land near the U.S.-Mexico border.
And the governor is proposing to put $1.16 billion into water augmentation over the next three years. That includes spending after he will have left office and could include a desalination project with Mexico — a prospect the governor mentioned during his state of the state address on Monday.
"We're going full throttle to leave Arizona stronger than we found it through targeted investments in education, public safety, border security, infrastructure and the things that matter to Arizonans," the governor said in releasing his proposed budget.
Democrats signaled support for some elements of the plan.
For example, in a bid to increase the number of foster children placed in the care of family members, the proposed budget calls for increasing the monthly stipend paid to these kinship foster caregivers from $75 to $300. Democrats have previously backed that idea.
But Senate Minority Leader Rebecca Rios, D-Phoenix, said "the devil is in the details."
"What Arizona needs is a Governor who takes the COVID-19 pandemic and our school funding crisis seriously," said Senate Minority Leader Rebecca Rios, D-Phoenix. "Instead, the Governor is adding an additional $425 million to the Rainy Day Fund when those dollars could address issues Arizonans are facing now and will in the future, such as our water crisis and ongoing teacher shortage.
The governor's proposal is just the start of the budget process. Legislators will craft their own spending plan over the coming months."