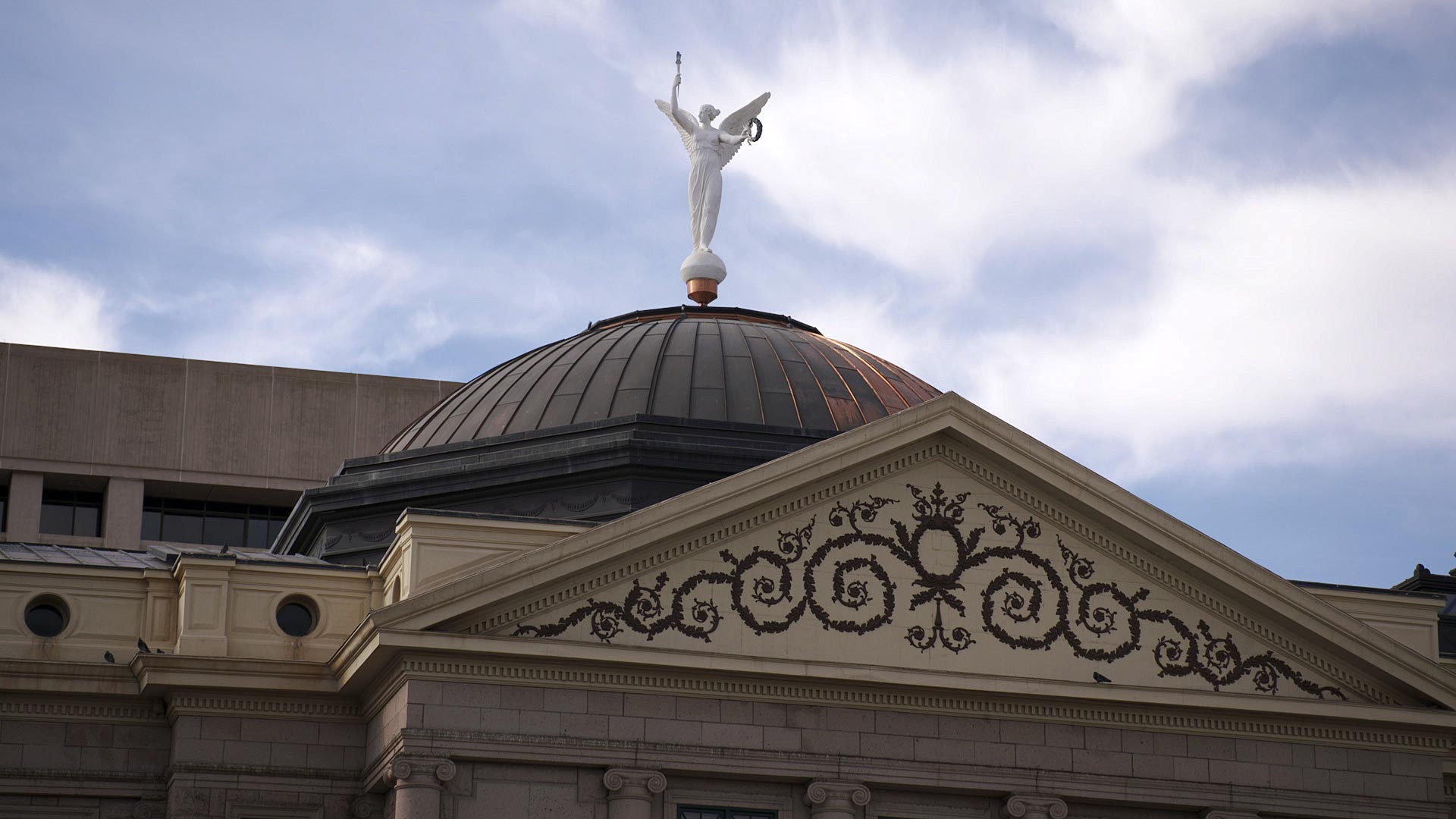 The dome atop the Arizona Capitol Museum at the State Capitol in Phoenix. January 2021.
AZPM Staff
A federal judge on Tuesday blocked part of a new law scheduled to take effect this week that would ban doctors from providing abortions solely because of a genetic abnormality.
Opponents of Senate Bill 1457 said in a lawsuit that it would have a broader chilling effect and that even if a genetic abnormality is not the reason a patient seeks an abortion, doctors might refuse to help anyway if they suspect it is, for fear of facing a felony charge.
In a ruling on Tuesday, U.S. District Judge Douglas Rayes raised concerns about the law's potential chilling effect on doctors and said the measure is "not designed to encourage women choose childbirth; it is designed to thwart them from making any other choice."
Rayes also said the law may be too vague, with a "squishy" definition of genetic abnormality.
And he questioned how a doctor can be deemed to "know" or "believe" what is in the mind of a patient.
"This problem is exacerbated by the reality that the decision to terminate a pregnancy is a complex one, and often is motivated by a variety of considerations, some of which are inextricably intertwined with the detection of a fetal genetic abnormality," Rayes wrote. "For example, patients sometimes report that they are terminating a pregnancy because they lack the financial, emotional, family, or community support to raise a child with special and sometimes challenging needs."
The law was passed earlier this year with only Republican support in the Legislature.
The judge's order stops the state from enforcing the ban for now but it is not the end of the case.
The ruling comes in response to a lawsuit filed by two doctors and several organizations opposed to the new law, represented by the American Civil Liberties Union and Center for Reproductive Rights.
"People should not be interrogated about their reason for seeking an abortion. There are no right or wrong reasons," Emily Nestler, senior counsel at the Center for Reproductive Rights, said in a statement.
But supporters of the law touted that other provisions will go into effect, including a provision that says "an unborn child at every stage of development" has "all rights, privileges and immunities available to other persons, citizens and residents of this state."
"We remain confident the law will be upheld and ruled enforceable in its entirety," said Cathi Herrod, president of the Center for Arizona Policy, which backed the measure.