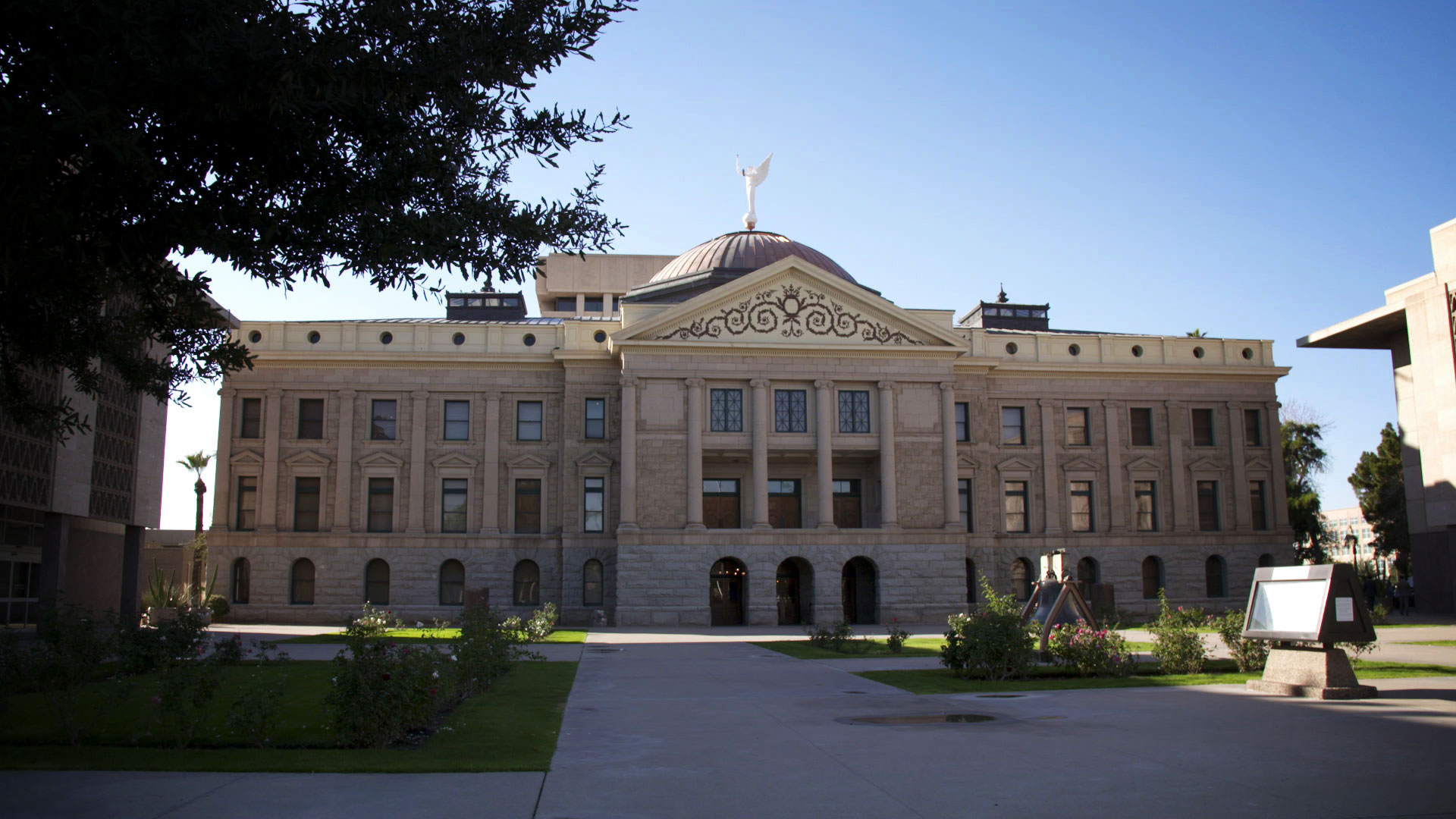 The Arizona State Legislature in Phoenix.
Steve Riggs/AZPM Staff
A state judge on Monday struck down a new law banning Arizona schools from requiring students to wear masks, along with several other policies legislators approved earlier this year.
The law was scheduled to take effect this week and had put into question measures that several school districts across the state adopted to prevent the spread of COVID-19 as students returned to classrooms for the fall semester.
But Maricopa County Superior Court Judge Katherine Cooper ruled that legislators violated the Arizona constitution by rolling the provision into the state budget.
Arizona's constitution says each piece of legislation should concern only one issue and that the title of legislation should accurately reflect its subject.
However, lawmakers attached a range of policies to what are known as budget reconciliation bills, which Cooper said should be related to the state's budget.
"None of these measures remotely pertains to the budget or budget reconciliation," Cooper wrote in a 17-page ruling.
But the budget is also a must-pass package of legislation and lawmakers have turned the reconciliation bills into a smörgåsbord of policies.
Many of those policies are salvaged from legislation they did not have the support to pass as standalone bills at the state Capitol.
Other policies tucked into the budget reconciliation bills limit how teachers can talk about race in the classroom, prohibit local governments from requiring anyone be vaccinated for COVID-19 and curtail the powers of Arizona's secretary of state.
"The bill is classic logrolling — a medley of special interests cobbled together to force a vote for all or none," Cooper wrote.
The ruling comes in response to a lawsuit filed in August by the Arizona School Boards Association, teachers, parents of students, and others.
Roopali Desai, an attorney representing the plaintiffs, said the ruling "confirms that the constitution in Arizona means something."
Desai argued the measure comes at a key time for schools and local governments still grappling with the spread of COVID-19.
"Cities and towns and counties are now able to make decisions that best meet the needs of their communities. If they determine that mask mandates or vaccine policies are necessary to protect the health and wellbeing of their communities, they can adopt those policies, which is what we should want our local governing bodies to do," she said.
Attorney General Mark Brnovich said he would appeal the ruling.
"It's unfortunate that left-wing groups want to undermine the legislative process and indoctrinate our children with critical race theory and force vaccines on those who don't want them," Brnovich said in a statement.
Some school districts that had been preparing for the new law to upend public health measures put in place at the start of the semester quickly announced policies, such as requiring masks, would remain in place.
Catalina Foothills Unified School District sent a note to parents and faculty on Monday afternoon that said masks would still be required indoors on the district's campuses, citing the judge's ruling.
The decision comes the week after a study of schools in Pima and Maricopa counties found schools without mask requirements are 3.5 times more likely to have a COVID-19 outbreak.
Decision in ASBA v State

View at Google Docs
|

Download File