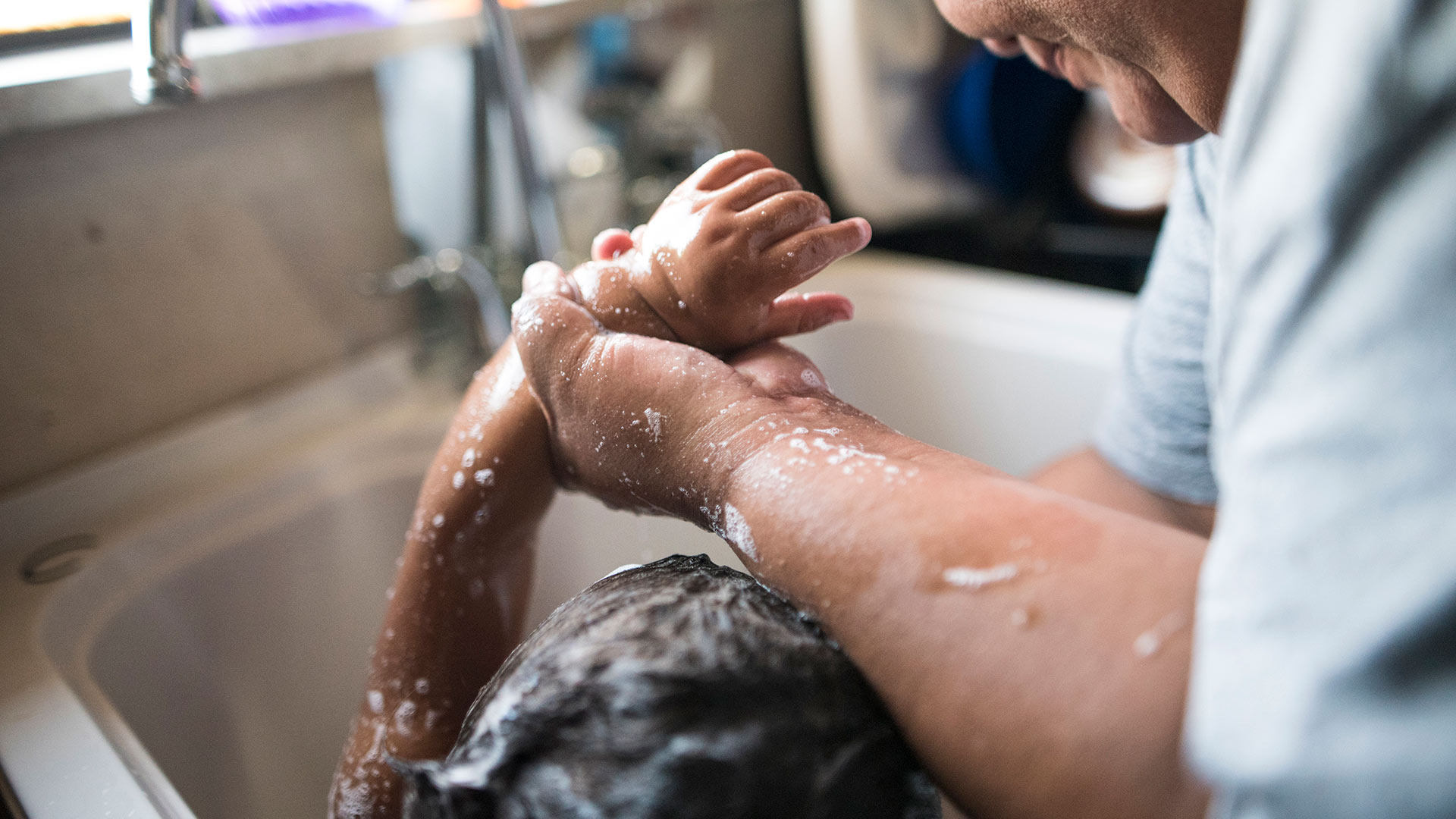 Baby getting a bath in a Navajo Water Project installed utility sink.
Courtesy of DigDeep
Shanna Yazzie doesn't have running water in her home within the Navajo Nation, but her job is to outfit her neighbors with clean, potable water.
Though some people are living in homes that have sinks and bathrooms, they've never seen them flow with water until Yazzie's team with the Navajo Water Project rolled in.
She's the project manager for the Navajo Mountain Team along the Arizona-Utah border on the Navajo Nation.
Within the nation, 30% of the 173,000 residents don't have running water or a toilet at home, according to the project's nonprofit, DigDeep.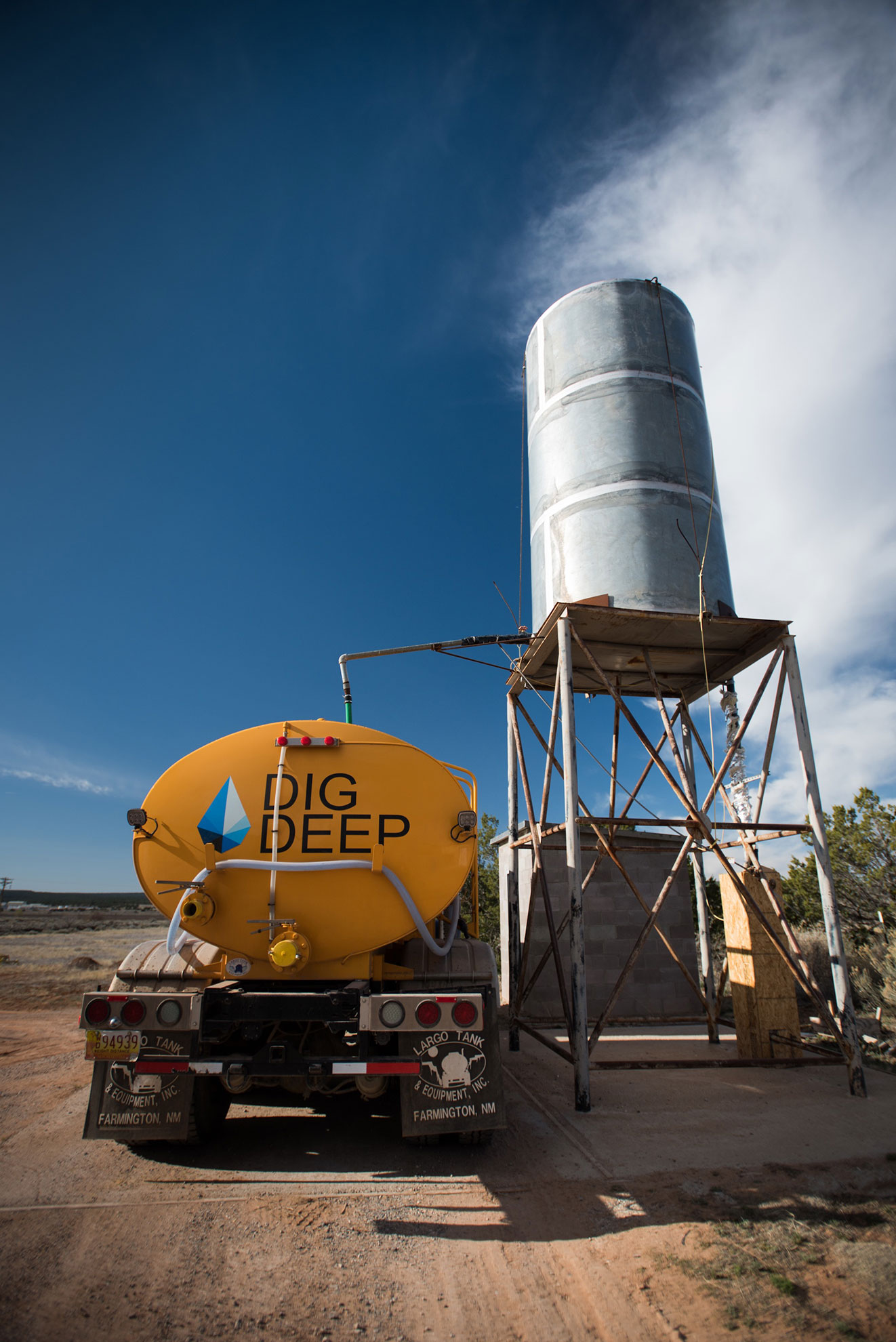 VIEW LARGER A DigDeep water tank being filled within the Navajo Nation as part of the Navajo Water Project.

Courtesy of DigDeep
Its goal is to set up water systems to bring hot and cold clean, running water into homes across the U.S.
According to a survey it did with the U.S. Water Alliance in 2019, there are more than 2.2 million Americans living in homes without running water or simple plumbing.
"When I go home at the end of the day, I'm not sad that I don't have water, because I'm able to do all the things that I can to continue to haul the water myself or have my team come and help me with the water," Yazzie said. "I'm fine. Someday — one day I'll have running water, but right now I'm able-bodied, so that's the difference between myself and the other families that we're helping.
Yazzie said the Navajo Water Project prioritizes getting running water in the homes of the older adults, people with disabilities, people without transportation or homes with children.
The three teams within the project get to know the communities around them and then identify rural homes that aren't likely to get running water soon. For these households, they install a home water system.
"We've always been in a water crisis. It's just been highlighted since the pandemic and programs and infrastructure are now moving at a faster rate than normal," she said.
She said people accustomed to rationing water or spending hours hauling it home in barrels or multi-gallon buckets from community water points take a while to transition to life with running water.
The Navajo Water Project's long-term home water system has a 1,200 gallon underground cistern, utility sink, a two-gallon reserve tank and water heating components.
Yazzie said the majority of homes works on "off-grid," so they need solar water pumps.
She said when people first get their systems, they use it sparingly, sometimes taking up to three months before they need a refill. Usually, she schedules refills every other month.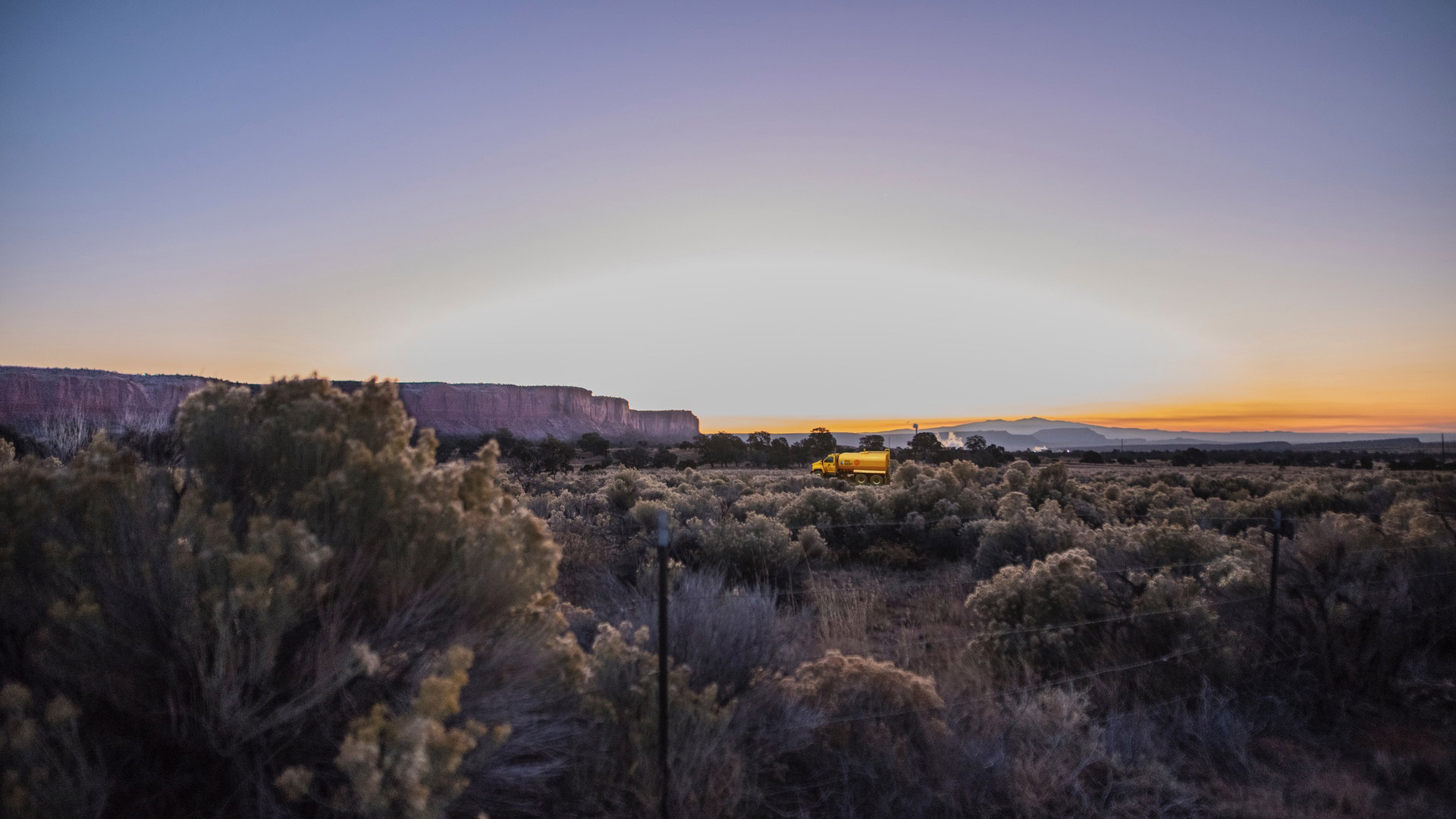 A DigDeep water tank driving across the Navajo Nation as part of the Navajo Water Project.
Courtesy of DigDeep
In her first year, they brought running water to a community of mostly older adults.
"It's sad when it took over 80 to 90 years for them to finally see running water and wash their hands out of their own home that was built with a sink, toilet and shower," she said. "But it also makes me so proud of my team."
Nalgene Outdoor, the reusable water bottle company, rolled out a Monument Valley-inspired bottle in November 2020 designed by a Diné college student named Jaden Redhair to help fund clean water projects within the Navajo Nation.
A Nalgene spokesperson, Marcia Gray, said the bottle that reads "Tó éí iiná — Water is life" made record day-of-launch sales. She said the company has sold more than 6,972 bottles, as of Tuesday.

Water is life. But for far too many people in Navajo Nation, it's not nearly as accessible as it should be.

Help support sustainable long-term #wateraccess solutions with the "Tó éí iiná" (Water is Life) bottle: https://t.co/77ybsZ413Q #NalgeneWaterFund pic.twitter.com/7eLCBvARRA

— Nalgene (@nalgene) January 15, 2021
Nalgene announced this summer it donated $14,500 to DigDeep, which then went to its Navajo Water Project.
Yazzie said when the pandemic began her team went from serving two communities to 15 — their 10-40 mile commutes boomed to a monthly total of around 3,000 miles for everyone on the team.
She said the funds are going to vehicle maintenance — like new tires, oil changes, hitches — personal protective equipment and employee wages within the Navajo Water Project.