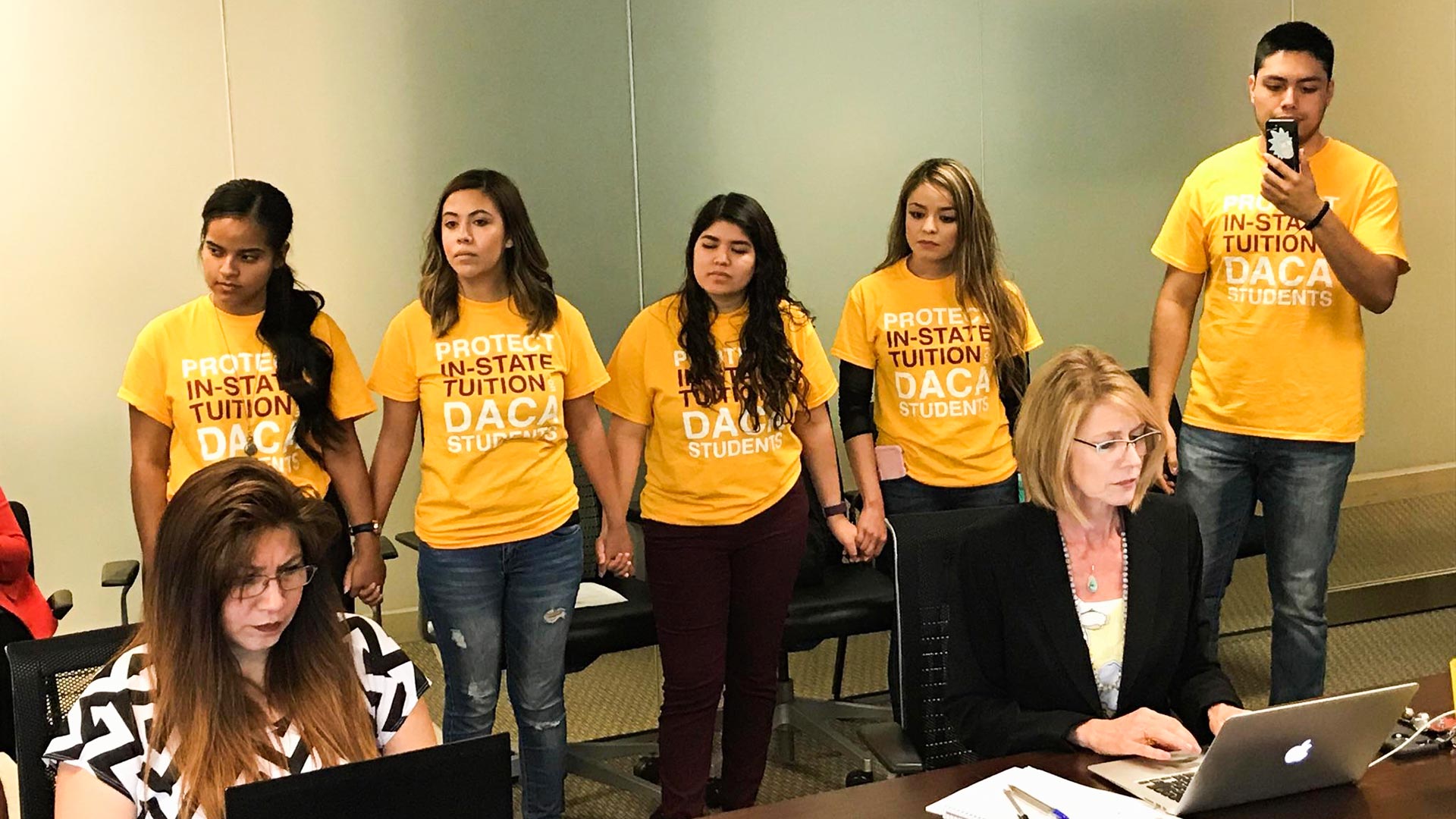 A group stands in support of in-state tuition eligibility for Arizona students with DACA status at a June 29, 2017, Arizona Board of Regents meeting.
Vanessa Barchfield/AZPM
A bill that will let voters decide whether to give undocumented high school graduates access to the same in-state college tuition as their peers has passed through the Arizona Legislature.
Around 2,000 undocumented people graduate from Arizona high schools every year, according to a poll by the Migration Policy Institute. But those students haven't been allowed in-state tuition for more than a decade thanks to Proposition 300, a voter-approved measure that barred non-citizens from receiving a host of publicly funded services. Senate Concurrent Resolution 1044 seeks to repeal only the portion of the 2006 proposition that relates to tuition by putting the question back to voters next year.
Jose Patiño, education and external affairs director at the Mesa-based immigrant advocacy network Aliento, is a recipient of the Deferred Action for Childhood Arrivals program, or DACA. The policy was enacted by the Obama administration and gave more than 650,000 undocumented people brought to the U.S. as children protection from deportation and a work permit. But as a student in Arizona, the status didn't allot Patiño access to in-state tuition, or public financial aid.
He completed a bachelor's degree in mechanical engineering at Arizona State University and a master's degree in secondary education at Grand Canyon University without it, but he hopes the new bill will offer a different future to high school graduates in his shoes today.
"When I was going through higher ed I felt forgotten by other people and that people didn't think about me, that I was all alone," he said. "I just want them to know that they're not, that we're paying it forward. And my hope is that they'll pay it forward for the next generation."
SCR1044 was brought to the state Legislature earlier this year by Republican Senator Paul Boyer of Glendale and past through the Senate with bipartisan support. But it languished after arriving in the House in March.
"We were worried for the longest time that we were not going to be successful, it's just so hard specifically in the state of Arizona to pass bills like this," Patiño said. "It's historic, so there's no blueprint to follow, we just have to keep working and trying to figure out any solution that we can, and we're so glad that we're here."
Aliento and other advocacy groups helped put together a letter co-signed by more than 130 local civil, faith and business leaders asking Arizona House Speaker Rusty Bowers to allow the bill to come to the floor.
Bob Worsley is a former state senator and member of the American Business Immigration Coalition who signed on to help repeal a law forged during what he says was a different era of Arizona politics.
"What's basically happening is you're forcing the DACA kids to really not have an option to get college educated, and that serves no one's purpose in our society," he said. "He (Rusty Bowers) was hoping we'd go away and come back next year again and we said no, this year we're going to push it through. You've got to face this."
Whether to allow DACA recipients in-state tuition is a question that has bounced around Arizona courts since the program's inception in 2012. The Arizona Board of Regents and some community college boards initially ruled recipients were entitled to pay the same rates as other in-state students, but a state Court of Appeals ruling against the policy was later upheld in Arizona's Supreme Court. Today, DACA recipients pay 150% of in-state tuition, and undocumented students face even higher rates.
Should voters pass SCR1044 next year, all students who have lived in Arizona for at least two years and graduate from a high school in the state will be eligible for in-state tuition and financial aid. The bill passed with bipartisan support in the House by a 33 to 27 margin on Monday afternoon. Advocates, students and political leaders gathered on the lawn in front of the Arizona State Capitol to celebrate the vote and share stories of how Proposition 300 had affected their access to education.
Representative César Cháves, a Democrat whose district includes the west Phoenix areas of Maryvale, South Glendale and Litchfield Park, said seeing the bill pass in the House was an encouraging change for Arizona.
"I am very proud to have been afforded the life that I have been afforded thanks to the sacrifices of my parents coming to this country when they were very young and I was three years old," he said. "Today, I know that with the right people in office we can get the right thing done. And I think we're on that right path."
The bill will appear on the ballot next November. Patiño said there's still a long road ahead until then, but he hopes it's a chance to show how the state has changed over the last fifteen years.
"I dreamt of this day for years," he said. "For the longest time, we were known as the anti-immigrant state...people never understood why I loved Arizona so much...but I can't envision myself being anywhere else...I think this bill is going to be an opportunity to show everyone why we love Arizona so much, why this is such a great state for us."