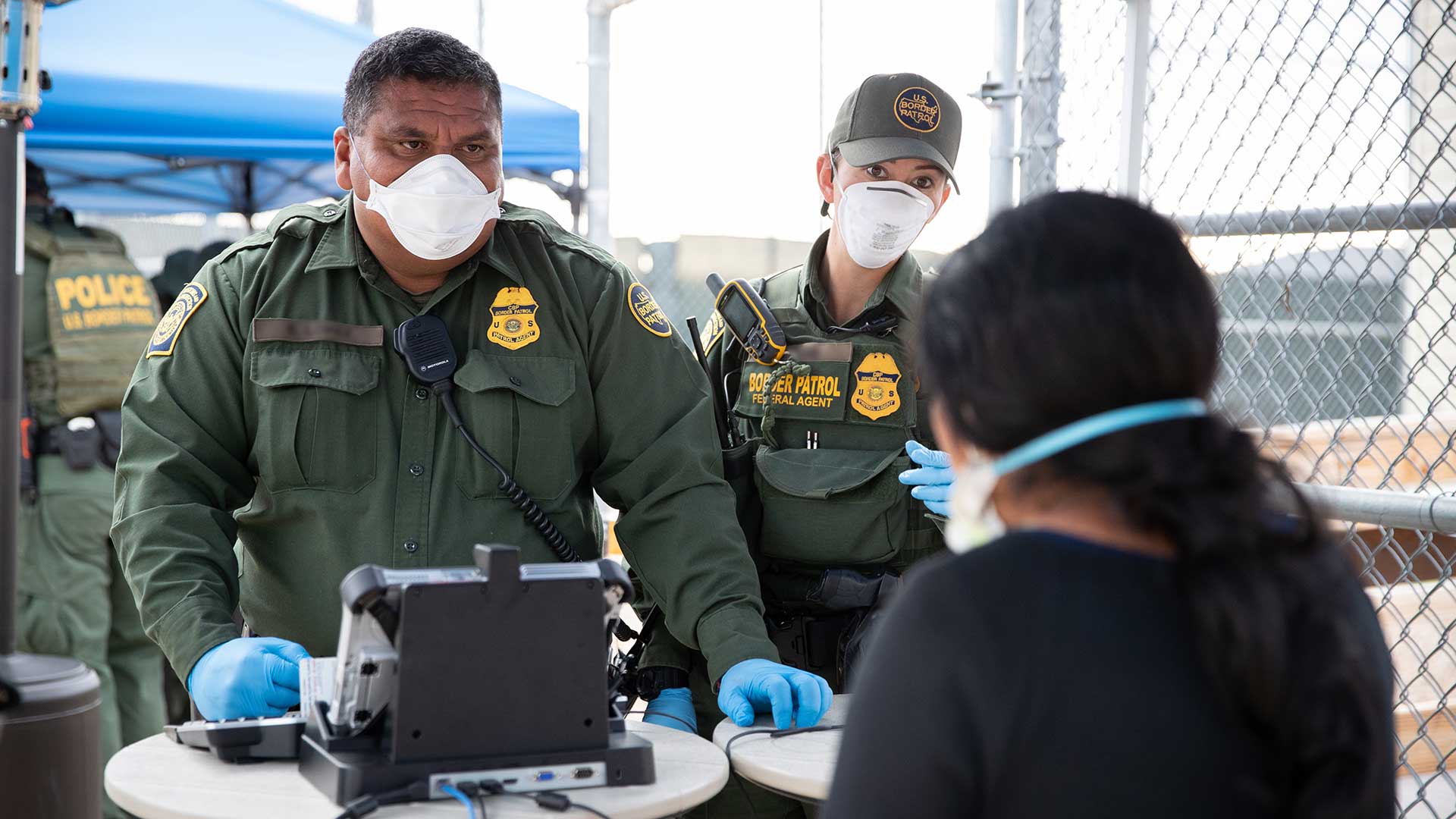 U.S. Border Patrol agents near Sasabe, Arizona, March 22.
Jerry Glaser/CBP/Flickr
A new report by the advocacy group No More Deaths alleges U.S. Border Patrol agents have failed to carry out search and rescue efforts for migrants lost in the borderlands.
The report uses data from calls made between 2015 and 2016 to the Derechos Humanos Migrant Crisis Hotline, a 24-hour service families used to locate loved ones who have gone missing in the desert.
Alicia Dinsmore is a No More Deaths volunteer who co-authored the report.
"These cases are coming from Arizona, Texas, California, I think the reality is the calls coming into the migrant crisis hotline represent a very small subset of the number of families who are searching for their loved ones in the desert," she said.
If a family member or friend calls about a migrant who has gone missing in the desert, 911 dispatchers normally transfer them to the Border Patrol. Dinsmore said No More Deaths also analyzed the audio recordings of more than 2000 calls made to dispatchers in Pima County.
Border Patrol agents who are in the field can carry out a search, or, in more extreme circumstances, the elite Border Patrol Search, Trauma and Rescue unit can be deployed with lifesaving aid.
But Dinsmore and her co-authors found that 63 percent of all cases directed to Border Patrol by either the migrant hotline or individual families did not result in a confirmed rescue mission. In some cases, families and aid workers reported being told directly that a search would not be carried out, while in others, they did not receive any kind of response.
She said her organization tried to obtain additional details about Border Patrol's search and rescue methods and outcomes through a Freedom of Information Act records request, but were denied.
In response to the report, a Customs and Border Protection spokesperson said the agency was balancing humanitarian responses with border security.
"CBP remains committed to humanely securing the southern border of the United States and devotes the totality of its force to finding lost or injured individuals while also balancing the border security mission with which they are charged," he said in an email.
Dinsmore said these findings are one more example of the impact of the "Prevention Through Deterrence," policy of the 1990s. The policy sought to decrease the number of people attempting to cross into the U.S. illegally by bolstering border barriers in urban areas and had the result of forcing migrants deeper into remote and more dangerous corridors of the borderland.
Last year in Arizona, more than 225 sets of human remains were found in the desert, the second most the state has ever recorded. The Derechos Humanos Migrant Crisis Hotline shut down in 2017, and a similar service run by No More Deaths replaced it. Dinsmore said last year, that hotline received an average of 200 phone calls a month.
"The crisis of death and disappearance is only getting worse along the U.S.-Mexico border, which only represents a portion of the people who are in crisis and in need of emergency help in the desert." she said.