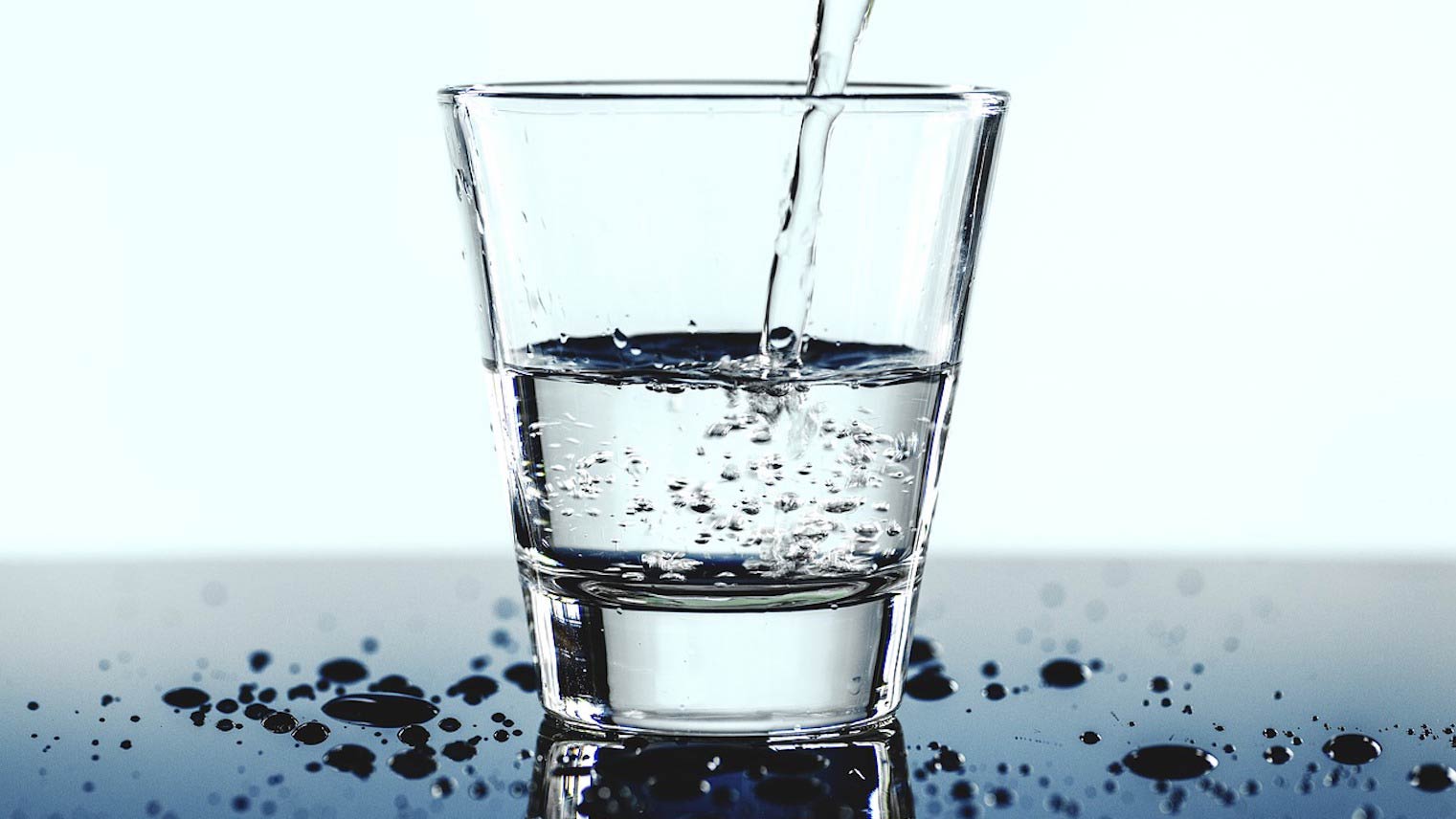 via Pixabay
There is growing local and national concern about the chemicals known as PFAS, which have been found in several Tucson groundwater wells. The Arizona Department of Environmental Quality has launched a program to clean up the contamination plume in Tucson's groundwater.
PFAS stands for perfluoroalkyl and polyfluoroalkyl substances, a group of chemicals that have been used for decades in a whole range of products. Their nearly indestructible qualities make them popular in things like nonstick pans, fast food packaging and stain-resistant materials. They are also present in some firefighting foam.
PFAS exist in the blood of most Americans. The chemicals, often called "forever chemicals" because they don't break down in the environment, accumulate in human bodies over time. They can cause serious health effects including cancer, thyroid and immune system problems.
David Andrews is a senior scientist at the Environmental Working Group. He said that even though manufacturers and the government knew these compounds are harmful, regulation has been slow. In the early 2000s, the EPA did get several manufacturers to phase out the use of PFOA and PFOS, two of the chemicals known to be harmful to human health and the environment, but Andrews said their replacements might not be safer.
"The concern is that the cumulative exposure — exposure to the replacements and the legacy contaminants — is actually making this crisis even worse," Andrews said.
Andrews said that contamination problems stemming from PFAS points to larger issues with regulation, as PFAS became widely used before proper safety data was shared with regulators.
In the last several years PFAS has become a national concern, partly because much of the contamination stems from military bases and airports, where PFAS-laden firefighting foam has been used for decades. Tucson is a prime example.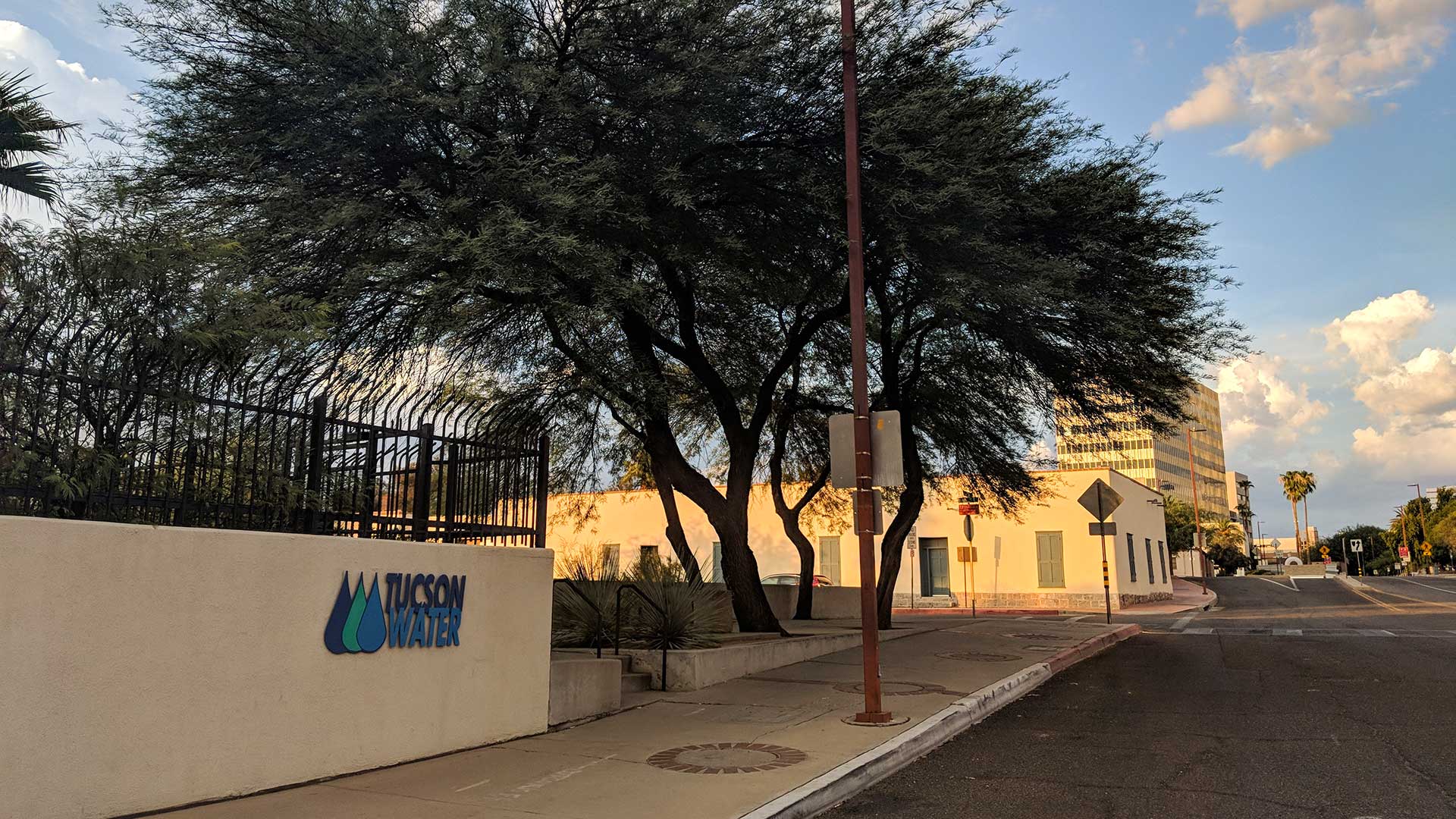 Outside the Tucson Water building in downtown Tucson.
AZPM
John Kmiec is interim director of Tucson Water. The utility company has identified PFAS contamination in locations near Davis-Monthan Air Force Base, near Tucson International Airport and near the Agua Nueva wastewater treatment plant. The city does not currently rely on water from those wells. Tucson Water already does PFAS cleanup at its Tucson Airport Remediation Project site, and has partnered with the state on another PFAS cleanup project.
"We are participating with the state to clean up the areas that are currently impacted so it doesn't further degrade any other wells in the future as that contaminant moves throughout the groundwater system," Kmiec said.
The EPA has set a health advisory level for two PFAS compounds and is now working on setting federal drinking water standards, but that will take years. Kmiec said that Tucson Water works proactively to deal with PFAS issues, so even if federal changes to drinking water standards are slow, citizens are still protected.
Part of Tucson's PFAS contamination plume is tied to Tucson International Airport. Spokesperson Jessie Butler said the airport has been using the standard firefighting foam (which contains PFAS) since the 1970s, in accordance with Federal Aviation Administration requirements. But it no longer uses the foam for training purposes.
"The only times we will ever discharge foam now is only in the case of an emergency, so a plane crash, for example," Butler said.
Butler said the FAA began changing guidelines around the use of the foam in 2017, and Tucson Airport followed suit.
In 2019 the FAA issued further guidance for airports to use replacement foams. Those foams still contain PFAS chemicals, but a different type.
"We are in full support of not having to use it," Butler said. "Unfortunately, we are completely binded [sic] by the FAA regulations. So, we are in full support of Congress and FAA finding an alternative."
Tucson Airport Authority Fire Chief Tom Tucker said the FAA has been charged by Congress to develop a PFAS-free firefighting foam but has yet to do so. He pointed out that incidents requiring the foam are relatively uncommon, with only two incidents occurring since 2014.
"Once we deal with the life safety issues and we stabilize the incident, we have another component of response which is environmental," Tucker said. "So as soon as that area's deemed safe, our environmental team comes in with a third party and does everything allowable to mitigate that area that was contaminated with foam."
The Buzz also reached out Davis-Monthan Air Force Base, another major source of PFAS contamination in Tucson.
In an email to AZPM, a base spokesperson said Davis-Monthan replaced the "legacy" foam in 2016. The new firefighting foam has no PFOS and only trace amounts of PFOA. Just like Tucson International Airport, it is also only used for emergencies and not for training, and if used, it's treated as a hazardous material spill.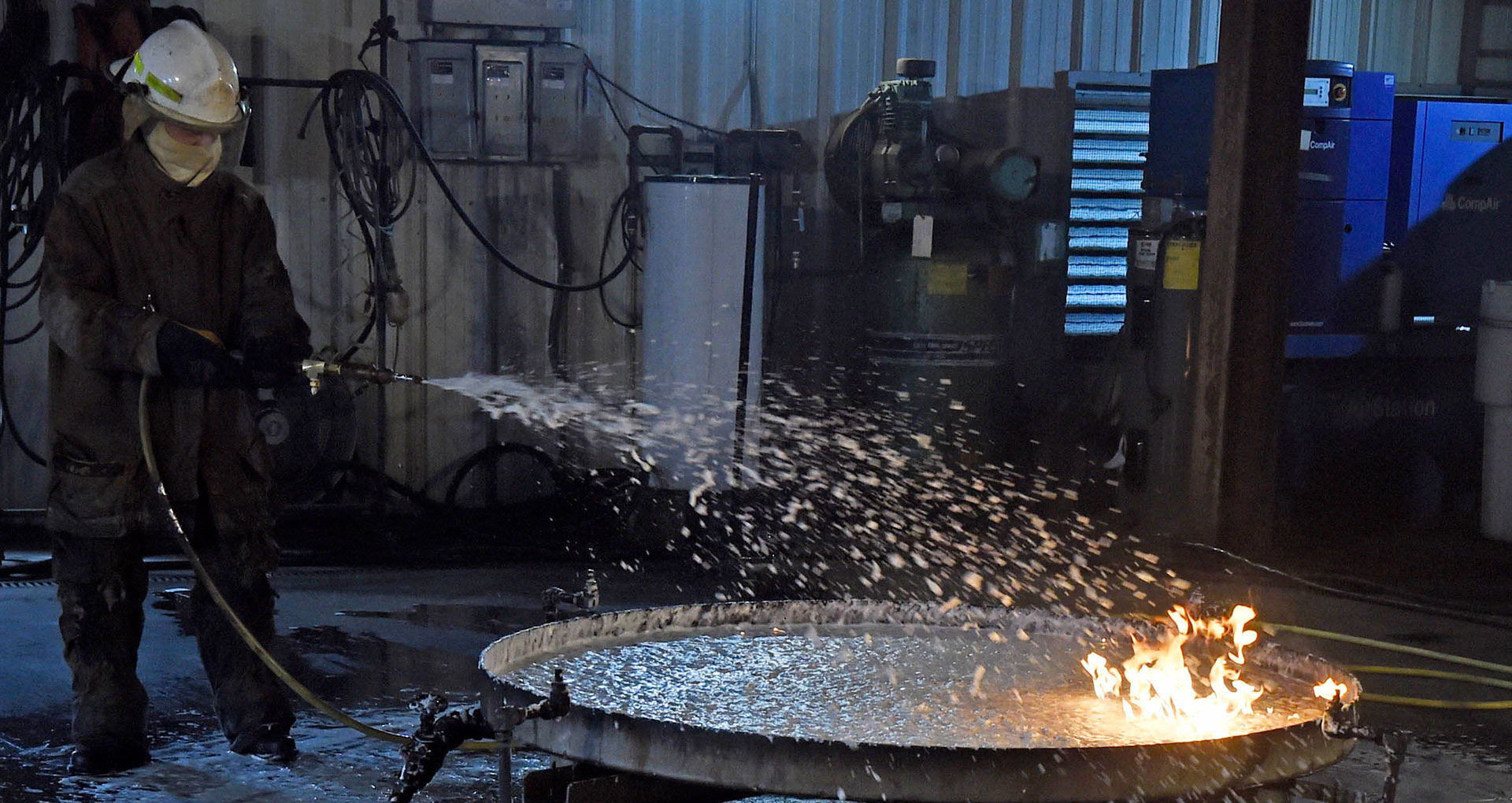 John Farley, director of fire test operations at the Naval Research Laboratory, tests the effectiveness of aqueous film-forming foam by spraying it on a gasoline fire. The test took place at the laboratory in Chesapeake Beach, Md. Oct. 25, 2019.
David Vergun, DOD
Last year, the Arizona Department of Environmental Quality launched a pilot project to develop a treatment plant in Tucson for PFAS contamination in the groundwater. ADEQ Director Misael Cabrera said that so far, the project has installed seven monitoring wells in the area and plans to add more.
Their top priority is stopping the plume from spreading further or contaminating other wells, Cabrera said.
"The further it moves, the more health risk there is to other people in other areas, but also the more expensive it gets to treat because you're dealing with larger and larger volumes of water," Cabrera said.
The project will take years, due to the size of the contamination. ADEQ is currently paying for the project out of the state's Superfund program.
Arizona congress members Ann Kirkpatrick and Raúl Grijalva sit on a PFAS working group that is crafting legislation to reduce future contamination and clean up existing plumes. The working group recently sent a bipartisan letter to the Biden administration outlining what the White House can do.
Included are recommendations to direct the EPA to quickly finalize national drinking water standards for PFOA and PFOS. They also want the Biden administration to push the Department of Defense to speed up its removal and mitigation of contamination caused by firefighting foam.
Kirkpatrick serves on the defense subcommittee. In a statement, she told AZPM she is "committed to funding efforts at the Department of Defense to end the use of PFAS and accelerate the clean-up around our military installations."

The Buzz
airs Fridays at 8:30 a.m. and 6 p.m. and Saturdays at 3:30 p.m. on NPR 89.1. You can subscribe to our podcast on
iTunes
and NPR One. See more from
The Buzz
.