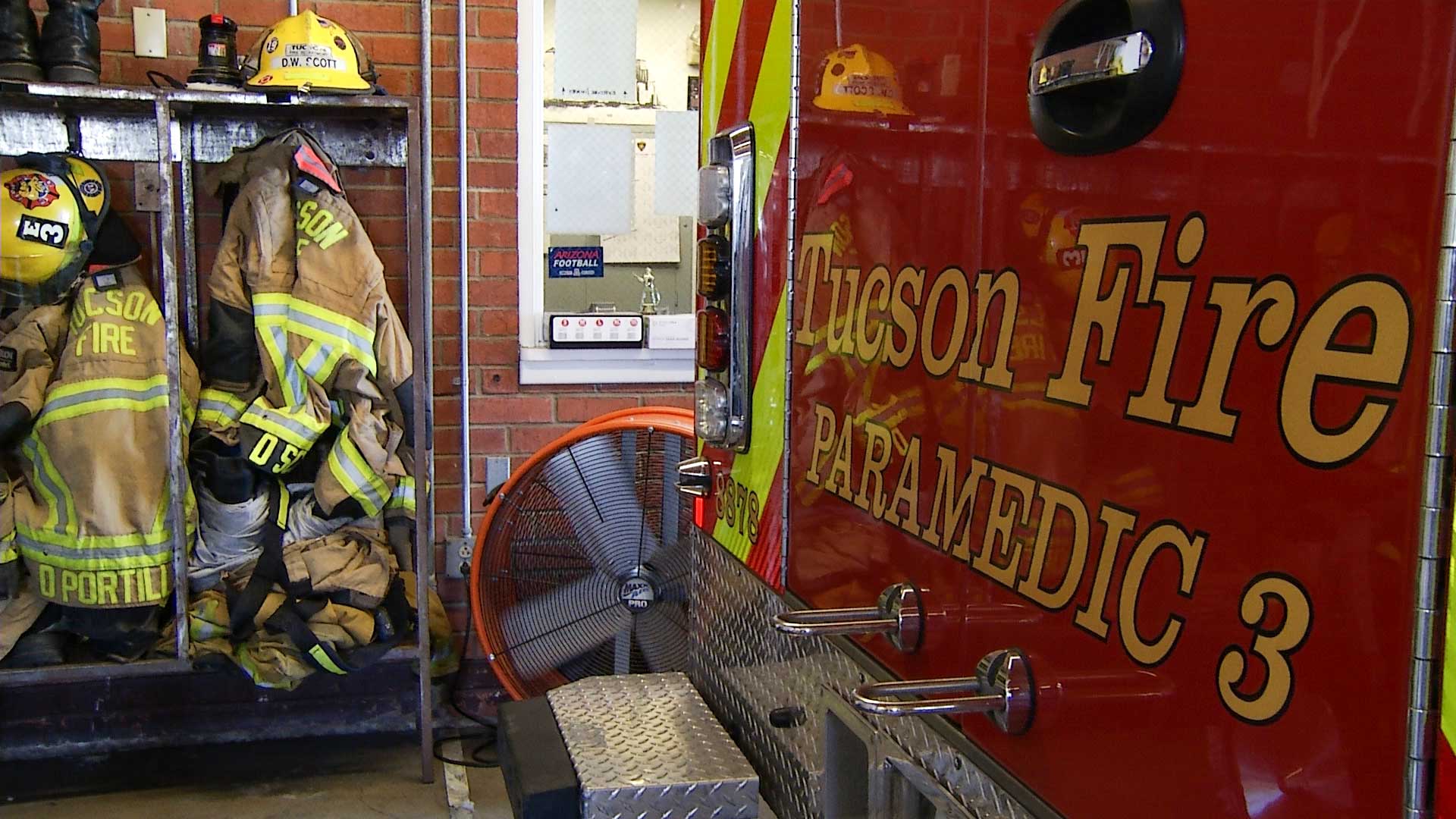 A Tucson Fire Department vehicle and gear.
AZPM
The University of Arizona is involved with three studies that may shed light on the connection between COVID-19 and chemicals known as PFAS.
Two of the studies, one national in scope and one just in Arizona, are both looking at the incidence of COVID-19 in healthcare workers, first responders, and other front-line workers. Those studies, funded by the CDC, conduct regular COVID-19 diagnostic and antibody testing of volunteers over time. PFAS exposure isn't their primary focus but will be something researchers can look at in relation to someone's experience with COVID-19.
PFAS are a group of chemicals that are very persistent in the environment and have been used for decades in all manner of products, from stain-resistant carpets to nonstick pans to fast food packaging.
Jeff Burgess, associate dean for research and professor at UA Mel and Enid Zuckerman School of Public Health who is involved in the projects, said that previous research has demonstrated PFAS, the so-called "forever chemicals" that accumulate over time in our bodies, can lead to decreased immune response. He said a lot of the research so far has focused on respiratory infections in kids.
"And we know that certain of these PFAS chemicals, cause there's a whole group of them, are associated with a suppressed immune response, either manifesting as increase in the frequency of infections or specifically for vaccination, a reduced antibody response to vaccination," Burgess said.
The third study is focused specifically on the incidence of PFAS in firefighters and how that affects their response to COVID-19. First responders like firefighters may have higher exposure to PFAS chemicals because of exposure to a firefighting foam used for decades, particularly at air bases and airports.
"I don't know that we can say convincingly throughout the U.S. that firefighters have higher levels than the general population," Burgess said. "I think it may vary by location. Here in Tucson, we're doing some work now that suggests that the firefighters may have about the same levels as the general population, for example," he said.
While the current research projects don't focus specifically on vaccine response related to PFAS, Burgess said their work studying incidence of COVID-19 among first responders who may have elevated levels of PFAS chemicals in their blood can hopefully lead to related findings more quickly.
"If we find that PFAS influences either the severity of COVID-19 or effectiveness of vaccines then that's useful info for us because then we can make recommendations about how to counter those effects," Burgess said, maybe in the form of a higher vaccine dose or more frequent booster shot. Such information will remain important even after the current pandemic wanes, he said, because "COVID-19 is going to be with us for a long time."
Researchers are still looking to recruit volunteers for the Arizona Heroes study. Anyone who works in front-line occupations who has not yet received a COVID-19 vaccine is eligible.