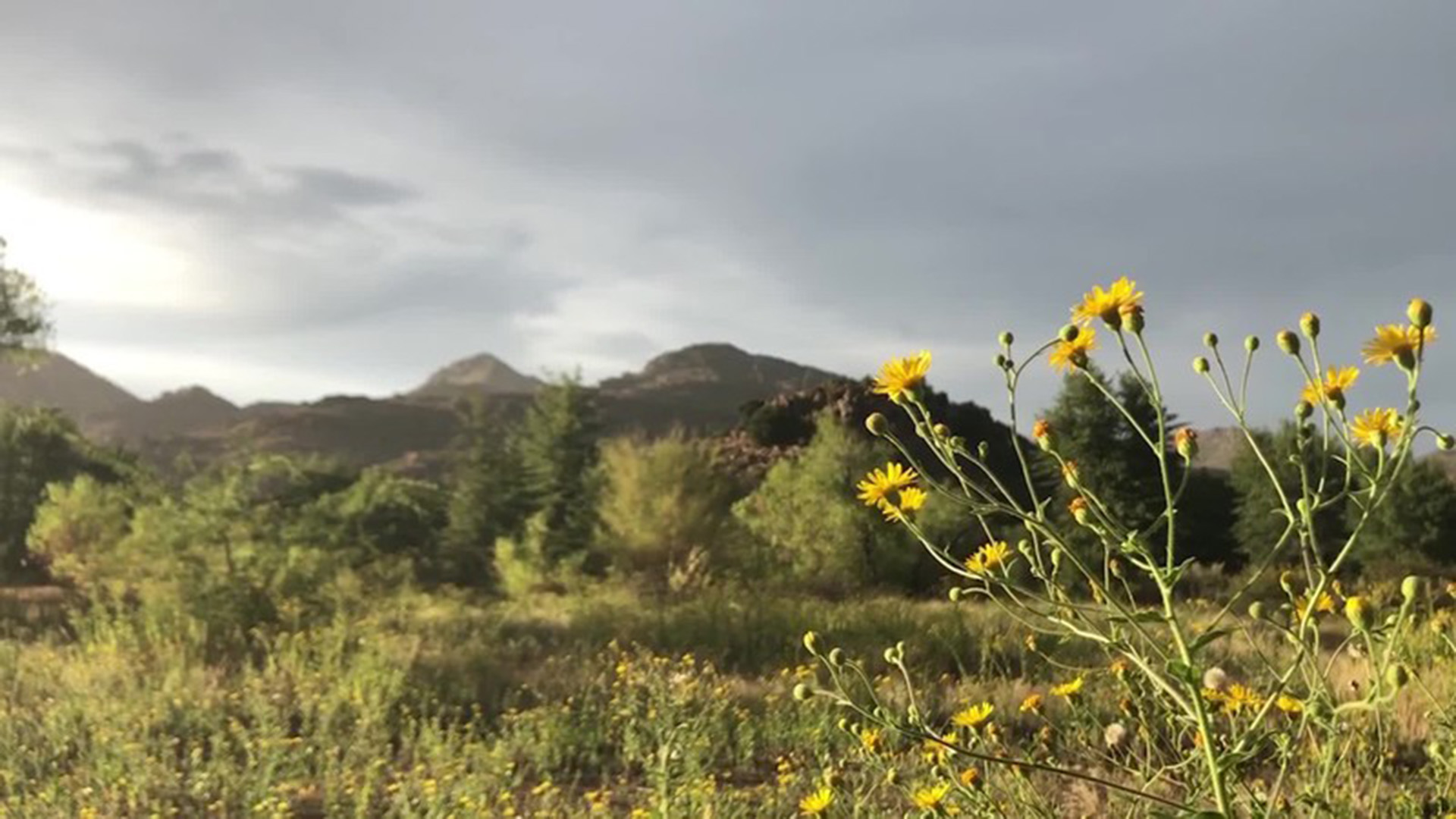 A scene from the Oak Flat campground, a site sacred to Apache peoples and the epicenter of lawsuits trying to block the development of a large copper mine.
Courtesy of Russ McSpadden/Center for Biological Diversity
A federal judge decided Friday not to temporarily pause a copper mining project that would one day devastate an Apache religious site in the Tonto National Forest.
Apache Stronghold, a nonprofit advocating for the preservation of Oak Flat, requested the preliminary injunction in January, around the same time three lawsuits were filed to try and block the federal land from being transfer to a copper company. By not issuing the preliminary injunction, U.S. District Judge Steven Logan leaves the land swap to Resolution Copper unimpeded.
"We are very disappointed, but we are not giving up and are excited to appeal to a higher Court and to prove our points where we disagree," said Wendsler Nosie Sr., the founder of Apache Stronghold and a former chairman of the San Carlos Apache Tribe.
Logan said in the order that the nonprofit is not a sovereign nation and did not have the standing to claim the federal government breached its responsibilities to the Apache people by trading the land. He emphasizes a trust relationship is between two governments or sovereign nations.
Apache Stronghold had argued that since there weren't any formal Apache tribes at the time of the 1852 treaty between the Apache peoples and the U.S. government, the descendants from the Apache leaders who signed the treaty have standing to assert the treaty rights. Nosie is a descendant of one of the signers.
Logan writes that the 1852 Treaty doesn't imply the United States is holding the land in trust for Western Apaches, but if there had been any trust relationship, the land swap within the 2014 National Defense Authorization Act ended that responsibility. He said "the Court's hands are tied both by Congress and the Constitution."
Apache Stronghold argued that the land rights being transferred to a private company and the eventual destruction on Oak Flat by the mining crater would harm their ability to practice their religion. Logan said since the benefits of the site are not government given, the government's actions aren't a violation of the Religious Freedom Restoration Act. He said Apache Stronghold has also not been "coerced into violating their religious beliefs."
"The Western Apache peoples no doubt derive great 'benefits' from the use of Oak Flat, at least in the common sense of the word," Logan said. "However, Oak Flat does not provide the type of 'benefit' required under RFRA jurisprudence: It isn't something the [federal] government gave to the Western Apaches, like unemployment benefits, and then took away because of their religion."
Nosie disagreed and said once the land is privately owned, he could be charged with trespassing when he comes to pray at Oak Flat. Nosie has lived at the site since the winter of 2019.