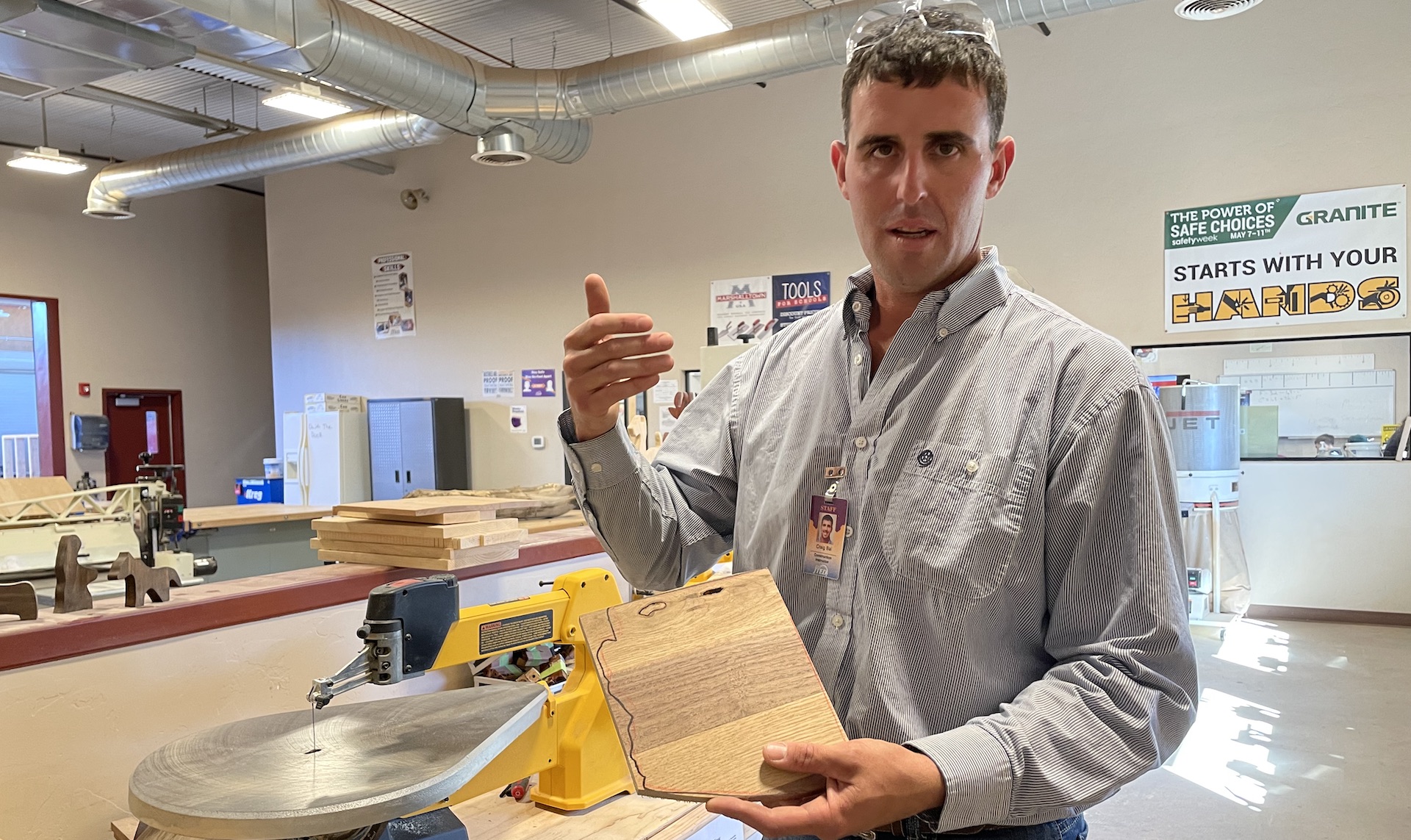 Craig Bal teaches at a Pima County construction training program. He says his students start with knick knacks, like this wooden figure of Arizona. October 26th, 2021.
Megan Myscofski/AZPM
The number of construction workers in Arizona and across the country took a big hit in the financial crisis and still had not fully recovered when the pandemic set in.
As demand for housing increased, the industry struggled to find enough people to fill those jobs.
According to data from the job search website ZipRecruiter, the average construction worker in Tucson makes about $14 per hour, which is a couple dollars less than the national average.
Mike Goodwin said that means employers are feeling the push to increase pay, especially as they see ads at fast food chains offering more.
He is also the operations manager for an air conditioning contractor in Tucson, and he has been trying to fill three job openings for the last two months. They've posted them to about 20 websites.
"But for the most part, it's like, eh, there's not a whole lot of action there," he said.
So, he has tried recruiters that specialize in construction hiring, which gets expensive. He's also lost people to competitors that made better offers.
"It's highly competitive," he said.
Goodwin said they're making due with fewer people by using more technology, assembling more pieces off-site, and using drones when they can.
But these work-arounds only go so far in the current housing market.
Goodwin's organization wants to get more young people hooked on the industry.
Ayiannice Espinoza is enrolled in a Pima County training facility next door to her high school.
She said seeing her father build houses made her think it could be something for her, too. And she really likes the carpentry classes because they are a good creative outlet.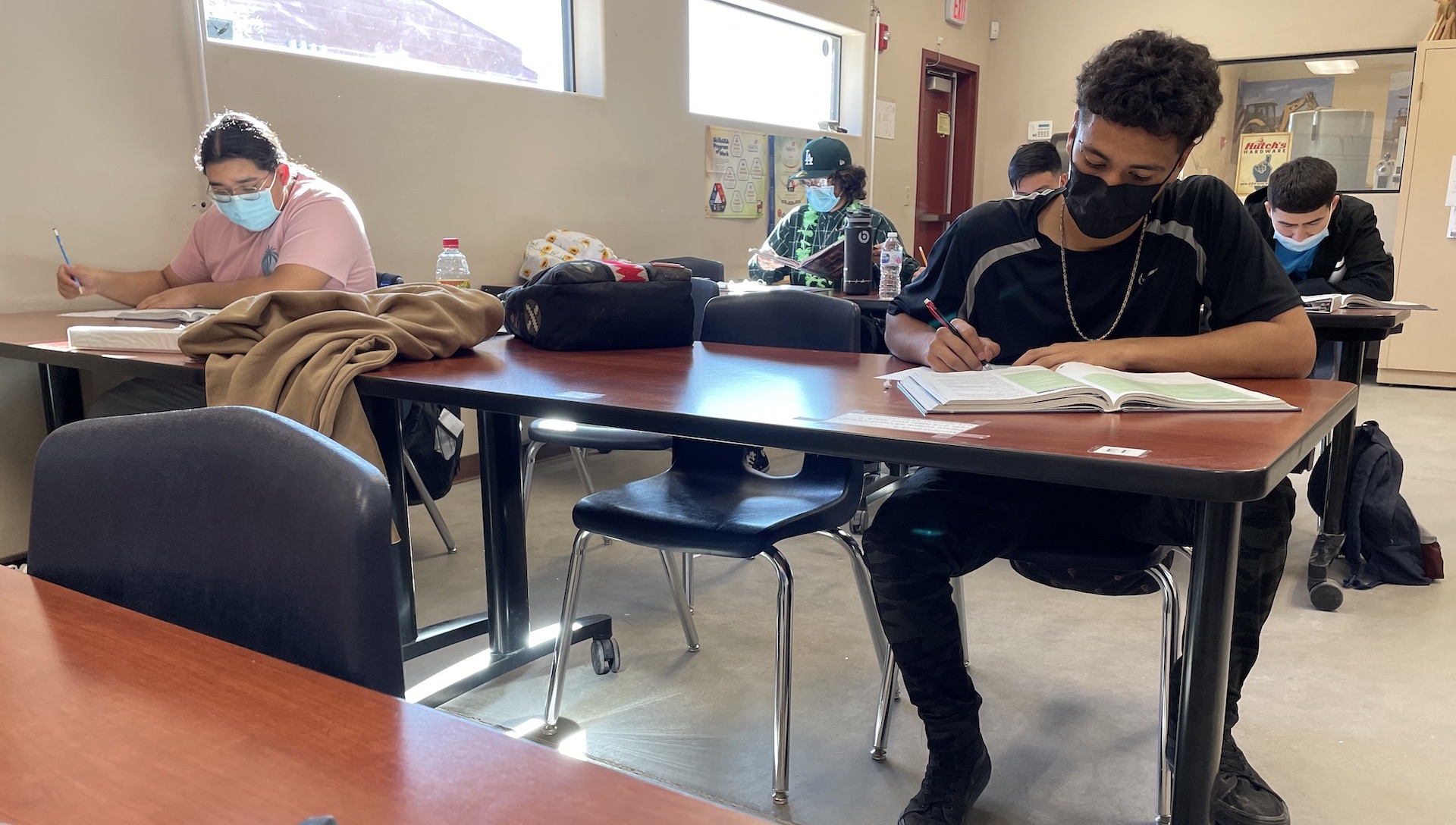 Jorge Rios is a student in Craig Bal's class. He studies a construction textbook at the training center next to his high school on October 26th, 2021.
Megan Myscofski/AZPM
Espinoza and her classmates are learning the names of tools and what they do. They've been using that new knowledge to make knick knacks, like a pumpkin-shaped napkin holder.
"I finished it yesterday and I gave it as a gift to my Nana, and she loved it. She gave me a hug and everything," she said.
Craig Bal teaches Espinoza's class, which is part of a Pima County job-training program. He said part of the goal of the program is simply getting kids interested in construction jobs.
That can mean showing kids that if they're creative, like Espinoza, or want a job that feels fulfilling, there's a place for them somewhere in the field. It also means dispelling stereotypes and convincing parents that construction is a good path to take.
He tries to make his class engaging.
"Instead of me just giving them a test and say, 'hey, label the parts of this,' I give them this: 'go build me your test and label all of it,'" he said.
And Bal interjects his lessons with information about what kind of opportunities are out there, what apprenticeships the kids could go after, and some more general financial and even life advice.
Programs like this are important because the construction industry really needs workers.
Jim Tofel is a managing member of Tofel Dent Construction, which has built many affordable housing projects in Arizona and New Mexico. He said construction work in Arizona never really slowed down during the pandemic. But the constraints felt across the industry apply to affordable housing, too.
"Affordable housing is really impacted by what's happening right now with the single family market rate and market rate apartments," he said.
He said that beyond attracting more young people to the field, the industry could incorporate more technology. For example, affordable housing could be built with 3-D printers.
"The construction industry in general is slow to change. I think we are seeing some change, but it's taking time," he said.
And those changes could transform the industry that Espinoza and her classmates might decide to go into.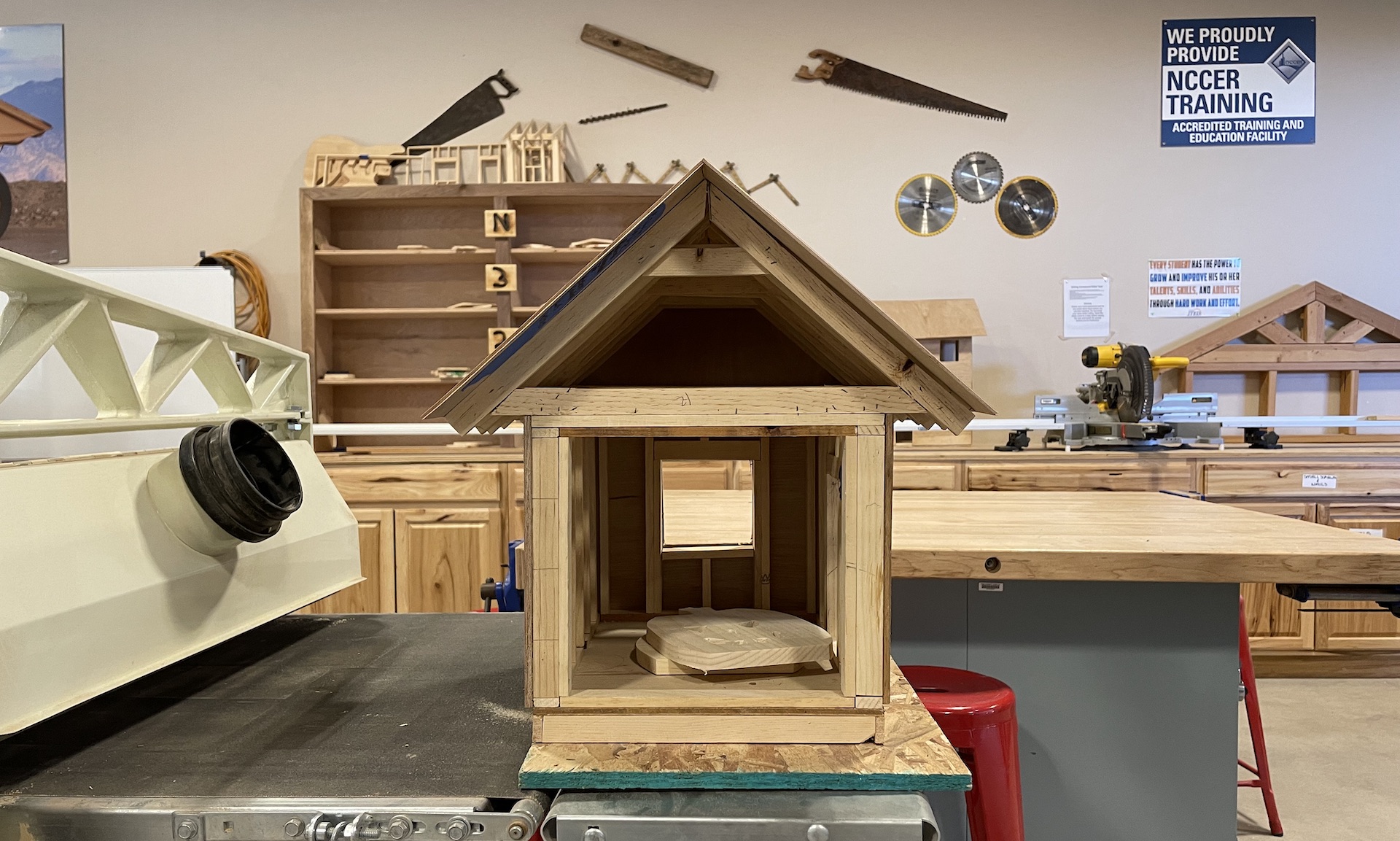 Teacher Craig Bal says the students start with small projects, and work their way up. This small house was built by students in the construction training program where he teaches.
Megan Myscofski/AZPM