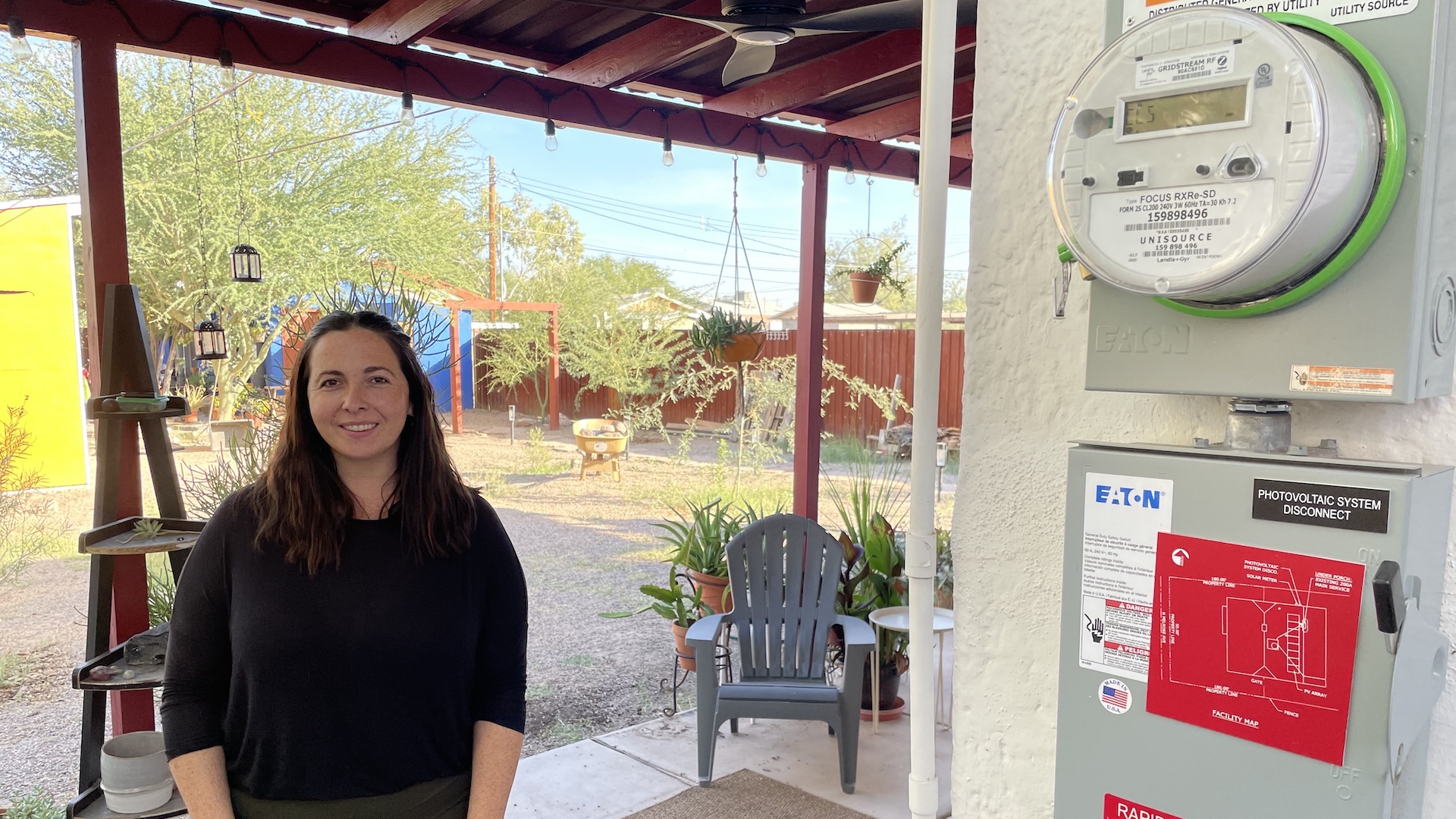 Laura Dent stands near her meter in November 2021. She says her energy bill is significantly lower since she installed solar panels onto her home.
Megan Myscofski/AZPM
Solar panels are growing in popularity across Arizona and the country as the price of installing them has gradually fallen within reach of more homeowners. A nonprofit is now launching its second solar panel co-op in Tucson to help anyone interested navigate the market.
Laura Dent looked at the solar panels on her roof.
"It was so much rain this summer, that I'm sure it got a little dirty up there," Dent said.
Dent is 35 and leads an activist coalition in Arizona. She used to work for an environmental justice organization, but she said she's never really considered herself an environmentalist. She does identify as bicultural, Latina and a lifelong Arizonan. And to her, the movement often feels fairly white, affluent and a little out of reach.
"I think that shows up and how we talk about environmental issues, whether it's access to solar panels or electric vehicles, or, you know, Patagonia products and Birkenstocks," Dent said.
She said that doesn't mean she won't wear Birkenstocks, but she does feel outside the conversation when it comes to making moves in her own life to help curb climate change. But now, she has solar panels, thanks to a co-op she joined last year.
"They came. They provided us some estimates on how many panels could be installed," Dent said. "It was very seamless, honestly."
She said she and her partner took turns attending virtual meetings and felt they were getting a good deal when the time came to make the decision.
"It felt like I understood my options, and I didn't feel as compelled to shop around necessarily knowing that I'm essentially going to, like, the Costco of solar," Dent said.
Solar United Neighbors is the nonprofit that organized the co-op the couple joined.
Bret Fanshaw is the Arizona program director for the organization, and he said the co-op model is a better deal. That's because when a number of households come together to learn about the process, then buy from a single provider voted on by the group, it gives consumers more leverage.
"It's daunting, in some cases because you both have to understand the technology, how it works," Fanshaw said. "Is it going to work for my house? Is it something that I can afford?"
He said people who are curious can join the co-op without committing to getting them. The organization held its first round in Tucson last year, where it led information sessions and helped members navigate financing and available tax credits. About one third of the 165 households that joined ultimately installed panels.
Laura Dent had solar panels installed on her home earlier this year through a co-op and says that the process was simple and straightforward.
Megan Myscofski/AZPM
"Issues like climate change are just becoming an increasing part of everyday life, especially in the West. And I think Tucson has a lot of people that are personally concerned about that," Fanshaw said.
And that concern drives a lot of interest in solar panels.
"It's kinda funny because people have all kinds of different impressions on this but, I mean, solar's getting to be a pretty big thing," said University of Arizona economics professor Stanley Reynolds.
He researches renewable energy and said the number of Arizona households with solar panels grew by over 10% last year, though growth slowed a bit over the last few years after the Arizona Corporation Commission reduced the credit solar panels users would receive for any excess energy they generate.
He said that Arizona buyers mostly benefit from federal subsidies, including a 26% tax credit that's set to expire in 2024. There are also some smaller incentives from the state, including a sales tax exemption and an income tax credit that caps at $1,000.
"The incentives matter. If you were to get rid of some of the federal incentives and state incentives, you know, it would go down," Reynolds said.
He also said homeowners can expect a significant drop on their monthly energy bill. If they finance the solar panels, like Laura Dent in the co-op, they will likely see a monthly expense about the same as they paid before, at least until they finish paying them off.
And, unsurprisingly, Southern Arizona solar panels can collect a lot of sun. Reynolds said that energy goes a long way in mild weather, when air conditioners are turned off.
"On a day like today, in the fall, sunny days that aren't too hot, we're probably getting, like, 40% of our electricity from solar right now in the Tucson area," Reynolds said.
Solar United Neighbors is holding a virtual information session on December 7th.