Peter Norbeck's casita is home to three rescue pets — two dogs and a cat. One sits in front of his home on October 1st, 2021.
As the housing market tightens, seniors in need of affordable housing see their options dwindling.
Peter Norback is 79 and lives in the Miles neighborhood of Tucson with a cat and two rescue dogs, who he refers to as "his guys."
He's retired and does a lot of volunteer work, including with animals.
He lives in a 400 square foot casita. Inside, he has a bed, a kitchenette and a desk. Outside, he has a standing desk with shade from the sun and a catio about half the size of his casita. None of it needs much upkeep.
"That keeps me very independent," Norbeck said.
Affordable housing for seniors often looks different from affordable housing on the whole. While some seniors like Peter do well with a manageable and accessible space, others might need assistance. So, with the recent shortage of housing, seniors are especially in a bind.
A 2019 report from the Harvard Joint Center for Housing Studies said about a third of older households in Pima County are cost-burdened, meaning an inordinate amount of their income goes to housing and keeps them from spending money on other needs.
The study also said that while seniors tend to have higher rates of homeownership than other age groups, those rates are declining fast. There are also significant gaps in homeownership between racial groups, including a 30% gap between Black and white homeowners.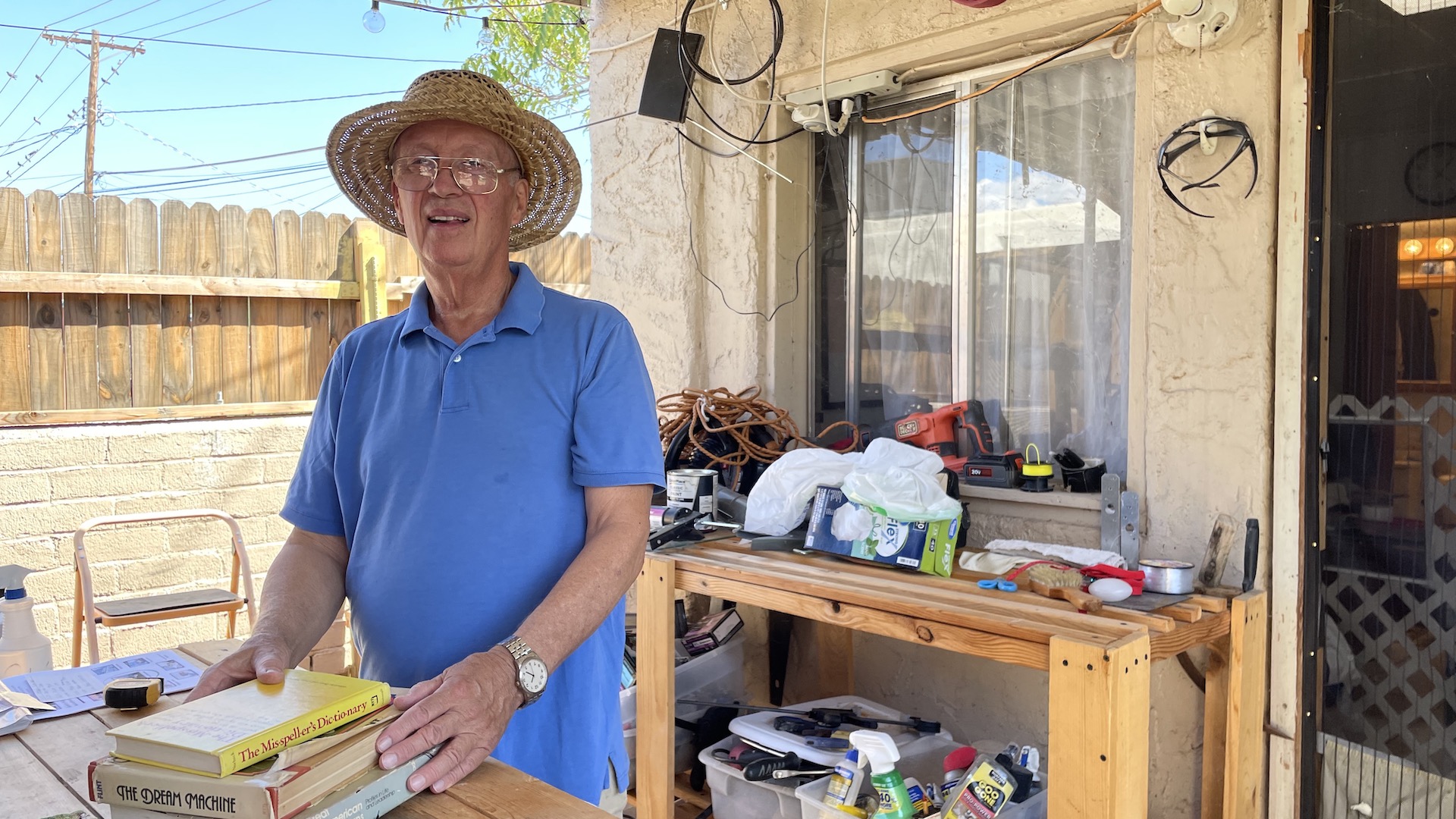 Peter Norbeck, 79, stands in front of his casita and woodworking desk on October 1st, 2021.
Rodney Harrell is the vice president of family, home and community at AARP. He said who owns the property also presents different issues for residents.
"For homeowners, there's a certain set of challenges that they face, in terms of just upkeep and keeping things going," Harrell said.
And for renters, affordability is usually the biggest issue.
"As the markets fluctuate, as rents can become expensive in your town, all of a sudden you might not be able to afford that option that you need," Harrell said.
He said to create more affordable housing options for seniors, communities need to think about density and proximity to public transit.
Steve Hastings is the chief of real estate services with the Arizona-based Foundation for Senior Living. He said waitlists for affordable senior housing went from a few people to hundreds after the 2008 financial crisis.
Hastings pointed out that it's hard to measure just how pervasive the problem is because some waitlists grow so long, those managing them shut them off.
"Something happened where affordable housing availability started to decline, homelessness started to increase, and we started to see this tremendous demand for our affordable units around the state," Hastings said.
And the pandemic only made the situation worse.
Hastings' organization converted a former Marist College building in downtown Tucson into affordable senior housing with financial support from the city, state and federal governments.
"We're full all the time, the waitlist is a couple 100 deep, you know, so it would take a long time for somebody wanting to move in," he said.
Hastings said that his organization is at capacity with other projects around the state and won't be able to return to Tucson to build more housing anytime soon.
But he said if Arizona wants to keep up with demand for senior housing, it'll need more funding, including at the federal level, and the state will need to invest more in rural housing.