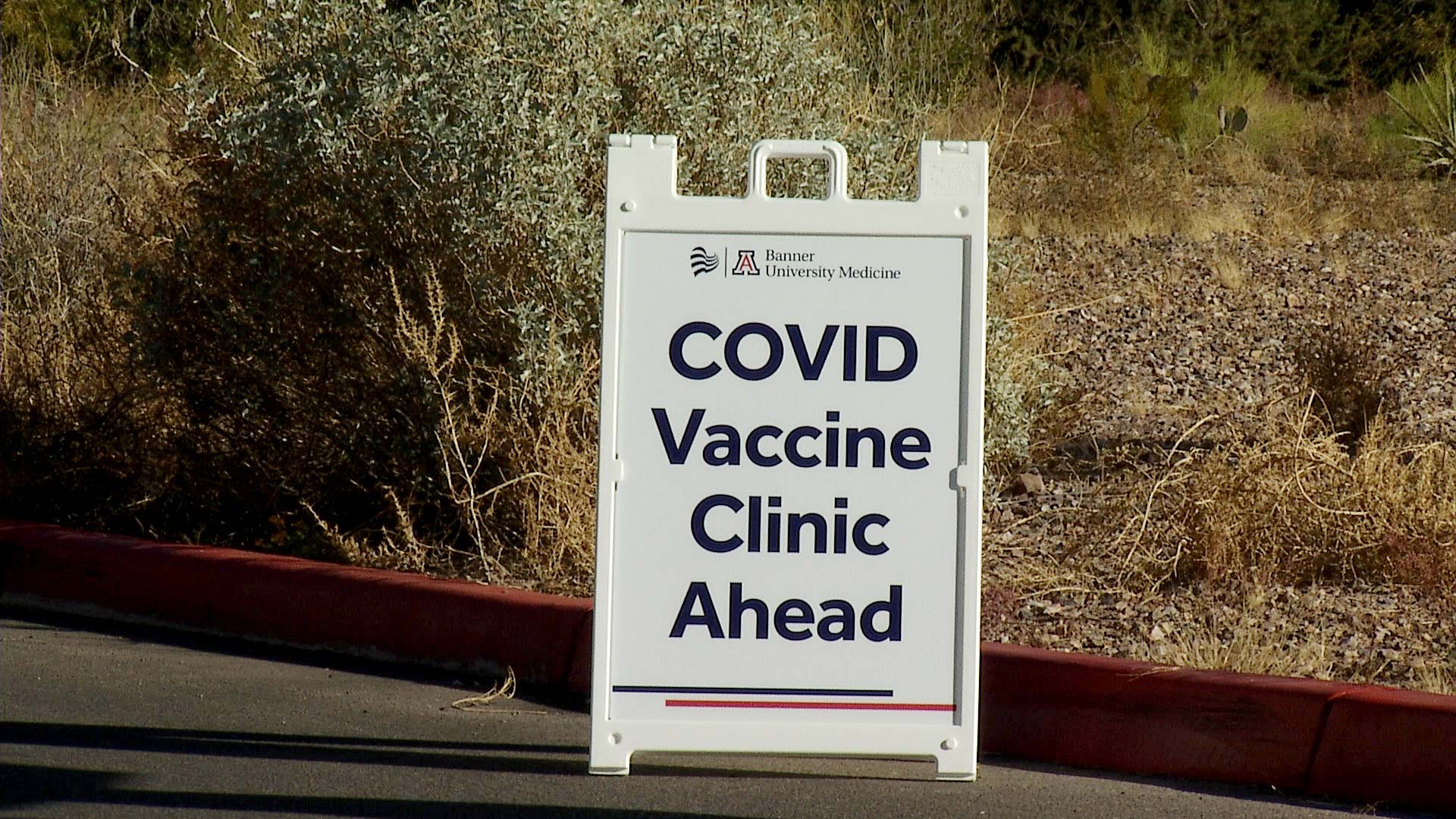 A sign outside Banner - University Medicine North in Tucson for the hospital's COVID-19 vaccine distribution site. Dec. 17, 2020.
Tony DiRusso/AZPM Staff
Pima County has vaccinated more than 42,000 people against COVID-19 with more than 11,000 of that group receiving both doses of the vaccine. But there is a looming crisis.
"If our vaccinators do not get more vaccine stock from the state, we could be done with the existing stock that we have on hand by as early as next Friday," said Dr. Francisco Garcia, Chief Medical Officer for Pima County.
This week, Pima County opened additional mass vaccinations sites at the Tucson Convention Center and the University of Arizona as well as smaller sites in Green Valley, Ajo, and Marana. Those locations were opened to ensure that county residents can get the vaccine as quickly as possible but a shrinking vaccine supply is holding up that goal.
"We continue on a daily basis to make our case to the state that we need larger volumes of vaccine on a much more regular basis so that we can plan. At this point the number of doses we are getting on a weekly basis is insufficient to deal with the sheer size of the population that requires vaccination even in the Priority 1B range," Garcia said.
The Priority 1B group includes those who work in education, first responders, and people over the age of 75.
The state was allocated more than 800,000 vaccines by the federal government and has given out more than 300,000, according to the Arizona Department of Health Services. The problem is the state does not know how much vaccine it will get each week.
"Right now, it's about 80,000 new doses a week but that can change based on vaccine supply and how they determine the allocation," said Dr. Cara Christ, head of the Arizona Department of Health Services.
Christ said the state is working with the federal government to get more vaccines but that can be a difficult ask.
"I'm pretty sure there's 49 other states also advocating to get this very limited resource," she said.
No one denies that there is a limited number of vaccines, but Garcia said the state needs to do a better job with the allocation and stop giving the lion's share to Maricopa County.
"I understand the state's desire to concentrate its largest portion of doses in its most populous area, that is a rational and appropriate strategy, however, what ends up happening is that it has a really detrimental impact on all the rest of us. These are doses kind of coming off the top as it were and so that the amount that is available for all other counties, and honestly the rural counties are much worse situation, that's the challenge for us," Garcia said.
The state is now operating two, mass vaccination sites in the metro Phoenix area that are open 24 hours a day. More than 150,000 vaccine appointments were booked at those sites as of Wednesday, according to the state health department.

Christ said the state needed to step in and help Maricopa County run the mass vaccination sites because the county was struggling but that is not the way they want to see things handled.
"Our preference would be that the county health departments take charge and administer the vaccines in their counties because they know their counties, they know their partners the best but we are always happy, as we get additional vaccine supply, to other counties in the state," Christ said.
When it comes to help from the state, Garcia said Pima County does not need help with infrastructure, it needs only one thing.
"Vaccine stock, period end of sentence," he said.
Pima County officials said if the vaccine supply continues to dwindle with no more on the horizon it will stop making reservations to receive the inoculation. They said they do not want to promise residents something they cannot fulfill.