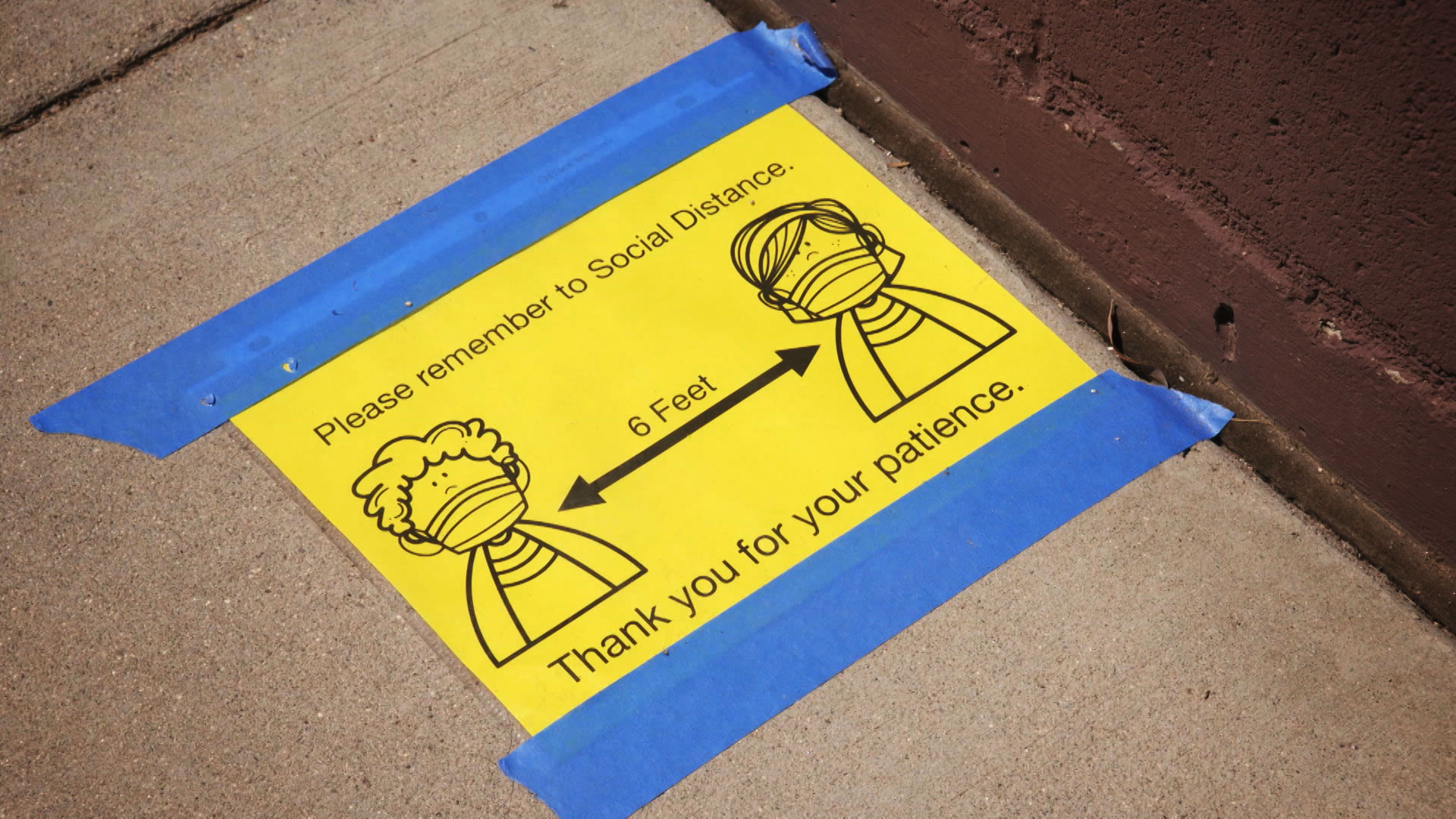 A flyer taped to the ground at Mesquite Elementary in Vail reminds students to maintain social distancing. August 2020.
Robert Lindberg/AZPM Staff
Nearly all Arizona counties have advanced enough in their vaccine rollouts to enter either phase 1B or priority 1B, as of Jan. 15. That means educators are now eligible for the vaccine.
With a limited supply of doses, vaccinating Pima County's educators will not happen overnight. However, vaccinations for an increasing number of community members could help curb the spread of the virus. Local COVID transmission remains high.
Officials from the Tucson Unified and Sunnyside Unified school districts have left the return to classroom learning open-ended until the pandemic is better under control.
Gov. Doug Ducey focused on education in both in his state of the state address and his budget proposal.
In his state of the state address, Ducey said resources need to be directed towards catching students up on learning losses, a problem the pandemic exacerbated but did not create in the state. He also said he would not fund empty seats in classrooms, which a spokesman later clarified meant funding will go to whichever school a child is at, even if that child switches schools.
His budget proposal included grants for schools which have incurred financial losses due to an enrollment decline. It also put aside money for summer school programs and transportation.
On Thursday, superintendent of public instruction Kathy Hoffman took to Twitter to remind Arizonans that all counties are currently in the red zone, meaning schooling should remain virtual.
---
TUSD vaccinations start with limited supply
AZPM
Vaccinating Tucson Unified School District employees could take longer than previously thought.
TUSD officials told governing board members Tuesday that there may be only 100 to 200 slots per week for employees to register and receive COVID-19 vaccinations. This is based on allocations made by the Pima County Health Department if the county receives 12,000 doses a week.
Given these limited numbers, officials say the district will prioritize employees already working on school campuses or who are older than 65.
TUSD superintendent Gabriel Trujillo says vaccinating educators will likely start in February, slightly later than previously announced.
The district has over 7,000 employees. Employees will not be required to get a vaccination in order to return to the classroom.
---
Gov. Ducey touts pandemic response, promises focus on education and tax cuts in annual address
AZPM
This year's Arizona state of the state address took place in the shadows of two dramatically troubling events - the resurgence and continued record growth of COVID-19 infections and deaths in Arizona and last week's assault on the U.S. Capitol by people bent on forcing Congress to overturn the results of the presidential election.
Before addressing the pandemic, on Monday Gov. Doug Ducey took a few moments to address the assault on the Capitol which he referred to as "sickening."
The governor then turned to the coronavirus pandemic. He did not mention Arizona's renewed status as the top state in the nation with the worst COVID-19 infection rate, but he acknowledged that the danger was great.
The governor also said the pandemic had done severe damage to the state's ability to educate its youth. He called for a serious discussion about focusing resources on turning things around.
---
Ducey unveils budget proposal
AZPM
Governor Doug Ducey released his proposed, on Friday, for the upcoming fiscal year that starts on July 1.
Public schools are losing close to $400 million in funding due to a loss of students caused by the pandemic.
His budget proposal calls for a grant program to let schools make that money up. The grant program would help students who fell behind with online learning catch up. It includes more money for summer school.
The grant proposal would target schools with large numbers of students on the free and reduced lunch program.
Ducey also sets aside $10 million for school transportation so families who choose to attend a school outside of their neighborhood can get to the school.
---
Former TUSD board member dies
Arizona Daily Star
Michael Hicks, the former president of the Tucson Unified School District Governing board, died of COVID-19 Tuesday, the Arizona Daily Star reports. He entered the hospital on Dec. 12 and was admitted to the intensive care unit three days later.
An alum of TUSD schools, Hicks served on the board from 2011-2018. The current TUSD governing board is planning a tribute to Hicks for their next meeting.
---
Judge rejects one of many challenges to new education tax
AP
PHOENIX — A judge has rejected one of several constitutional challenges to a new voter-approved tax on the wealthy to fund education. But he put off deciding on several other legal arguments brought by opponents of Proposition 208.
The judge said Thursday that he ruled against an argument that the measure limited the Legislature's authority to adjust school funding because the section only applied to schools themselves. That provision says school districts must use the money provided by the tax to boost teacher and support staff pay and can't use it to replace other funding.
---
Arizona officials reinstate winter sports at high schools
AP
PHOENIX — Arizona high school sports officials have voted to allow winter sports, reversing a decision made four days earlier to cancel the season because of the coronavirus pandemic.
The Arizona Interscholastic Association voted 5-4 on Tuesday to reinstate basketball, soccer and wrestling for high school students. The season was expected to start next week.
All students, coaches and officials will be required to wear a face covering during games and events. Each school also must complete a coronavirus monitoring form the day of every game and provide a copy to the opposing school. It comes as Arizona struggles with the worst COVID-19 diagnosis rate in the U.S.
---
Arizona child safety department agrees to federal oversight
AP
PHOENIX — Arizona's department of child welfare has agreed to increased federal scrutiny after failing to provide proper translation services for families whose first language is not English.
The Arizona Republic reported Friday that the state Department of Child Safety entered into a voluntary settlement with federal officials and pledged to improve services to families with limited English-speaking abilities. The agency will be reviewed by the U.S. Health and Human Services Department over the next two years.
The resolution followed complaints from 11 people who said the state agency did not not provide families with Spanish translations for documents and services parents needed for the agency's family-reunification process.
---
UA to start vaccinations Jan. 22
AZPM
The University of Arizona will start giving vaccines on Jan. 22, according to university officials.
The university will be the primary site in Pima County for K-12 teachers and staff, Pima Community College employees, and UA employees to get their vaccines.
"All the employees at the University of Arizona are going to be included in that 1B category and we very much look forward to getting as many people vaccinated as fast as we possibly can," said Robert Robbins, University of Arizona President.
---
UA researchers receive grant to build new space telescope
AZPM
University of Arizona scientists are getting ready to build a new orbiting space telescope.
NASA informed the team earlier this month that their project was chosen for one of the space program's four Astrophysics Pioneers missions. The group will receive 20 million dollars in NASA funding to construct the telescope at UA.
Principal investigator Carlos Vargas says the telescope, called Aspera, is designed to reveal the characteristics of gases between galaxies.
---
10 winners announced for I Love My Librarian Award, including UA med school librarian
AP
NEW YORK — In Hayward, California, library director Jayanti Addleman was cited for inspiring optimism and extensive expertise during the pandemic. At Washburn University, in Topeka, Kansas, librarian Sean Bird made sure that students now taking all courses online because of the coronavirus received laptops.
Addleman and Bird are among 10 winners of this year's I Love My Librarian Awards. The awards are presented by the American Library Association and sponsored by Carnegie Corporation of New York.
Each honoree receives $7,500 and a $750 donation to their library. The winners are nominated by library patrons for expertise, dedication and impact on their communities.