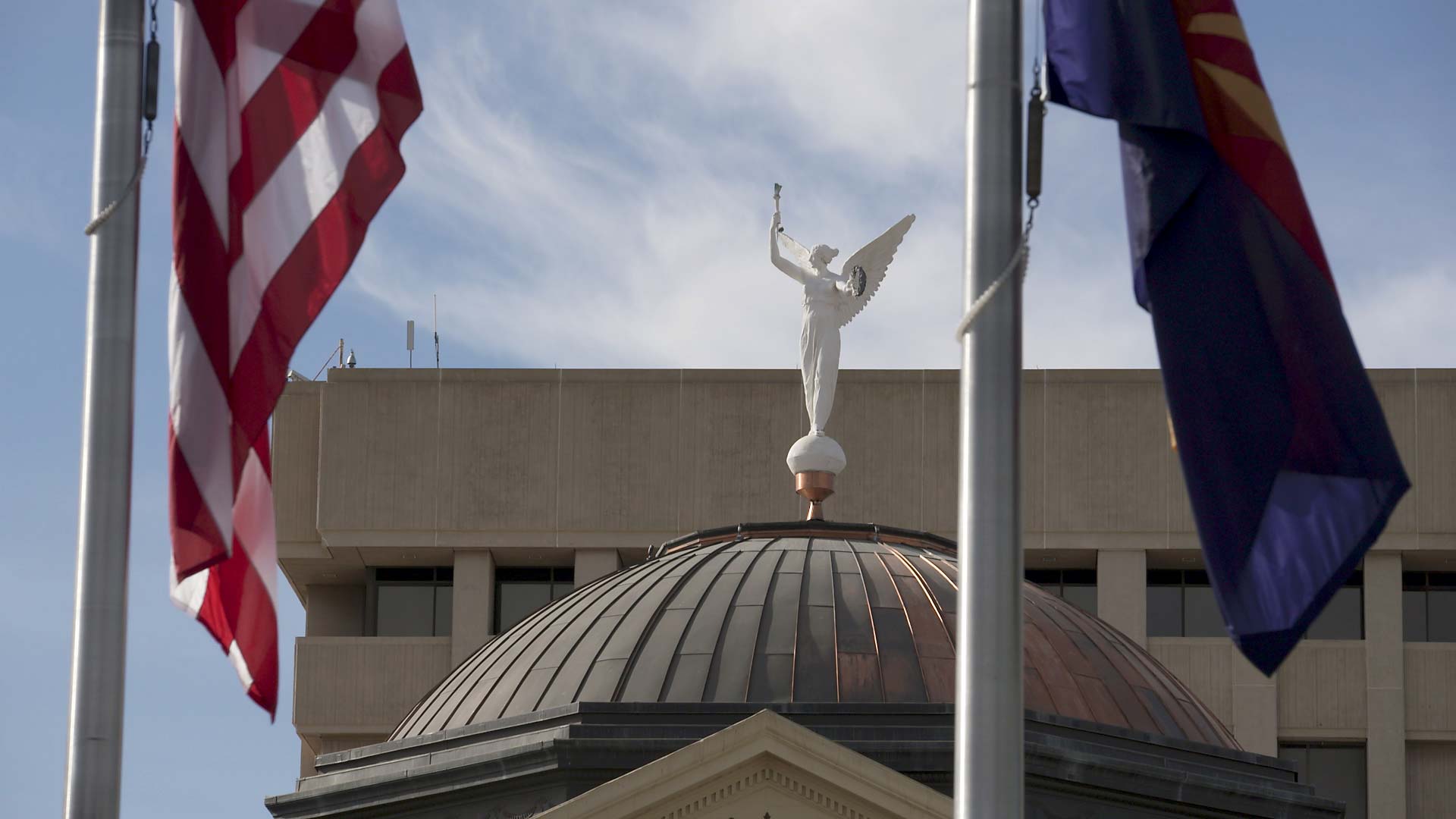 A view of the dome atop the Arizona Capitol Museum at the State Capitol in Phoenix. January 2021.
AZPM Staff
Governor Doug Ducey released his proposed, on Friday, for the upcoming fiscal year that starts on July 1.

The $12.6 billion plan includes a call for $200 million cut to the state's income taxes. Ducey has run twice on reducing Arizona's income tax to nearly zero. His plan would expand the cut to $600 million in three years.
The proposed cut comes as the state is getting ready to begin collecting increased taxes from Arizona's top earners as part of Prop 208, which was approved by voters in November. The Prop 208 dollars will be used to help pay for public education.
The governor's staff said the main reason for proposing the tax cut was not to offset the tax increase approved in Prop 208.
"The fact that a lot of everyday Arizonans have been through a lot through this (the COVID-19 pandemic), some of them are probably earning less than they were a year ago and we want to make sure that they can keep more of the money that they earn," said Daniel Scarpinato, Chief of Staff for Governor Ducey.
Public schools are losing close to $400 million in funding due to a loss of students caused by the pandemic.

During his state of the state speech Ducey said Arizona would not fund empty seats in classrooms.

His budget proposal calls for a grant program to let school make that money up. The grant program would help students who fell behind with online learning catch up. It includes more money for summer school.
The grant proposal would target schools with large numbers of students on the free and reduced lunch program.
Ducey also sets aside $10 million for school transportation so families who choose to attend a school outside of their neighborhood can get to the school.
Ducey's spending plan also calls for $33.1 million to fund broadband expansion in the state. Specifically, the governor wants to improve broadband along the I-40 corridor in northern Arizona.
The budget passed by state lawmakers was a place holder as they rushed to end the session due to the pandemic.
Governor Ducey had asked for money last year to pay for state troopers to have body cameras.
That proposal is back again this year, with a $13.8 million price tag. It easily passed the House in 2020 but was not taken up by the Senate due to the shortened legislative session.
The legislature is responsible for crafting the state budget each year so, the governor's budget proposal is nothing more than a wish list.
Legislative leaders do work closely with the governor's office while putting together the state budget.