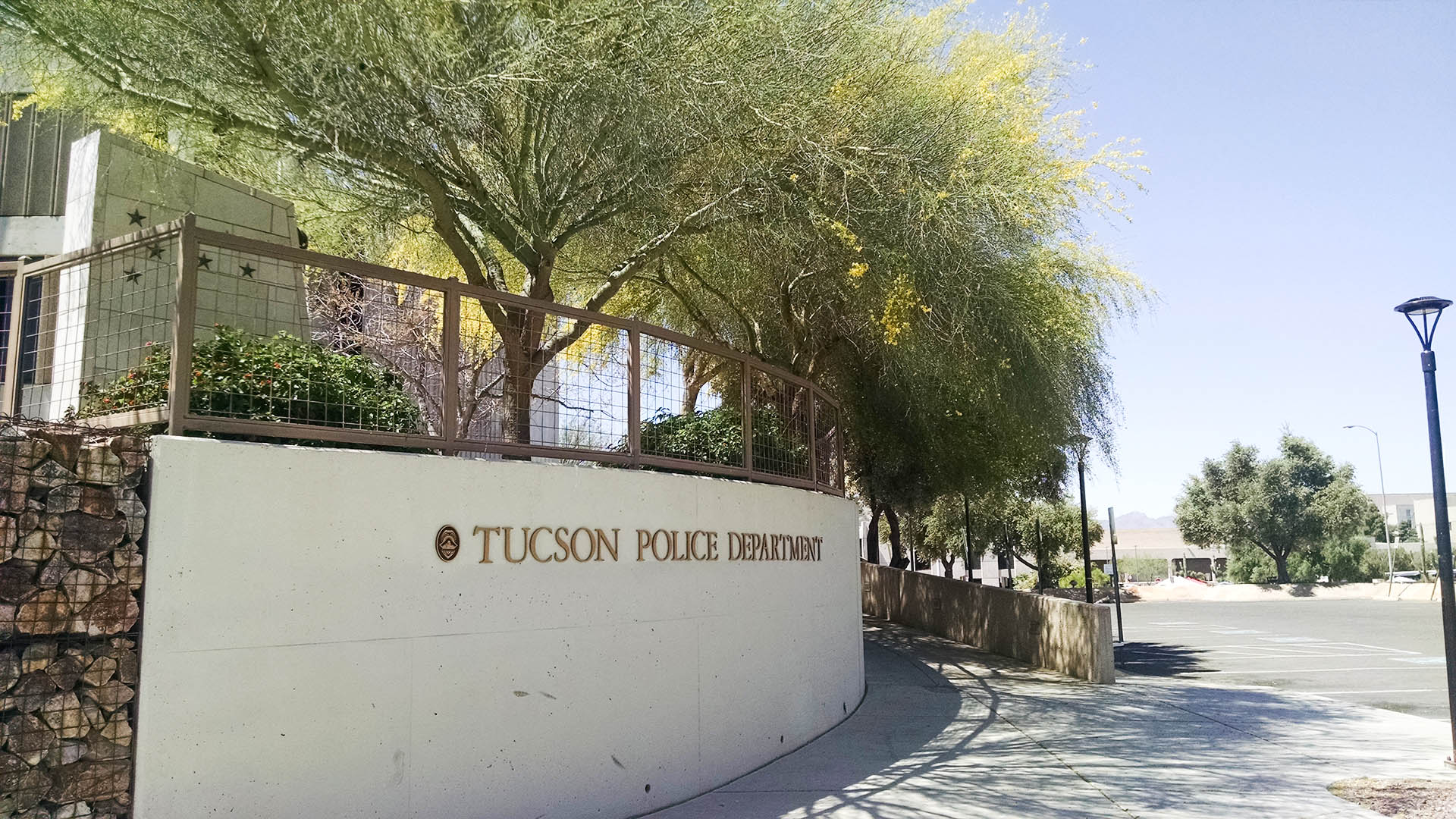 The sign at the downtown Tucson Police Department station, South Stone Avenue.
Nick O'Gara/AZPM
A panel of experts and community members convened by Tucson police to examine two in-custody deaths earlier this year has issued more than 50 recommendations to the department.
Insufficient training, a lack of Spanish-speaking 911 dispatchers and the use of spit socks to protect officers from COVID-19 were some of the 32 factors that contributed to the in-custody deaths of Damien Alvarado, 29, in March and Carlos Ingram-Lopez, 27, April, according to a report from the TPD-convened Sentinel Event Review Board released Friday.
The review group was led by two nationally recognized experts in criminal justice reform, but it wasn't meant to assign blame to individual officers. The group reviewed "system failures" — the tactics, policies and behaviors that led to the deaths — and issued 53 recommendations for how the department should do things differently going forward.
Tucson Police Chief Chris Magnus said in an interview Thursday that the review differs from previous TPD use-of-force reviews, particularly in regard to the systemic nature of the review and the number of community members on the board.
"It is very significant and also very unique for policing," he said.
Among the recommendations in the 80-page report is that officers receive training to recognize risk factors for heart attack and excited delirium. Alvarado and Ingram-Lopez both died after being restrained in a highly agitated state while high on amphetamines.
The group also recommended all 911 dispatchers be required to speak conversational Spanish. In Ingram-Lopez's case, the dispatcher didn't speak Spanish and didn't relay details from his grandmother about his drug ingestion. The board concluded that, along with other missteps, led officers to approach the situation with an arrest mentality as opposed to an assist mentality.
"Dispatch's framing of the call, including information shared with responding officers and communication of outstanding [domestic violence] arrest warrant, contributed to the officers' approach to the Ingram-Lopez call as one of arresting a criminal, rather than helping a community member in the midst of a drug-induced psychosis," the report's authors found. "While there may be benign explanations for these challenges, such errors underscore community observations of systemic racism and should be immediately addressed."
Ensuring dispatchers ask about drug ingestion or use and collect information that might warrant sending in a team with training in mental or behavioral health situations would help, the group found.
Other recommendations included ensuring officers establish plans of engagement that aim to deescalate the situation, increased oversight of dispatchers and educating officers on the affect using profanity can have on escalating situations.
The review board included representatives from TPD, the Tucson Fire Department, emergency medical services, city staff and community participants — including experts in care for individuals with mental or behavioral health issues.
The group was led by John Hollway, executive director of the Quattrone Center for the Fair Administration of Justice from the University of Pennsylvania Carey Law School, and Michael Scott, clinical professor and director of the Center for Problem-Oriented Policing at the Watts College of Public Service and Community Solutions at Arizona State University.