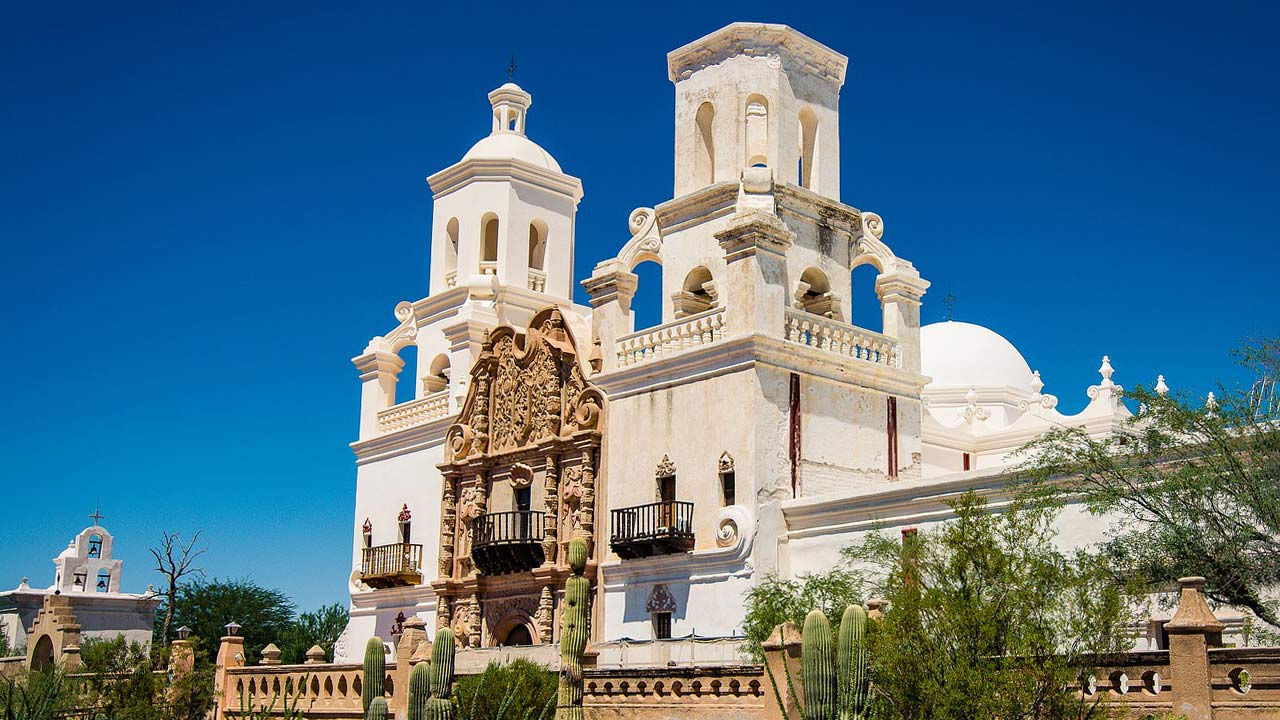 Mission San Xavier del Bac.
via Pixabay
What started out as a teacher asking for help on Facebook is now a GoFundMe campaign that's raised more than double the original $10,000 goal to buy Chromebooks for San Xavier Mission School students.
Jill Dotts started the campaign Aug. 15 after seeing a Facebook post from her friend Jackie Kroskob, the English Language Arts and eighth grade homeroom teacher at San Xavier Mission School. Kroskob said her childhood friend called her up and said she'd like to start a GoFundMe page for the students at the mission's school in the Tohono O'odham Nation. The account reached its goal Friday evening with $11,665. Kroskob said they are "truly blessed," and that her friend, Dotts, planned to close the fundraiser soon. As of Monday morning, they'd raised $21,518 dollars from 462 donors.
Kroskob said she estimates 50 to 75% of the students at the school didn't have a computer or access to wi-fi when they started virtual learning last spring. She said in her homeroom, four out of her 10 eighth grade students need one of the new Chromebooks.
"What we discovered is that many of our students were trying to do their work on smartphones. It just became apparent that we had a need for technology," said Kroskob.
She said as schools and students wait for federal funds to buy technology for students to use while learning at home, she saw the learning gap widening.
"They're not getting their needs met," Kroskob said. "We have student who are not at grade level. Our goal, as with any teacher, is to bring them to grade level in the classroom, but it's proving to be more difficult to do it virtually, especially when we find that our students don't have the technology."
Kroskob said while creating some recent lesson plans, she realized that if kids can't get online, "it really doesn't matter how creative [her] lesson plans are." Out of that frustration came the Facebook post. She said in it, she described how important virtual learning was for her school. She said the majority of the students are Tohono O'odham, plus a few Pascua Yaqui and white students, and for many this means their homes are multi-generational.
"We have to protect the elders, because the elders are the keepers of the language, the traditions and the culture, so that's one of the reasons we're continuing with the virtual learning and being very careful about moving forward with students."
Jill Dotts, Kroskob's friend who now lives in Florida, reached out and said she'd like to start the fundraiser. Kroskob said as a teacher at the school she cannot host such a fundraiser. Kroskob said Dotts decided she would stop the fundraiser when she reached $10,000 or after 30 days.
Kroskob said for $10,000 they estimated they could buy possibly 50 computers.
"We're just trying to get a computer, or a Chromebook or a laptop in the hands of every student and we have 91 students," Kroskob said.
She said people have started to make Paypal and used-technology donations to the school, and the Raytheon American Indian Network recently donated 25 laptops.
The Catholic Diocese of Tucson runs the San Xavier Mission School. It's in the village of Wok in the Tohono O'odham Nation.
"I'm just trying to make it equitable. I just want them to have the best opportunity that they can giving the circumstances that surround so many of them," Kroskob said. "I just want them to have the best opportunity at an education."