Under an agreement approved by a federal court this week, the U.S. Fish and Wildlife Service will restore the Sonoran Desert tortoise to the candidate list for the Endangered Species Act and take 18 months to evaluate the species status and issue a new decision on its eligibility for such federal protection.
Last fall, Western Watersheds Project and WildEarth Guardians filed a lawsuit against the U.S. Fish and Wildlife service for their 2015 decision not to list the Sonoran Desert tortoise under the ESA.
Cyndi Tuell of the Western Watersheds Project said that was a reversal of the agency's position for years prior, which was based on insufficient scientific data and rationale.
"The Fish and Wildlife Service decided that we were correct. That there does seem to be a reason to reconsider whether the Sonoran Desert tortoise should be protected under the Endangered Species Act," Tuell said.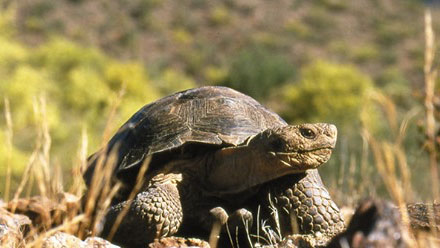 VIEW LARGER Sonoran desert tortoise.

Courtesy Arizona Game and Fish Department
Now, the agency will have to gather new information to evaluate the species' risk of extinction.
Tuell said that will be complicated by the fact that the Arizona Game and Fish Department wasn't able to fund monitoring studies of the species in 2009 and 2011-2014, and the Arizona State Land Department has prohibited any scientific studies on state trust lands since last year.
"There's no information that the species is doing better and there's a lot of information that its habitat is being further degraded," Tuell said, highlighting fires, development and climate change as major factors.
According to the U.S. Fish and Wildlife Service, Sonoran Desert tortoises face many threats, including development, off-highway vehicles, improper livestock grazing, border enforcement activities, drought and climate change.
FWS will be accepting public comment on any proposed decisions.
---
Eds.: This version of the story corrects the timeline of when Arizona Game and Fish Department conducted studies, based on available information.