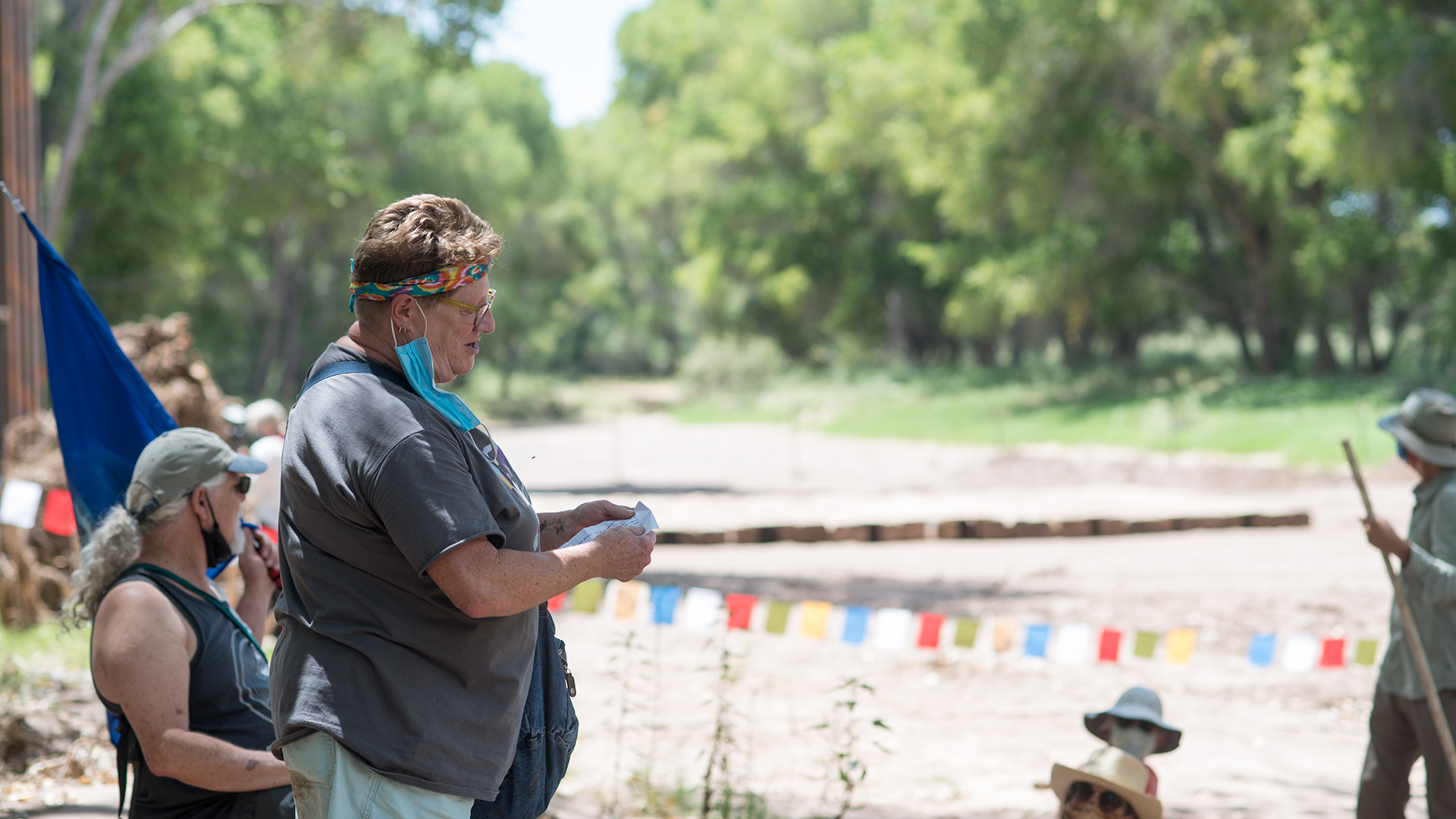 Kim Beach-Moschetti, an area resident and Arizona House of Representatives candidate, speaks at a border wall protest at the San Pedro River on Aug. 14, 2020.
Alisa Reznick/AZPM
A handful of local residents and environmental groups met at the San Pedro River Friday to voice their concerns about how ongoing construction of the Trump administration's border wall will impact the area.
Wall segments are going up across swaths of Arizona wilderness, but critics say the project at the San Pedro is particularly concerning.
Surrounded by looming cottonwoods and tall grasses, the river — Arizona's last free-flowing — is a biodiversity gold mine that's home to over 100 bird species and a vital water and food stop to many more.
But on Friday, much of that wildlife was drowned out by construction noise. Speaking over the sound, Randy Serraglio with the Center for Biological Diversity said the area needed protection.
"Every district court judge who has looked at this has decided, 'Yes, the funding transfers for this are illegal and unconstitutional. Yes, President Trump has overstepped his authority,'" he said. "But the Supreme Court, which is in this administration's pocket, has allowed this construction to continue."
In June, a panel of the U.S. 9th Circuit Court of Appeals ruled Trump's use of $2.5 billion in military funds to build the wall was unconstitutional. Despite that decision, a Supreme Court ruling allows construction to go on as legal challenges play out in court.
Serraglio's group is one of several environmental organizations challenging the wall in lawsuits.
"I think about how hard we've tried to stop this, and so far we've failed," he said. "Because we're fighting it like this, with our hands tied behind our back."
Serraglio said many of the species native to the San Pedro are federally protected. But national security laws like the Secure Fence Act and Real ID Act enacted in the early 2000s allow for the waiving of a host of air, water and wildlife protection laws in the borderlands. The Trump administration has bypassed dozens of those laws to build the wall so far.
Serraglio urged listeners to keep fighting, particularly ahead of the presidential election in November.

"We can do it through our tax dollars and through a sane and rational administration that values people and values our national heritage, or we can come down here with our bare hands and tear it down," he said. "But one way or another, we're gonna tear this wall down."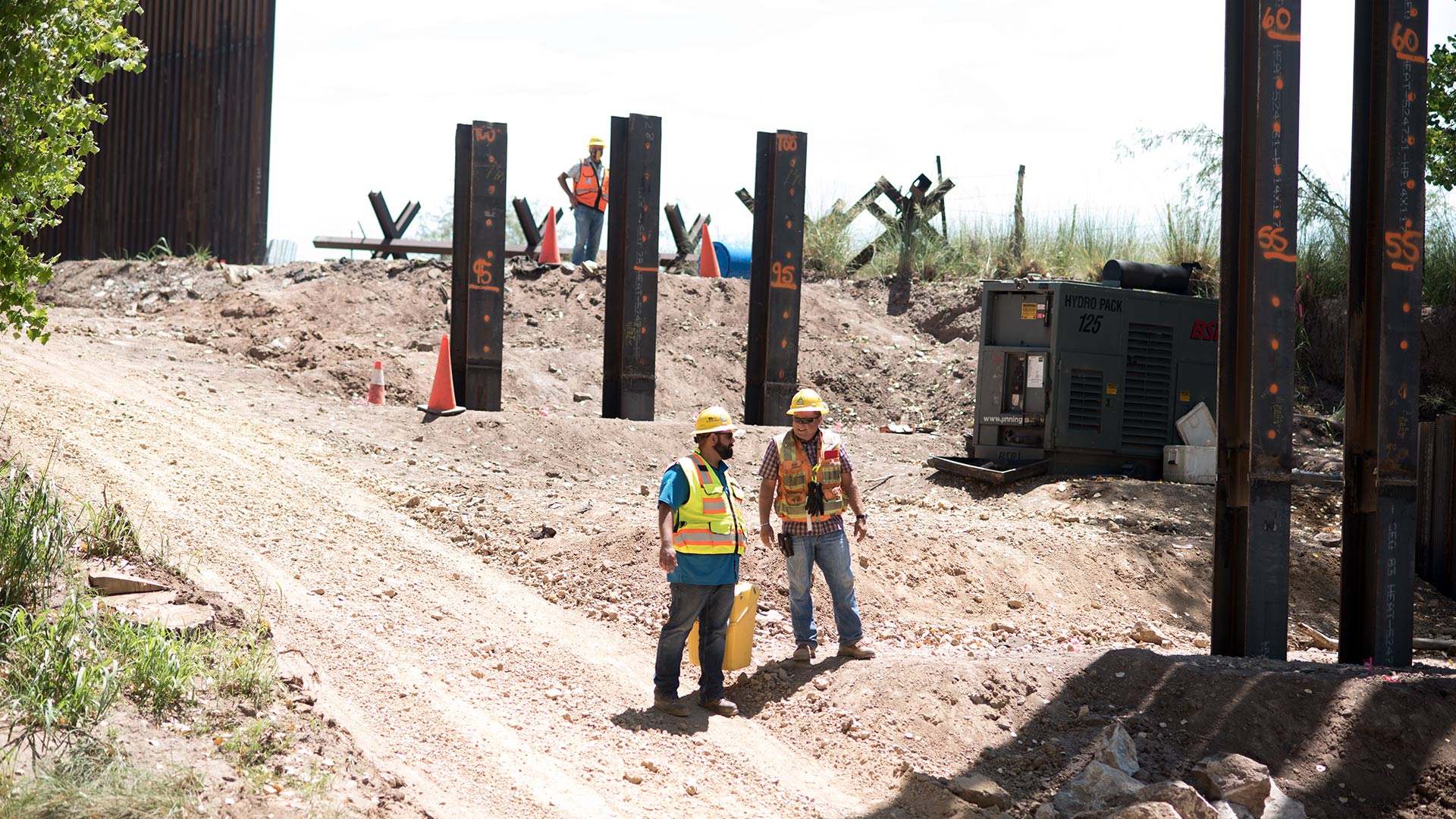 VIEW LARGER Border wall workers look on during a protest against wall construction along the San Pedro River on Aug. 14, 2020. Construction began along the stretch in July.

Alisa Reznick/AZPM
Work on the border wall section along the San Pedro began in July. But many locals have long dreaded the project. In January, an anti-wall demonstration drew hundreds of area residents and activists to the same stretch. Jeff Sturges with the group Hands Across the River was one of the organizers of that protest who spoke again on Friday.
"Money could be spent in Cochise County and in Arizona in technology and manpower that would alleviate the many risks inherent in this project and provide better, more environmentally friendly border security," he said.
U.S. Customs and Border Protection (CBP) has said they work with area stakeholders on wall projects. But people who live along the San Pedro argue they've been left in the dark about design plans and other specifics, despite making multiple requests.
Kate Scott, who runs the nearby Madrean Archipelago Wildlife Center, said that's one reason she organized Friday's protest.
"We're not privy to any of that information," she said. "So, due to the frustration of being steamrolled and stonewalled, I felt like I had to take my case to the river itself."
As the protesters spoke, a string of prayer flags flapped in the wind while construction workers crossed the sandy river bed in orange pickup trucks. A series of wide, wooden beams lay flat at the base of the river bed and a crane rose above the trees.
The wall project along this stretch will one day include a 30-foot steel bollard wall, a gate across the river and stadium-style surveillance lights.
Residents argue that plan doesn't make sense across a sensitive river — particularly during monsoon season, when the chance of flooding is high. Residents said those concerns were already realized earlier this month, when monsoon rains toppled some metal scaffolding and washed away a road in the river bed.
Liz Lopez, another organizer with Hands Across the River, said that situation can get much more intense.
"We've had debris that's almost 20 feet tall coming through here," she said.
Ron Barber, who serves as the district director to Arizona Rep. Ann Kirkpatrick, said the river was a "crown jewel" of Arizona. In addition to large animals like jaguars and ocelots, Barber said the area was home to many more.

"Nearly 45% of the 900 species of birds in North America use this river at some point in their lives," he said. "It is also the home 180 varieties of butterflies, 87 mammals and 67 reptiles and amphibians."
Barber said Kirkpatrick has vehemently opposed construction along the river, which is part of the district she represents, and offered recommendations to the administration about border security-minded alternatives to the wall.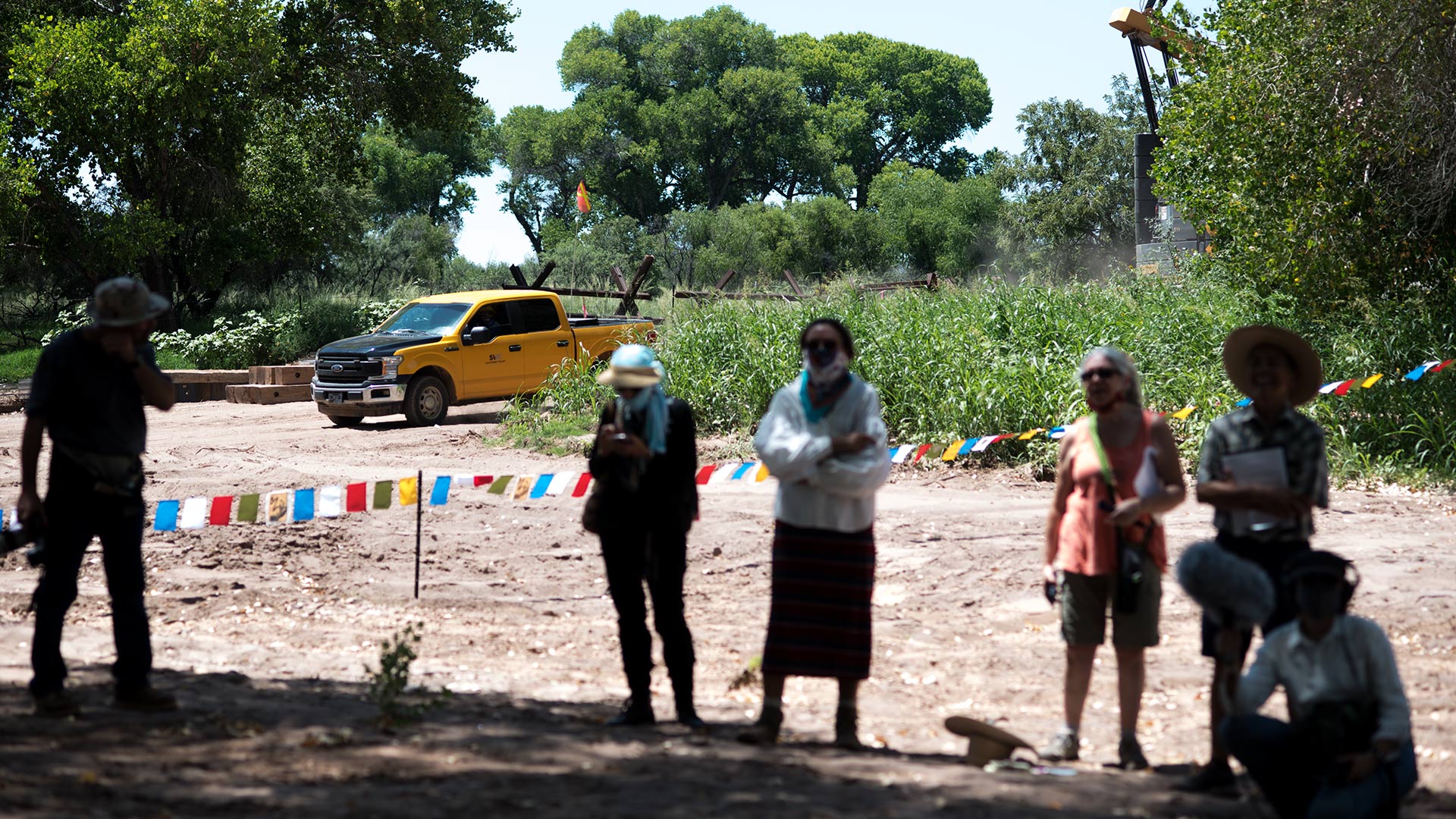 VIEW LARGER A construction truck drives across the San Pedro river bed behind anti-wall protesters on Aug. 15, 2020.

Alisa Reznick/AZPM
"Those recommendations have been arrogantly — and I repeat, arrogantly — rejected by the Department of Homeland Security," he said.
One counter-protester, Daniel Webster, was also in attendance. He said he liked to visit the river from his home nearby, but believed the wall would help stem what he saw as the threat of violence along the border.
"I will be on your side if it impedes major wildlife coming through here," he said. "[But] am I worried about a snail? No, I'm concerned about American lives."
CBP has received more than $12 billion for wall projects since 2017 and built over 230 miles so far. In an audit issued in July, the Office of Inspector General found CBP did not adequately research the most effective and affordable solutions to obtain operational control of the border.
The report also said the agency had used outdated information and failed to effectively identify which areas were in need of barriers. Protesters said the audit showed how the wall project, especially along the San Pedro, lacked both foresight and evidence. Center for Biological Diversity's Randy Serraglio said that's what made the project so frustrating.
"I have never in my 30 years of doing this work, have I seen an episode, a display, a political grandstanding, that is so empty, so futile, so ridiculous — and yet so destructive, as Trump's wall."