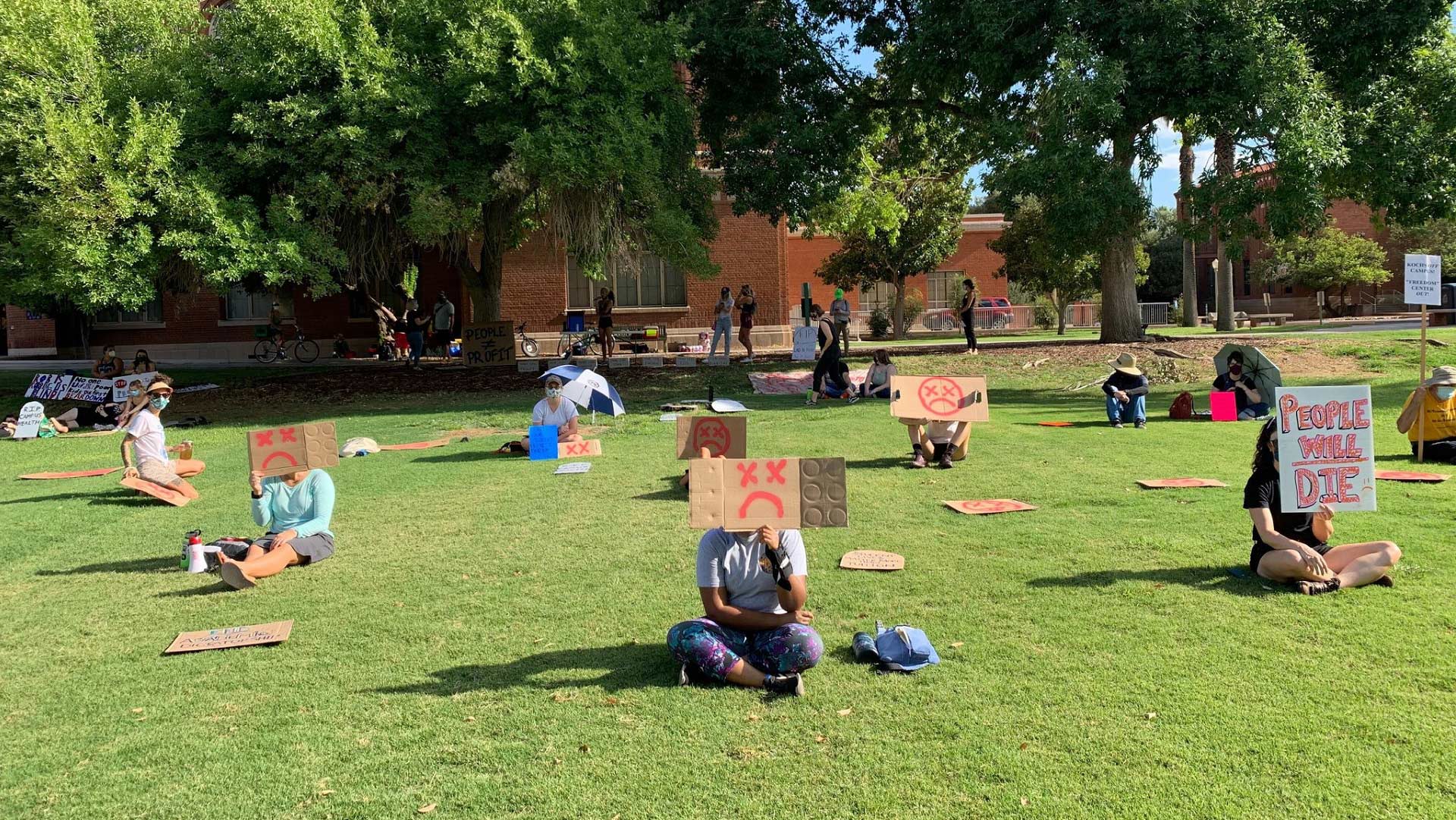 Students and instructors stage a "die-in" against The University of Arizona's COVID-19 re-entry policy, August 14, 2020.
CAJUA Grads Action Group/Twitter
Several dozen people "played dead" on the University of Arizona mall Friday morning to show their concern over the university's reopening plan during the pandemic.

The protesters, who were students and instructors, displayed signs such as "We are not your experiment." They say they want the university's plans to be guided by public health data, not arbitrary dates on the calendar, in order to keep people safe.
Graduate student Ruth Oropeza, one of the organizers, says their primary concern is having equitable options available so that everyone can study or work safely.
"There's a huge concern that once graduate students, staff, faculty members or undergrads get sick and they might not be able to do their job or study, that there are questions about how that's actually going to work out," Oropeza said.
She adds many people are concerned about what they see as the university's lack of transparency about its plans, especially in case of a COVID-19 flareup that might cause the university to shut down again.
Casey Richardson, another organizer and UA graduate student, said she also believes the university is opening prematurely.

"We have very serious concerns that the university is slated to reopen in under two weeks now and that there just do not seem to be adequate protections in place to safeguard the most vulnerable, the Black, Indigenous, and people of color communities. Since the University of Arizona resides within Pima County and there's a lot of flow between the campus community and off-campus community, the surrounding neighbors of the University of Arizona will also be negatively impacted by this kind of rash reopening decision," she said.
The university began accepting a small number of students into on-campus dorms today. All were tested for the coronavirus before moving in. President Robert Robbins the next steps in campus reentry will depend on how well the disease is controlled.