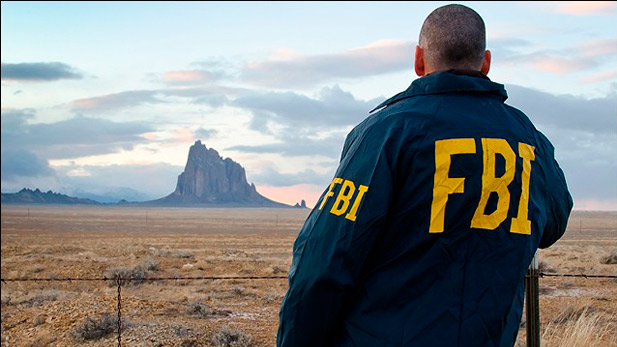 A special agent overlooks the Shiprock land formation on the Navajo Nation in New Mexico. The reservation, the largest in the country, is one of about 200 federally recognized Indian reservations where the FBI has investigative responsibilities.

Federal Bureau of Investigation
The president of the Navajo Nation asked the U.S. Pardon Attorney for leniency Tuesday on behalf of the sole Native American on federal death row, who is scheduled to be executed August 26.
A jury convicted Lezmond Mitchell in 2003 of felony murder, first-degree murder, carjacking resulting in death and other federal crimes in the Navajo Nation. Mitchell, 20, and Johnny Orsinger, 16, hitched a ride with Alyce Slim and her granddaughter between Tohatchi, New Mexico, and Sawmill, Arizona, Oct. 28, 2001. When they reached Sawmill, Mitchell and Orsinger killed Slim and later killed her granddaughter.

Unlike some federal crimes committed on tribal lands, the carjacking resulting in death charge does not need the tribe's consent for the federal government to seek the death penalty.
Navajo Nation President Jonathan Nez appealed to President Donald Trump to commute Mitchell's sentence to life in prison with no possibility of release. Nez said in a press release this would be an act of respect for tribal sovereignty.
"This request honors our religious and traditional beliefs, the Navajo Nation's long-standing position on the death penalty for Native Americans, and our respect for the decision of the victim's family," Nez said. "We need to address this issue to move forward in our trust of our federal partners and to continue to work on the importance of protecting our people."
According to the petition for clemency, this is the only case where the federal government has pursued the death penalty against the wishes of a tribe for a crime committed on its land.
Mitchell submitted an appeal in December 2019 claiming racial bias in the jury](https://www.azpm.org/s/72174-navajo-man-appeals-conviction-claiming-jury-bias/). The the U.S. Ninth Circuit Court of Appeals stayed his execution, but later denied his request in April 2020 to interview jurors about any alleged bias. According to a press release at that time, two of the three judges on the panel said Mitchell's "death sentence conflicts with the tribal sovereignty of the Navajo Nation."