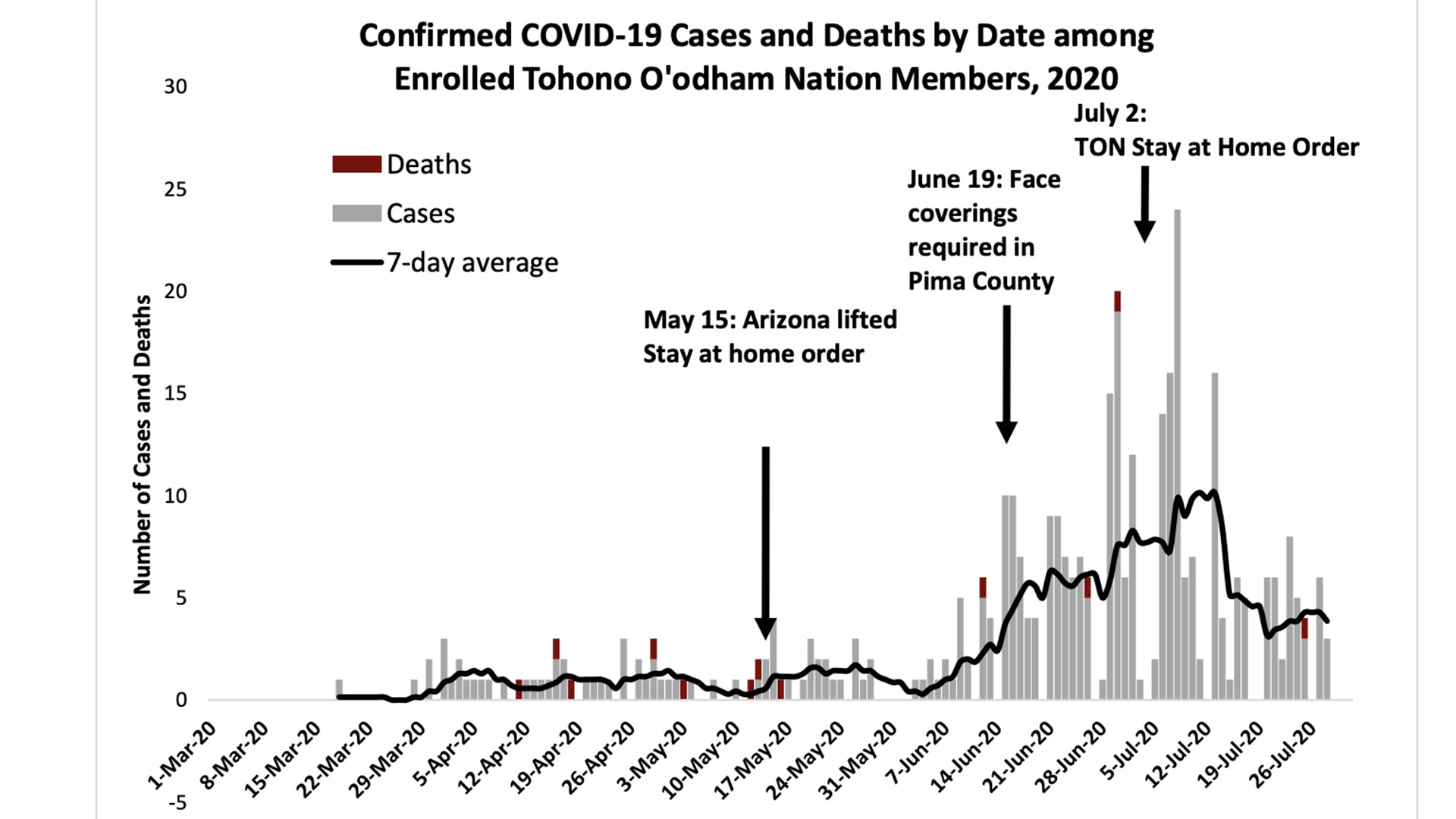 A screenshot of a chart depicting the number of COVID-19 cases and deaths among Tohono O'odham members featured in the July 29, 2020, report from tribal leadership.
The Tohono O'odham government reported Wednesday it has five times the number of tribal members testing positive for COVID-19 than it did in early June, but the number of weekly new cases is decreasing.
According to a report from the tribal government, 363 members have tested positive for the disease and 12 Tohono O'odham members had died as of Wednesday. Tribal leadership also reported 74 positive cases among people of other tribes or groups living in and out of the nation.
Tohono O'odham Nation Health Care has performed 2,975 tests on patients, employees, first responders and front-line workers, of which 302 have been positive. It is unclear how many tests were performed on Tohono O'odham members versus people of other tribes or groups. The report said the number of positive results is almost eight times what the number was in early June. That's mirrored by the increase in Tohono O'odham members living in the nation who have contracted the disease over the same period of time.
According to last week's report, the number of members who reside within the nation and tested positive for COVID-19 narrowly overtook the number of people with the disease living outside of the nation. This week the trend continued. Now there are a total of 193 members who live in the nation who have tested positive, and there are 170 cases among tribal members who live outside the nation.
The tribal government reported that cases began to surge June 15, a month after Arizona's stay-at-home order expired and a couple days before Pima County required face coverings. The number of reported cases over the last two weeks has gone down and is now mirroring new cases numbers the government saw in late June. Tribal leadership said in the report it hopes the recent decrease in confirmed cases means the curve is flattening.
Approximately, 61% of tribal members with the disease are under 45 years old. The youngest member to contract the disease was 7 months old, and the oldest 87 years old.