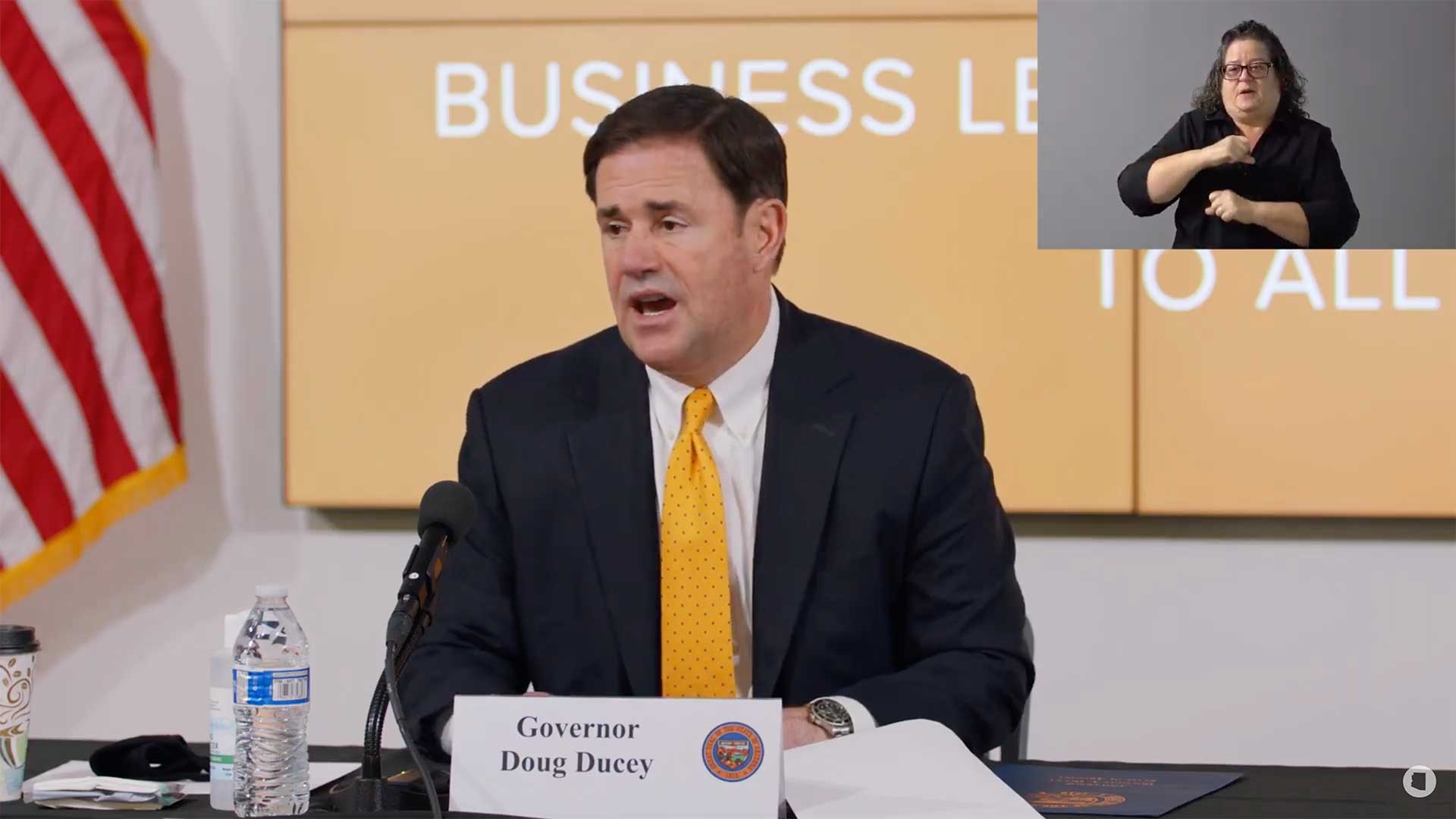 Gov. Doug Ducey at a July 23 media update on the state's coronavirus response.
Office of the Arizona Governor/YouTube
Gov. Doug Ducey is holding firm on a plan to reopen Arizona schools next month as COVID-19 continues to spread in the state, but offered more guidance Thursday on how that will look and grant money to pay for some of the costs.
There will be no statewide date for all schools to return to in-person classes. Ducey said there would be options and flexibility, saying distance learning must start on the first day of the academic year. He also said schools must provide on-site learning and services, promised "data-driven benchmarks" for the return to in-person classes, and said schools will be developing face covering policies, among other measures.
The decision on when to return to regular, physical classes is in the hands of local school leaders, according to the executive order, and the benchmarks will be issued by Aug. 7. State Superintendent of Public Instruction Kathy Hoffman also promised funding for distance learning and continuity in teacher pay.
"At this point it's unlikely that schools will be ready to start their full, in-person instruction on Aug. 17, but we will have the on-site learning opportunities available that soon," she said.
She said the conversation had recently changed from "when can we all open together and get back into the classroom?" Instead, she said, it's not reasonable to set a statewide date, emphasizing "flexibility" for schools and districts within the promised framework.
The governor also announced multiple grants to help schools stabilize budgets and offset costs as schools struggle to get learning up and running amid the pandemic. The largest, for $40 million, will go toward expanding broadband access. He's allocating $40 million to assist what he called "high-need" schools.
The governor announced he'll distribute millions more dollars of more federal CARES act funding to schools, so long as they follow guidance to provide on-site instruction and services to students who need them.
Ducey also extended the closure of bars, gyms, movie theaters, nightclubs, water parks and tubing, saying the decision was based directly on the recommendations from the CDC. The governor said the rate of cases and other pandemic indicators are on a downward trend.
The governor originally delayed the return to schools at the end of June, moving the start date to Aug. 17.
Ducey opened the briefing noting promising trends in the data, saying COVID-like illness, hospital bed use and the percentage of positive tests were on the way down, on a day when the state's death toll rose above 3,000. Ducey acknowledged lopsided demand for tests around the state, as well as the "dilemma" of tens of thousands of backlogged tests at private laboratories.

The governor is also coming off of a period of low approval for his handling of the pandemic. Through much of June, Arizona experienced a seemingly relentless series of record-breaking days, drawing national attention for the rate of daily cases and the positivity rate. Ducey was criticized for lifting restrictions too early in the pandemic, letting the stay-home order expire in mid-May and even encouraging people to go out at the end of May.
In recent days teachers in Tucson and elsewhere have been organizing "motor marches" protesting the return to classrooms and calling for better safety measures for the pandemic, saying there aren't safe options for teachers and students to return to classrooms that were overcrowded before the pandemic.
Regina Romero and other mayors in the state tweeted a call to further delay in-person learning and establish clearer criteria on when it is safe to return.
I'm joining over a dozen mayors from across AZ in asking @dougducey to:

➡️Delay in-person instruction
➡️Establish criteria on when it is safe to resume in-person instruction

We MUST follow public health metrics to determine when it is safe to return to the classroom pic.twitter.com/HIhs97Rm5g

— Regina Romero (@TucsonRomero) July 23, 2020