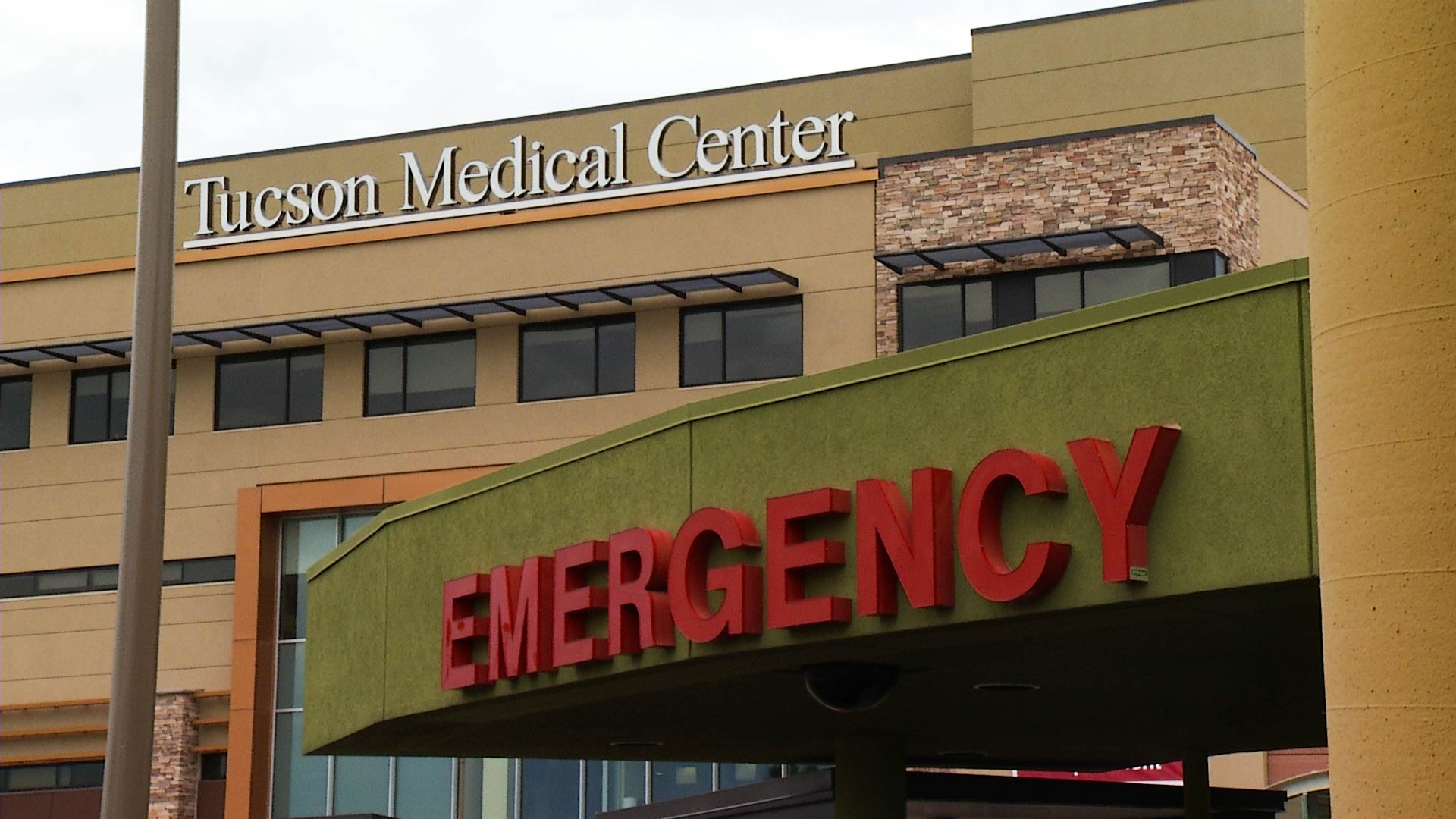 The Tucson Medical Center emergency room.
AZPM
Local medical professionals are reiterating the call for people to wear masks as they deal with a surge of COVID-19 cases.
State Sen. Victoria Steele of Tucson visited Tucson Medical Center Tuesday to talk with medical staff about how they're handling the pandemic. She said the message they gave to her was simple:
"'Wear a mask. For god's sake, put a mask on! Wear a mask! This is easy for you. Wear a mask'," Steele said.
The state senator said she visited TMC at the invitation of hospital officials after she wrote on social media about her concerns with the state moving to triage standards of care. Steele said despite the state enacting its "crisis care" standards, TMC officials say they currently do not have to ration care for patients, yet.
"They're not at complete capacity, but it could happen."
Steele said doctors and nurses feel discouraged that people aren't taking precautions to prevent coronavirus infection--like wearing masks, staying home and washing hands--seriously enough, while they fight day in and day out to save lives.
"And they really are asking the governor to reconsider and to please put a mask mandate in place. Because people just aren't doing it," Steele said.
Steele recorded an interview with Dr. Clifford Martin, an infectious disease physician and head of medical staff at TMC, which she shared with AZPM. TMC has declined multiple interview requests from AZPM in recent weeks.
"The early efforts to encourage people to stay home…was the right thing to do, because the way this virus spreads is by close contact and it's very contagious," Martin said. "Unfortunately, we opened things up so quickly, without appropriate baby steps to introduce regular life again. Without mask requirements, without really effective education about what it really means to social distance and why it was important. So we backtracked really quickly."
Martin said the rush to reopen and put the pandemic behind us has led to things "skyrocketing."
He lauded the efforts of the tireless health care workers at his hospital.
"If you look outside, if you go to restaurants, you look at stores, you go to the mall, you don't see the impact of this disease like you would if we were in a war and bombs were dropping. You don't see sick people walking around in the street," Martin said.
"So there's a disconnect with what people out in the community are experiencing and what our health care workers here on the frontline are experiencing. And I think they're hurt. Because they see people making decisions that are making their jobs worse," Martin said.
Steele said health care workers she talked with asked for the governor to institute a statewide mask ordinance and also asked for more personal protective equipment. She says the governor has arranged for 75 health care workers to come to TMC for six weeks to relieve and assist local nurses and doctors.
"We don't know when they're coming, we hope it's soon. Because the need is now," Steele said.
According to Steele, TMC is not currently transferring patients out of the city, but they have in the past.
Victoria Steele is running for reelection in District 9 in the Arizona Senate.