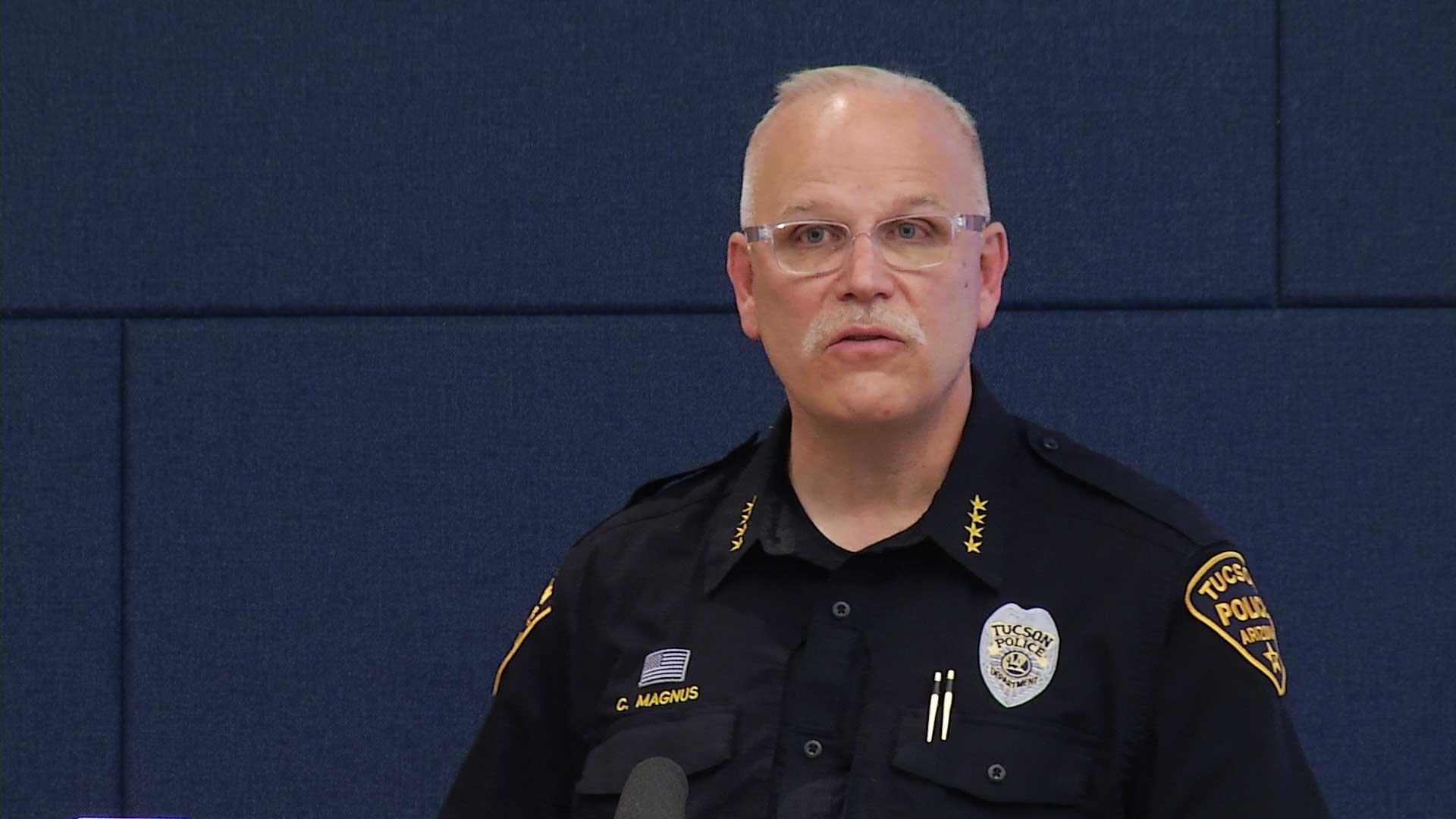 Tucson Police Department Chief Chris Magnus, at a June 24, 2020 media briefing.
Martín Rubio/AZPM
The Tucson Police Department will now notify the public of deaths that occur in TPD custody and release body camera footage of the incident within 72 hours.
TPD Chief Chris Magnus announced the new policy at a virtual town hall with the Tucson NAACP Saturday. The department previously had no obligation to provide the public with immediate notice when someone dies in its custody.
"People are going to have to understand it's going to be preliminary and it may well be incomplete," said Magnus. "But we get it, people want to know right away how it looks."
In announcing the new policy aimed at increasing transparency, Magnus warned making information available before internal investigations conclude could have negative consequences. For example, he said it could compromise those investigations, invalidate officer discipline and even influence whether an officer is prosecuted.
"There's a trade-off for this," he said, "but that's the step we're taking going forward because we understand that people want that immediate transparency."
The department has faced public pressure after the death of Carlos Adrian Ingram-Lopez, who died in TPD custody April 21. TPD leadership was made aware of the death at the time, leading some to charge the department conducted a "cover up." Details did not become public until this week when the Tucson Sentinel revealed the three officers dispatched had resigned.
Magnus also provided more details about where the officers went wrong. Ingram-Lopez died after being restrained on his stomach for about 12 minutes. The Pima County Medical Examiner found he suffered cardiac arrest and had a significant amount of cocaine in his system but left the cause of death undetermined. In the bodycam video released this week, Ingram-Lopez can be heard asking for water and crying out for his grandma as officers restrained him.
Magnus said the officers did not follow training on positional asphyxia — a condition long connected to deaths in police custody. They also failed to follow department policy by waiting about 12 minutes to call for emergency medical services.
"It should have been obvious that there were some real problems going on with this individual," he said. "It would have been better to get medical treatment there as soon as possible."
The three officers — Samuel Routledge, Ryan Starbuck and Jonathan Jackson — resigned last week. Magnus said had they not resigned they would have been fired.
The listening event with the Tucson NAACP had been planned for months, according to vice president Cheree Meeks. It was delayed by the Covid-19 pandemic, but this week's events brought renewed urgency to community dialogue with police, she said.
Officers will face board review
The Arizona Peace Officers Standards and Training Board will review the case of the three officers involved in the death of Carlos Ingram-Lopez
Anytime a police officer or sheriff's deputy in Arizona leaves a department, for any reason, the board is notified, and an investigation is launched.
The board could choose to take no action, suspend the officers' certification as peace officers, or revoke that certification. If their certification is suspended or revoked their names will be entered into a database used by 46 states, so if they apply for another law enforcement job, they would not be able to hide their certification status in Arizona.
The Pima County Attorney's Office has not announced criminal charges against the officers.