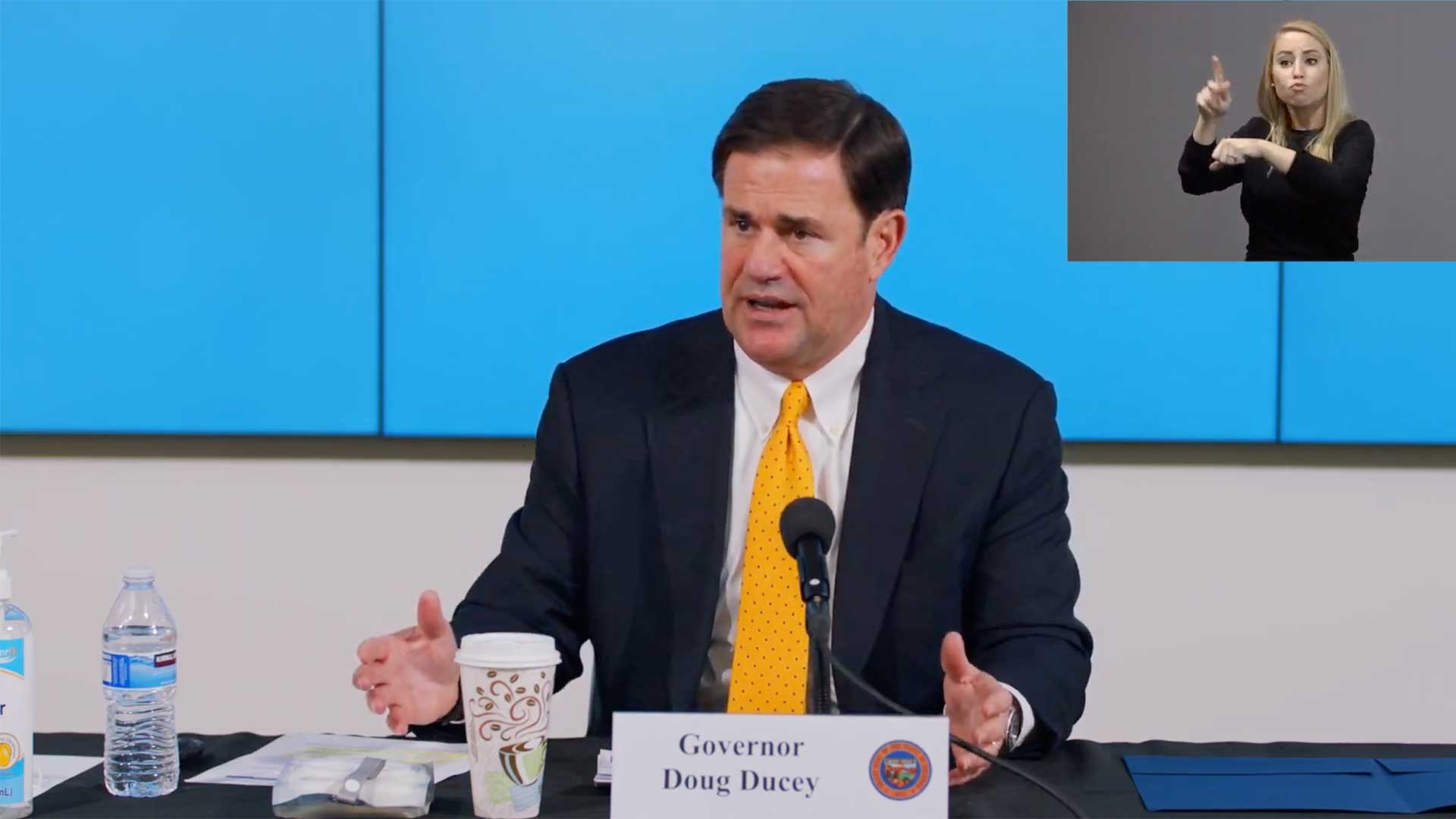 Gov. Doug Ducey gives a June 25 update on the state's response to the COVID-19 pandemic.
Office of the Arizona Governor/YouTube
Gov. Doug Ducey struck a more somber tone on Thursday in his weekly address on COVID-19, saying Arizona was hitting its first wave and pointing to troubling trends that have yet to play out. But the governor made no enforceable changes to the state's response to the pandemic.
Ducey cited increasingly troubling statistics in terms of cases and hospitalizations, saying he expected things to get worse in the coming weeks and that hospitals were expected to reach capacity. Hospital beds and ICU capacity have been decreasing, and the use of ventilators is increasing.
"COVID-19 is widespread in Arizona. It's growing and it's growing fast," he said.
Still, Ducey followed the grim acknowledgement by emphasizing policies that were already in place, and instead repeatedly said he was "enlisting" residents of the state to work together to reduce the spread on their own. He urged people to stay home as much as possible.
He emphasized his message to younger people, a demographic that has reportedly become a significant driver in the increased spread in Arizona, encouraging them to be more careful and to consider that their behavior may be putting more vulnerable groups at risk.
"I know many young people out there feel invincible … [statistically] maybe you have reason to feel that way. But your parents and grandparents are not invincible," Ducey said.
The governor also called out what he termed "bad actors," and said the state Department of Liquor had started to enforce mandatory guidance for bars and restaurants violating safety measures, filing charges against a bar in Scottsdale and sending notices to several more.
Ducey reiterated the commitment stated in every briefing to date that the state would increase testing. He said the state needs more tests, more efficiency in testing and faster turnaround for results.
State Department of Health Services Director Cara Christ said they were working to increase the number of testing sites by working with health care partners and community providers. "We're hoping to be able to scale up large-scale testing utilizing saliva, nasal swabs and other kinds of testing," she said.
Christ did not give a timeline for such an expansion of testing. She said the state had been giving funding and test kits to collection sites as well as equipment for laboratory partners around the state to increase testing capacity.
In his last address, Ducey removed the barrier to local governments making and implementing their own masks policies. Cities and counties all across the state promptly did so, no longer blocked by an executive order from the governor. Ducey, who declined to implement a statewide mask requirement, on Thursday urged people to wear them and follow safe COVID-19 guidelines, like distancing and hand washing.
The address comes as Arizona's COVID-19 numbers continue their climb, frequently setting new records for daily cases — nearly 3,600 on Wednesday— alongside a steady rise in hospitalizations. Earlier this week hospitals in Pima County wavered near their capacity, with dwindling bed availability for COVID-19 patients.