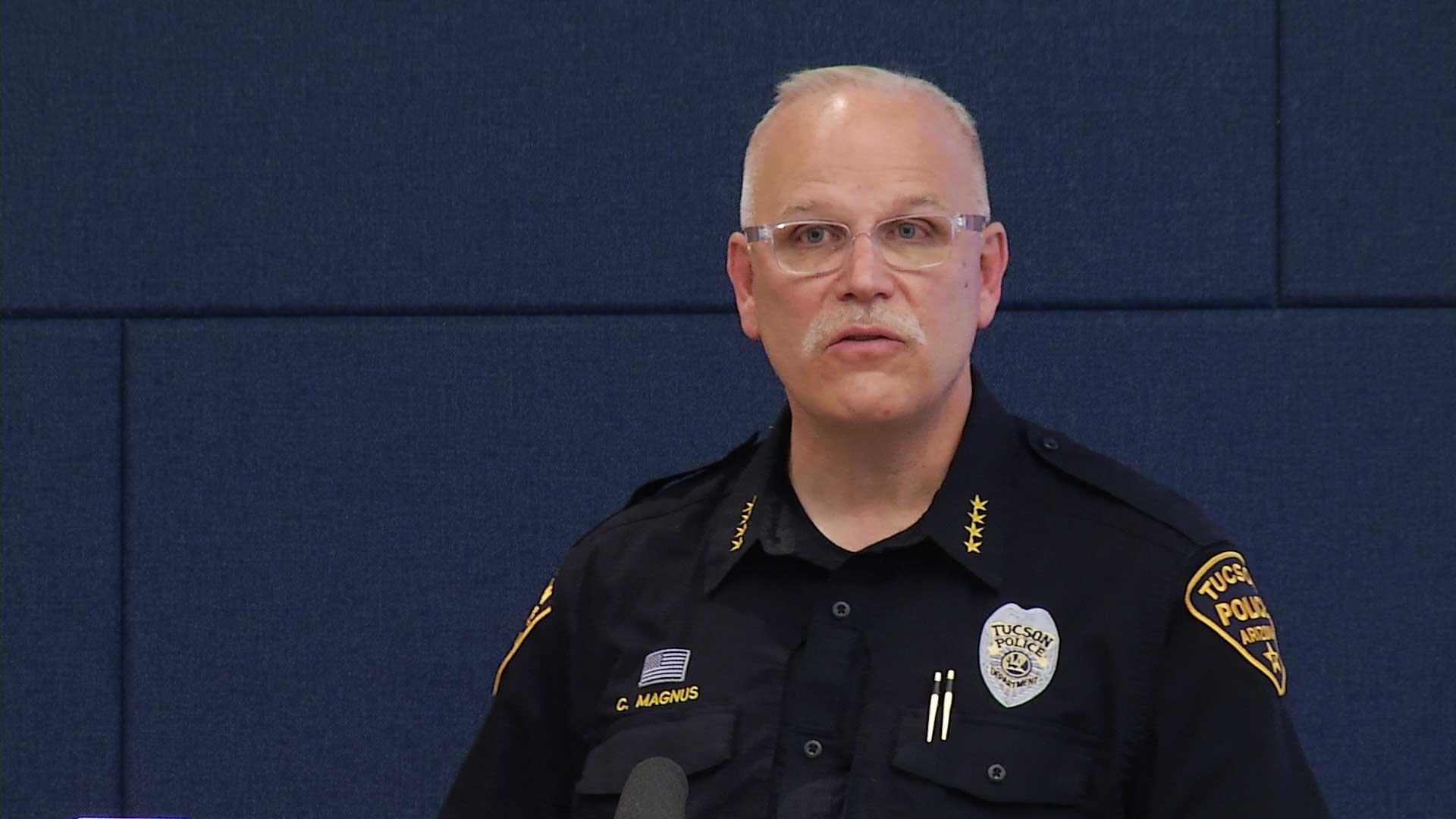 Tucson Police Department Chief Chris Magnus, at a June 24, 2020 media briefing.
Martín Rubio/AZPM
Tucson Mayor Regina Romero said she thinks Tucson Police Department Chief Chris Magnus should not resign from his post, and City Manager Michael Ortega turned down Magnus' offer to resign. He announced that decision in an email to the City Council and other Tucson officials.
The responses from Romero and Ortega come a day after Magnus offered to resign amid a controversy over the public revelation of the death of a man in police custody in April.
In the email, Ortega wrote, "I appreciate the direct accountability and responsibility he took for his team, but his resignation will not help us continue to transform our police department. Under Chief Magnus' leadership, our police department has developed into one of the most progressive in the country. We still have work to do to continue transforming our police department to meet our community's expectations. I believe Chris' leadership is exactly what we need during these difficult times."
Romero voiced her support for Magnus in a statement, noting the decision on whether or not to accept Magnus' resignation falls to the city manager. She made the recommendation citing conversations with colleagues and pointing to what she considered to be "forward-thinking" policies and strong community relationships on the part of Magnus.
City Council member Steve Kozachik said, "he had a strong showing of support from a super majority of the council, from the community, and from the family of the deceased. So, I think Ortega did the right thing."
Magnus took Romero by surprise when he offered his resignation during a news conference on Wednesday. Video of the death of 27-year-old Carlos Ingram-Lopez was shown during the event. Magnus came under fire after the April 21 death was not made public until this week. Ingram-Lopez died handcuffed while face-down and covered with a thin blanket. His family and friends plan to speak at a vigil later Thursday.
The Associated Press contributed to this story.