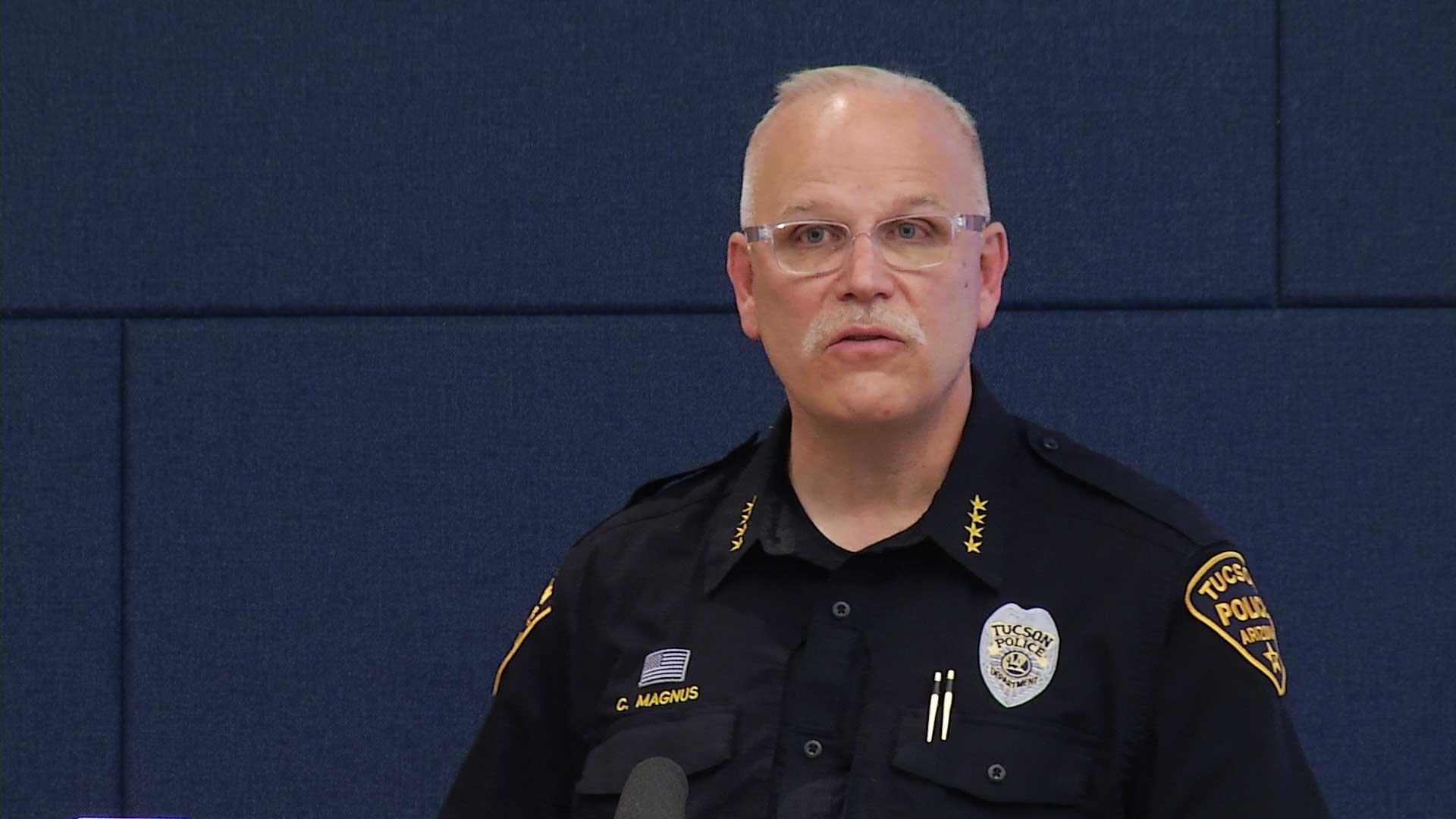 Tucson Police Department Chief Chris Magnus, at a June 24, 2020 media briefing.
Martín Rubio/AZPM
This is a developing story and may be updated.
Tucson Police Department Chief Chris Magnus offered his resignation to Mayor Regina Romero and the City Council at a news conference Wednesday. Magnus' offer was the latest development in an unfolding story centering on the in-custody death of a Tucson man in April. At the news conference, Romero did not say whether the resignation would be accepted.
Carlos Ingram-Lopez, 27, died after police arrived at a Tucson home on April 21, responding to a report that a man was apparently behaving erratically under the influence of alcohol.
Magnus said officers tried to calm the man. Officers handcuffed him and placed him in a face-down position, covered with a personal protective equipment blanket for about 12 minutes, after which point Ingram-Lopez became unresponsive. Magnus said police administered Narcan, an opioid overdose reducing drug, and CPR to try to revive him. When EMTs arrived, they took over revival attempts until declaring the man deceased.
In the video, Ingram-Lopez can be heard asking for water, calling for his grandmother, and screaming several times.
Magnus said the officers involved cooperated with investigators. On June 18, before the administrative investigation of the case was complete, the three primary officers involved resigned. Magnus said they would have been terminated had they not resigned for multiple policy violations and failure to "handle the incident consistent with their training."
Magnus noted officers did not use chokeholds, strikes or knee to the neck in restraining Ingram-Lopez.
"The Tucson Police Department provides best possible training and policies in place to help officers recognize and address issues in medical and mental health crisis," Magnus said, adding that while most TPD officers do an excellent job responding to such situations, "the officers involved in this case did not live up to our department's high standards."
A report from the Office of the Chief Medical Examiner of Pima County concluded "... the cause of death is ascribed to sudden cardiac arrest in the setting of acute cocaine intoxication and physical restraint with cardiac left ventricular hypertrophy as a significant contributing condition.
"The manner of death is undetermined."
Magnus said this lack of conclusive death means it is "irresponsible and unfair" for anyone to conclude that Ingram-Lopez was "murdered" by the police. Magnus said he's asked the FBI to review the case.

Following Magnus' remarks, Mayor Romero said, "It is simply not acceptable that mayor and council and the public weren't notified after the incident took place." She and the police chief described new steps requiring immediate notification to mayor, council and community of any in-custody death.
"As mayor and as a mother, I am outraged that Carlos Adrian lost his life. I'm outraged that his family lost their son," Romero said. "Now we must center the conversation on police accountability and transparency."
Romero said she is proposing the creation of a new community safety pilot division to "reimagine how we provide safety to our community by bringing together support services such as mental health, social workers, drug dependency specialists and those that serve individuals experiencing homelessness."
Romero also said the city must strengthen the role of independent police auditor and overhaul its community advisory police review board. She said she's working with the city manager to provide resources to support these changes.
---
CORRECTION: The original headline to this story has been changed to reflect that Chief Magnus offered, rather than submitted, his resignation.