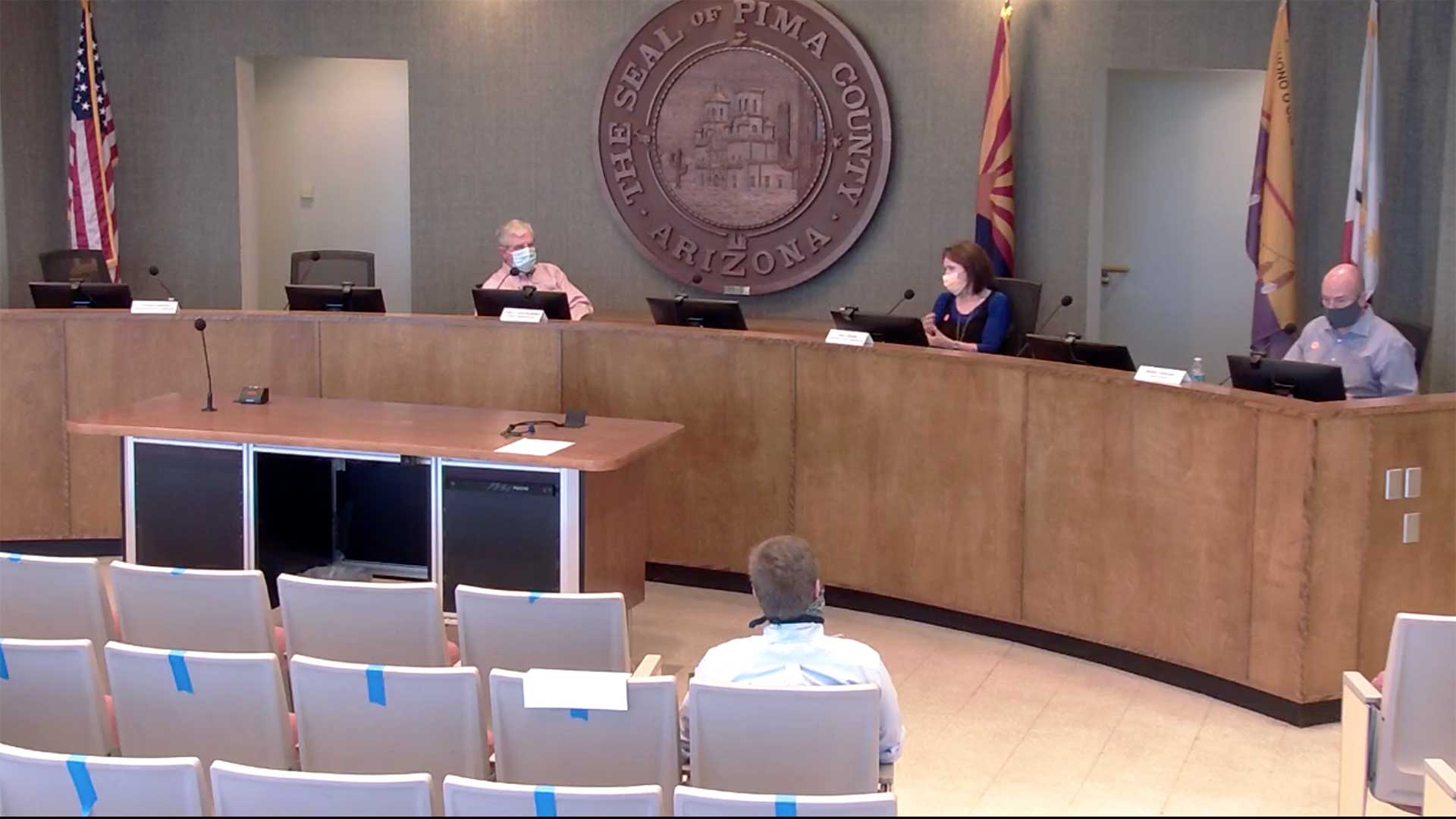 The Expediting Government Regulations Subcommittee meeting May 7, 2020, reviewed best practices to operate during the pandemic from different industries task forces in this still image from a Facebook Live video. Some members of the groups attended in-person, others called in.
Pima County held meetings Thursday to share its best practices for reopening the county and businesses during the COVID-19 pandemic, as the state moves to open up.
The Expediting Government Regulations Subcommittee heard the best practices from three task forces representing industries across the county: bars and restaurants; resorts, pools and spas; and attractions and tourism. During the meeting members of these different groups asked county officials questions about known reopening dates, and the conflict between these county-level recommendations and the state's reopening actions.
Curtis McCrary with the Rialto Theatre is on the Attractions and Tourism Task Force. He said they feel like the state's plan to reopen, like with dine-in restaurants Monday, doesn't work with the county's recommendations.
"We've established that the county feels like its hands are tied by the governor's timeline and his executive orders, despite the fact that that timeline is in conflict with public health officials and scientists at the University of Arizona," McCrary said.
Still the committees outlined their guidelines for the various industries.
For restaurants and bars to earn a Pima County Best Practice Pledge badge they would need to meet the 15 minimum suggestions, like employees' wearing cloth masks and gloves, and indoor dine-in restaurants observing 50% occupancy.
The Resorts, Pools and Spas Task Force reported that some of the things they're suggesting are for businesses to space gym equipment six feet apart, eliminate the use of water fountains, and clean certain surfaces, like door handles, every two to three hours.
Attractions and Tourism Task Force representative Diane Frisch said they're looking into preselling tickets that are valid through certain times and how to regularly clean attractions throughout the day.
Francisco Garcia, a deputy county administrator, is on the Pima County Back to Business Steering Committee's Road to Recovery Subcommittee. He said they have nine suggested criteria developed by public health physicians to reopen the county, like 14 days with decreasing positive COVID-19 cases and timely contact tracing. None of the criteria have been met at this time, save one: If there is a surge in cases, there are enough staff and hospital beds to care for everyone.
While the state's emergency declaration and executive orders are in place, counties and municipalities can't apply physical distancing restrictions. When these state orders are lifted, Pima County will have the option to enforce its criteria through its own emergency declarations.
"Some of our indicators are definitely moving in the right directions — in terms of the new cases and new deaths that are reported, we know that those things are improving," Garcia said. "We need to prepare for a variety of different circumstances, and we need to have our surveillance eyes very clearly focused on these indicators, so that we can pull back or at least so that we can provide that information to our community."