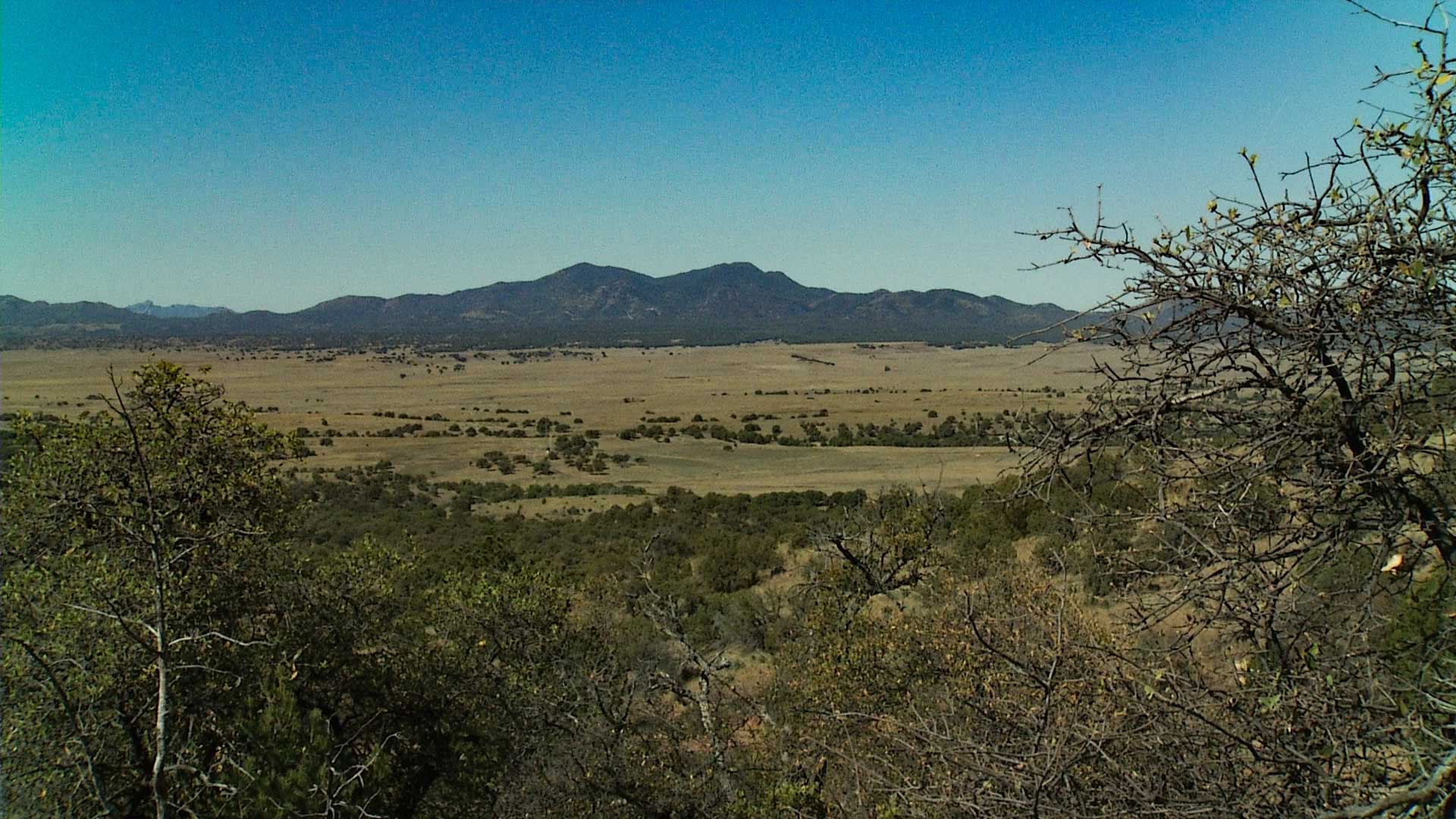 Looking west toward the San Rafael Valley and the Patagonia Mountains.
Steve Riggs/AZPM
A few months ago, Emily Burns with environmental advocacy group Sky Island Alliance was setting up wildlife cameras in Arizona's remote Patagonia and Huachuca mountains.
Since then they've captured footage of more than 40 species along the border.
"We've seen American badger, mountain lion, bobcat, grey fox, ringtail, Sonoran pronghorn," she said. [Eds.: UPDATE BELOW]
Now, she said new wall construction poised to start along the ranges threatens to upend the territory these animals rely on.
The ranges are some of several across Arizona and Sonora called the sky islands. Burns said these biodiversity goldmines are home to animals as diverse as black bears and the North American jaguar. Those species use the rugged terrain to travel between habitats in the U.S. and Mexico.
She said construction could decimate those vital migratory routes.
"Young male jaguar can walk so many miles in a single day, moving between mountain ranges," burns said. "They need wide, open connected spaces, free of barriers to their movements. They need access to shelter and mates."
She said construction could block those corridors. Not just for jaguars, but also for species like ocelots, and black bears.
"Building a 30-foot-tall steel wall in the middle is going to sever major arteries for species that rely on these wild, rugged spaces," she said.
Environmental groups say more than 8,000 people have submitted comments to Customs and Border Protection opposing new border wall construction in almost 75 miles of Arizona wilderness in Cochise, Santa Cruz and Pima counties.
---
Border wall comments

View at Google Docs
|

Download File
---
This month, several groups also wrote a letter to representatives from the Department of Homeland Security and U.S. Border Patrol what they say is a flawed DHS system for gathering public comment on border wall projects.
The letter references comments sent by groups last year detailing concerns about wall construction across Arizona wilderness, including Organ Pipe Cactus National Monument.
"The agency has still failed to respond to or address numerous comments submitted by the Center for Biological Diversity (Center), the public, and other organizations in prior border wall comment periods," the letter reads. "In the 10 months since the Center submitted these comments, DHS completed the majority of the project without responding to or addressing any of the concerns raised in the comment letter, which included impacts to endangered species, cultural sites, and groundwater—all of which have since been harmed by border wall construction."
The Trump administration has waived a number of environmental protection laws to move forward on construction. In a press event in Tucson this month, Acting Secretary of Homeland Security Chad Wolf said the department is working with environmental groups to assess risks. But he said national security took priority.
Groups argue much of the wilderness zones now slated for construction have not required border barriers in the past because they are too rugged for human activity. They also say the cost of walling of these hard-to-reach areas will only add to the multi-billion-dollar expense of the entire border wall project.
---
UPDATE, May 27: Burns previously identified Sonoran pronghorn as a species found in the Patagonia and Huachuca mountains. She has since clarified that there are pronghorn antelope in these ranges, but not the Sonoran subspecies.