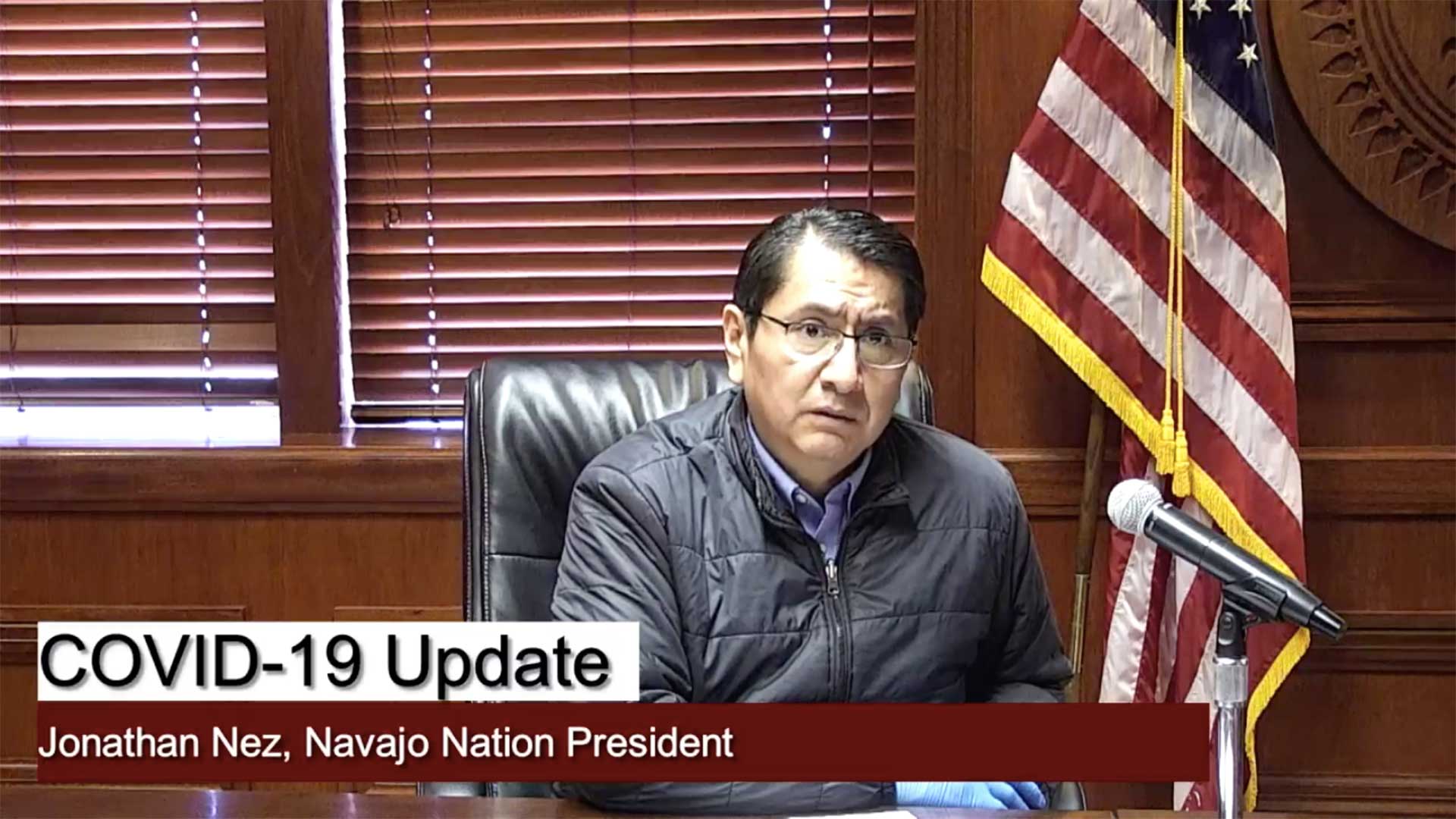 Navajo Nation President Jonathan Nez during the announcement of the curfew March 29, 2020, in this still image from a Facebook Live video.
The Navajo Nation said it would implement a curfew starting Monday night in an effort to curb the spread of COVID-19 on the Nation.
President Jonathan Nez discussed the 8 p.m. to 5 a.m. curfew and other efforts the Nation is taking to lower the number of people infected with the new coronavirus Sunday during a Facebook Live event. Though the sovereign nation issued a shelter-in-place emergency order on March 20, there were 115 confirmed cases of the virus at the time of the announcement. The Navajo Epidemiology Center reported 13 more cases by Monday afternoon.
"I know some of you saying: 'President, you need to get stern. You need to put your foot down,'" President Nez said. "And that's what we're going to do."
Nez, along with the Navajo Nation Vice President Myron Lizer and several health officials, reminded residents of the Nation about the seriousness of COVID-19 and the risks of not sheltering in place.
"Ladies and gentlemen — young people especially — I see many of you driving around throughout the Navajo Nation. Some of us, some of you, some of our people might not know that they have the virus," Nez said. "Don't be selfish. Think of your grandmas. Think of those people that have health conditions, because those are the vulnerable populations that could really [be affected] in a real bad way."
Nez also warned that the tribal government is planning to create isolation units where people with positive diagnoses can live in tents at places like gyms, hotels, correctional facilities and campgrounds.
"If we do not listen to authorities, many people will have to be forced to be put in these isolation places," Nez said. "We don't want to separate families, but we don't want grandma, we don't want our children, we don't want our people to catch this virus, so help us."
He said that the Navajo Nation predicts the number of COVID-19 cases on the Nation will peak in mid-to-late May.
"We've reached a point where our medical facilities and health care workers are in dire need of more Personal Protective Equipment, hospital beds, and other critical resources and it's only going to increase if people continue to ignore orders to stay home as much as possible," President Nez said, according to another post on the executive leaders' Facebook page.
Nez said the Nation is manufacturing gloves for its members and others. It is also talking about creating designated hours for elders to stock up on supplies at grocery stores.
Jill Jim, the executive director of the Navajo Department of Health, said the Nation has the highest number of confirmed cases among all U.S. tribal nations. According to the Navajo Nation analysis of Census data, it has the second-largest tribal population, at over 300,000 people, 47% of which lived on the Nation at that time. It is also the largest land-based reservation at 27,425 square acres.
"For the Navajo people: Please, please abide by all the safety precautions, all the ordnances that are in place," Nez said. "We will get through this together."