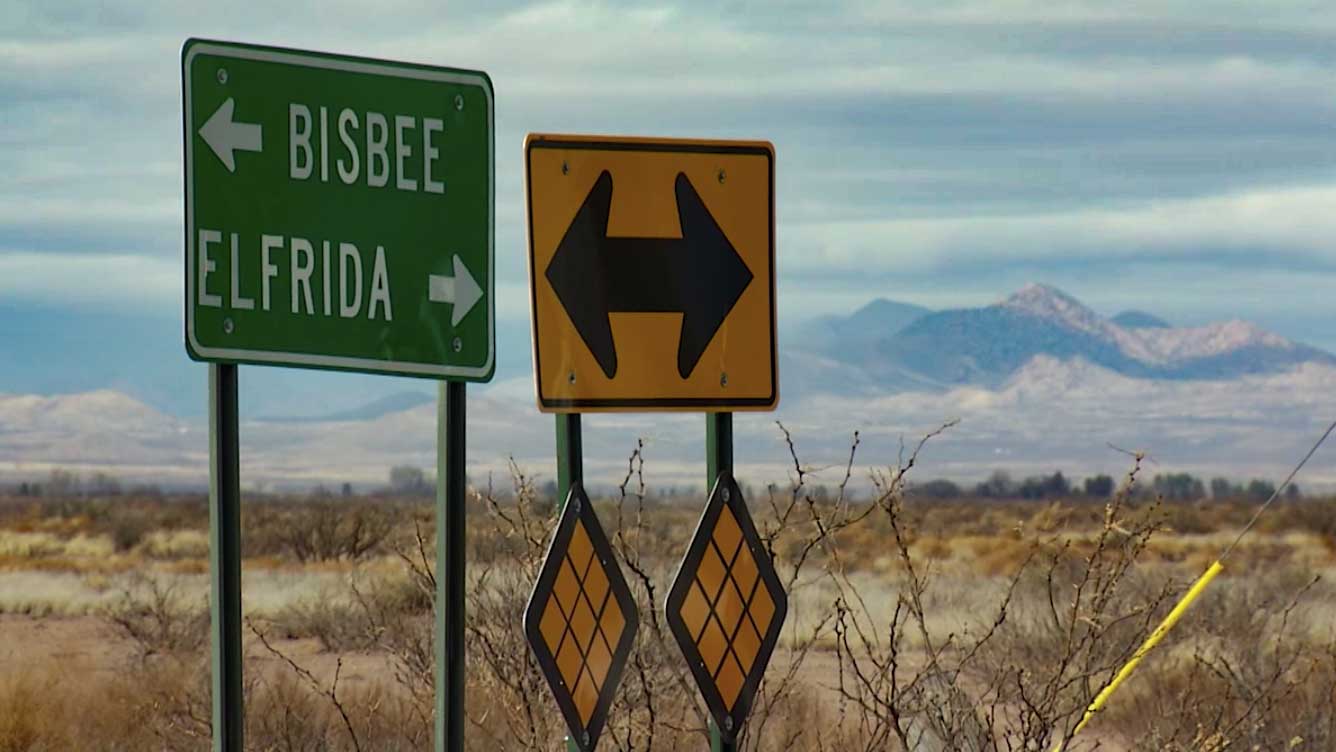 VIEW LARGER A highway sign between Bisbee and Elfrida in Cochise County, 2016.

AZPM
In terms of community spread of coronavirus, Cochise County has one thing going for it in terms of community spread, unlike the urban epicenters of the pandemic: lots of space. Cochise County's entire population is just 133,000.
"Which equates to about one person every 27 miles," said Carrie Langley, the county's direct of health and social services.
She said one person per 27 miles is just the mathematical breakdown and not how people actually live, but it does illustrate the county's geographic distribution.
"We're not all out on city streets walking to get our services. We do have to take private transit to get to and from places. We don't have a lot of crowded locations like what you would see in cities."
And, she said, that'll slow the spread of coronavirus. To date, the county has registered two confirmed cases.
On the other hand, all that space can lead to challenges in providing care.
"If you don't live in one of the municipalities that has a hospital, you're living out in the more rural areas of the community, then you're going to have a longer distance to travel," said Langley.
Cochise County's population is also more vulnerable because its residents are older than average, and that puts them at higher risk for developing severe symptoms of coronavirus.
Gabe Lavine, emergency services coordinator, said the county is closely monitoring its five hospitals and one emergency room.
"To make sure that when they do require resources that we can move those resources around," he said. "We have a really strong county-wide mutual aid agreement that allows both our public and private partners to share resources between them."
And those partnerships will be crucial in the coming weeks as cases are likely to climb.
"We operate in a very austere environment when it comes to resource availability. There's just not as many things here as you would see in Tucson or Phoenix. So it's that much more important for us to work together and to share and collaborate, particularly in times of crisis," said Langley.
The effect of the current crisis is already visible in the city of Douglas, said Mayor Robert Uribe.
"The streets are empty, the parks are deserted, everyone is home," said Uribe.
And while he said that's what needs to happen right now, and is absolutely what people should be doing, it's having a catastrophic effect on the local economy. Douglas, which is on the border with Mexico, is usually a busy port of entry into the U.S. The border closed to nonessential movement last week.
"The average crossing time right now is at, like, two minutes," said Uribe. "Where a week ago it was like an hour. People are following the hashtag #StayHome. But that's a strong economic hit for our community because 70-80 percent of our sales tax is attributed to our neighbors."
Uribe said he's confident the city will get some support from the federal stimulus package and that the community will make it through this time.
For now, Carrie Langley, with Cochise County Health and Human Services, said one thing is keeping her up at night.
"I'm concerned about people seeking care who are well enough to stay at home," she said. "Those individuals will quickly overwhelm our health care systems, and we really need to protect our health care systems right now for people who are sick and have no other choice but to seek care."
She said as there is no treatment for coronavirus. If you suspect you are ill but can manage symptoms with Tylenol or other over-the-counter medications, stay home.
If symptoms worsen and you need to contact your primary care provider, call them first.
And if you're very ill and need to go to the emergency room, go, or call 911.
"Testing in times of pandemic, especially for viral illnesses, we always run into limitations. ... We have testing available for those that meet the criteria," said Langley.
The criteria, determined by the CDC, prioritizes people who work in patient care or "congregate" settings, like an officer in a detention center or a nurse who works in a long-term care home.
"Then you do need to get tested so we can take interventions to make sure nobody else was exposed and nobody else gets exposed to the individual who's potentially contagious," said Langley.