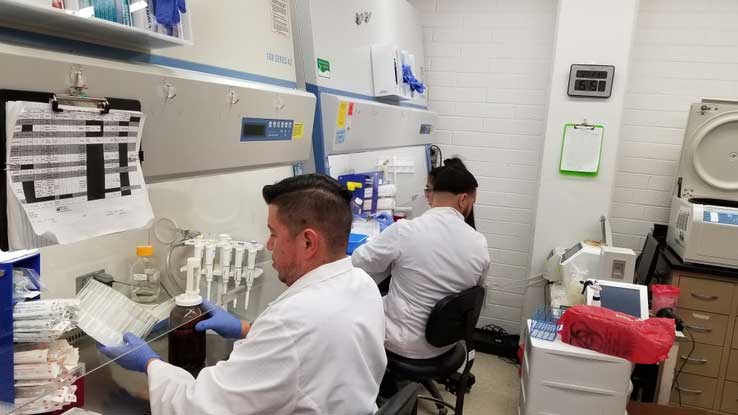 VIEW LARGER Photo accompanying a UANews release about university scientists' efforts to make COVID-19 specimen collection kits to distribute locally.

Via UANews
This story has been updated. See below
---
The University of Arizona's Health Sciences Biorepository produced 1,600 coronavirus test collection kits over the weekend and expects to have 7,000 done this week.
Biorepository Director David Harris said his lab is well-positioned to source the necessary materials and familiar with creating similar biospecimen kits. Researchers created five liters of the media, a critical element in the collection kit, from a formula provided by the Centers for Disease Control and Prevention.
Harris said his team stepped up to help address the current limits of finding out who has the virus by creating the same kits being distributed from the federal government.
"We're hoping that once we get through making 10 to 20,000 kits, the commercial kits are available. If not, we'll continue to do what we can do," Harris said.
The tests will be distributed to UA Campus Health, the Pima County Health Department and Banner Health. Harris said his team currently has enough supplies to produce about 20,000 kits, and can likely source more supplies if needed.

---
Update 3/25: KOLD News reported Tuesday that many of the kits used wooden swabs rather than plastic, which are not acceptable to the FDA.
In an email Wednesday, Biorepository Director David Harris confirmed that wooden swabs are now being swapped out for plastic. He said his team is making modifications to their process and by the end of the week all kits sent out should be acceptable.