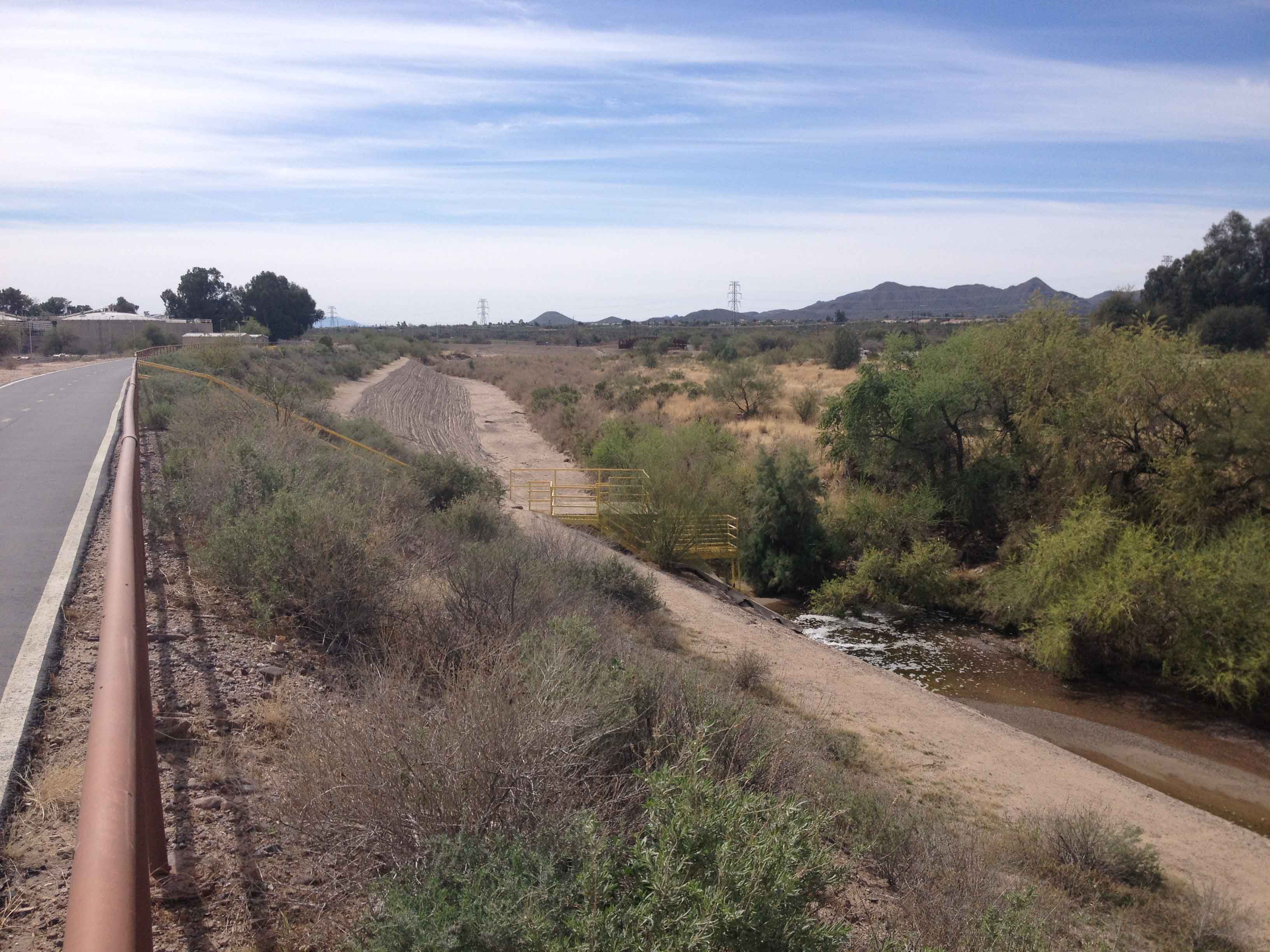 The Santa Cruz river is dry (left) upstream of the outflow of the Agua Dulce wastewater treatment plant on Tucson's northwest side.

Sara Hammond, AZPM
The Arizona Department of Environmental Quality is seeking public feedback on its draft legislation to establish a set of regulations to protect surface water statewide.
The changes implemented by the Trump administration earlier this year dramatically curtailed the list of waters that fall under the Clean Water Act, excluding a vast number of streams, washes and creeks from federal pollution protection. Importantly for arid Arizona, ephemeral waters – those that only flow after rain or snow – are no longer protected.
Like many other states, Arizona relied on the Clean Water Act for surface water quality regulations. Gov. Doug Ducey previously asked the EPA for the opportunity for Arizona to create its own set of rules, which the state lacks. ADEQ has been engaged in that process this year.
If approved by the legislature, ADEQ's new surface water protection program will apply current regulations for federal waters to a list of designated state waterways. Ben Bryce with ADEQ said that should simplify things for permit applicants.
"Because we are applying the same programs, the types of activities that require a permit will be the same," he said.

The new state program is designed to function right out of the gate. Thus it will apply Arizona state permitting processes to waters now excluded from federal protection (called non-WOTUS, which stands for waters of the U.S.) but not have a federal oversight element.
The agency is currently evaluating a list of nearly 800 waterways to be included on the protected list. That list will definitely include Arizona's eight major rivers, drinking water sources and public waters used for fishing and recreation. But ephemeral waters are still excluded, unless they are a conduit for pollution to reach a protected waterway.
"Though most, nearly all, ephemeral features will not be on the protected surface waters list, that doesn't mean that discharges to these ephemeral features are categorically out. When that discharge is conveyed to a protected water, that discharge would be regulated," Bryce said.
ADEQ is also asking for input on how to protect non-WOTUS waterways from dredge and fill activities that would previously have been covered under Section 404 of the Clean Water Act. Last year ADEQ abandoned an 18-month effort to create its own 404 permit program after being roundly criticized by stakeholders. Now, the agency is considering implementing "best practices" for dredge and fill activities.
Though several lawsuits have been filed against the Trump administration's Clean Water Act changes, Trevor Baggiore, water quality division director for ADEQ, said the goal is to create a baseline of surface water quality regulations in Arizona, regardless of what happens in the courts or change of administration.
ADEQ is taking public feedback on the draft legislation until Dec. 22 and plans to introduce it during the upcoming legislative session.