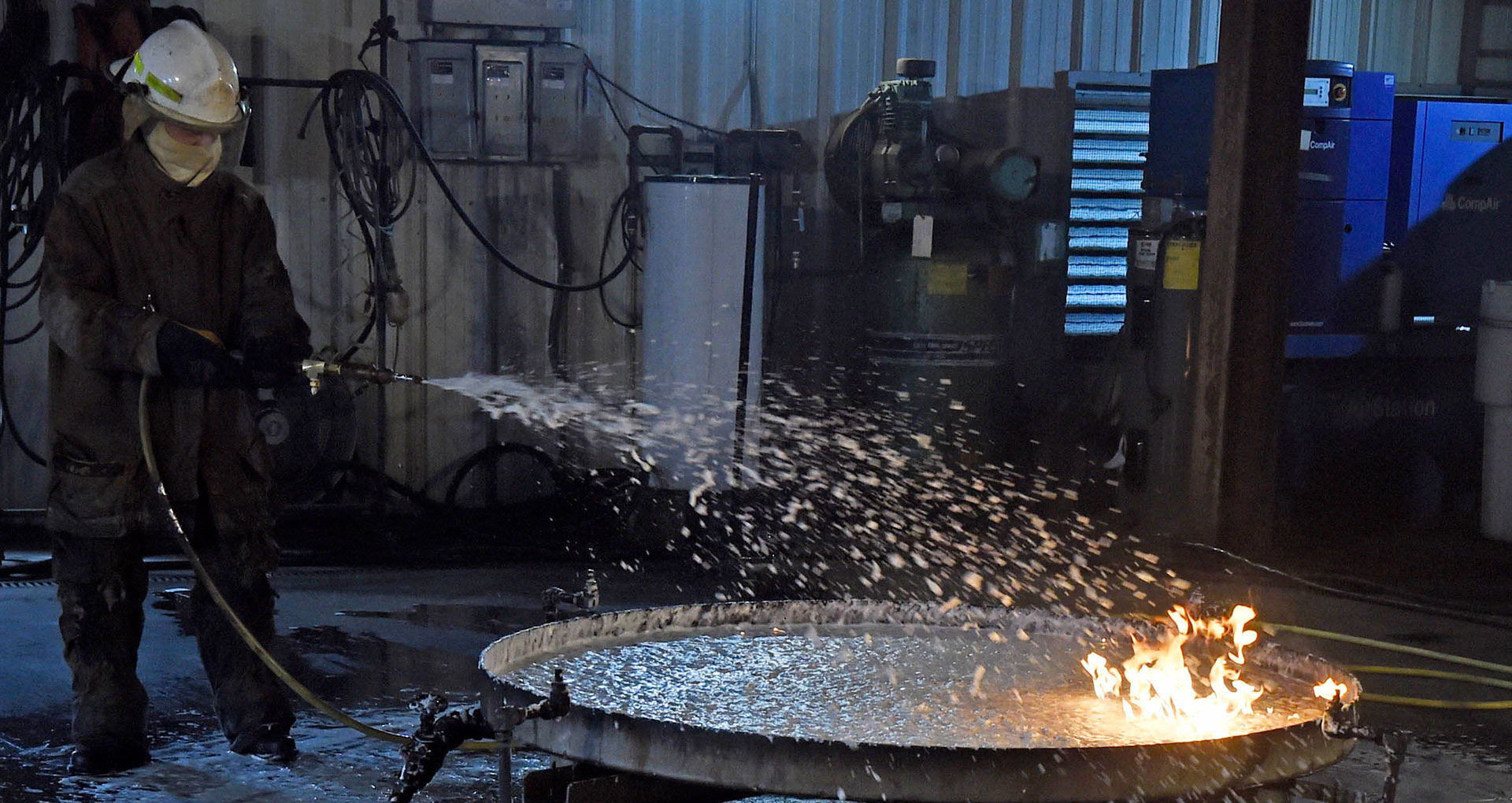 John Farley, director of fire test operations at the Naval Research Laboratory, tests the effectiveness of aqueous film-forming foam by spraying it on a gasoline fire. The test took place at the laboratory in Chesapeake Beach, Md. Oct. 25, 2019.
David Vergun, DOD
Close to 20 backup groundwater wells for the city of Tucson have been contaminated by a group of man-made chemicals known as PFAS, which stands for perfluorinated alkyl substances. Now, the Arizona Department of Environmental Quality is working to clean up and limit the spread of the problem.
PFAS can cause reproductive, developmental and immunological effects, according to the EPA. They're found in many products and are sometimes called "forever chemicals" because they don't break down, which means they can accumulate in the body over time.
A significant source of Tucson's PFAS contamination problem stems from firefighting foam used at the airport and Davis-Monthan Air Force Base. See a map of contaminated well locations.
Tucson Water Director Tim Thomure said it's important people know that our current water supply does not contain PFAS, especially since most city water currently comes from the Colorado River. The contaminated wells located north of Davis-Monthan were disconnected from the drinking water system in 2018. But the affected wells are part of the city's backup supply of groundwater for the future.
"The risk for the future is if that contamination is allowed to continue to flow through the aquifer downstream and or not cleaned up, then it will impact more and more wells," Thomure said.
This is especially risky given that the contamination plume is upstream of the city's main backup well field.
So far 18 Tucson backup groundwater wells have been shut down because of PFAS contamination. Earlier this year, ADEQ began a project to address that contamination, starting by identifying the scope of the problem. ADEQ has already installed several new groundwater monitoring wells and is gathering and analyzing soil and sediment to help assess the spread of contamination.
Once that's determined, ADEQ spokesperson Caroline Oppleman said they hope to pilot a treatment project by early summer 2021.
"The pilot test involves installing a treatment system near the source of PFAS. The system will provide two benefits: It will remove PFAS from the groundwater and start the process of containing the affected water," she said.
In an email, Oppleman explained that groundwater will be pumped out of a single well and passed through two types of treatment media (above ground) that will remove PFAS. ADEQ will evaluate which treatment method is more effective and use these data to inform full-scale treatment requirements.
She said by focusing on the area with the highest levels of PFAS, ADEQ expects to significantly reduce the overall time needed to address the problem.
Still, Thomure said groundwater cleanup projects of this type take decades to work.
"The most likely outcome is that the wells that are currently offline, they would never come back online for Tucson Water," Thomure said. "We're probably never going to get those wells back. Our main goal now is to not lose any further wells to contamination."

The U.S. Department of Defense is investigating sources of PFAS contamination from federal facilities.