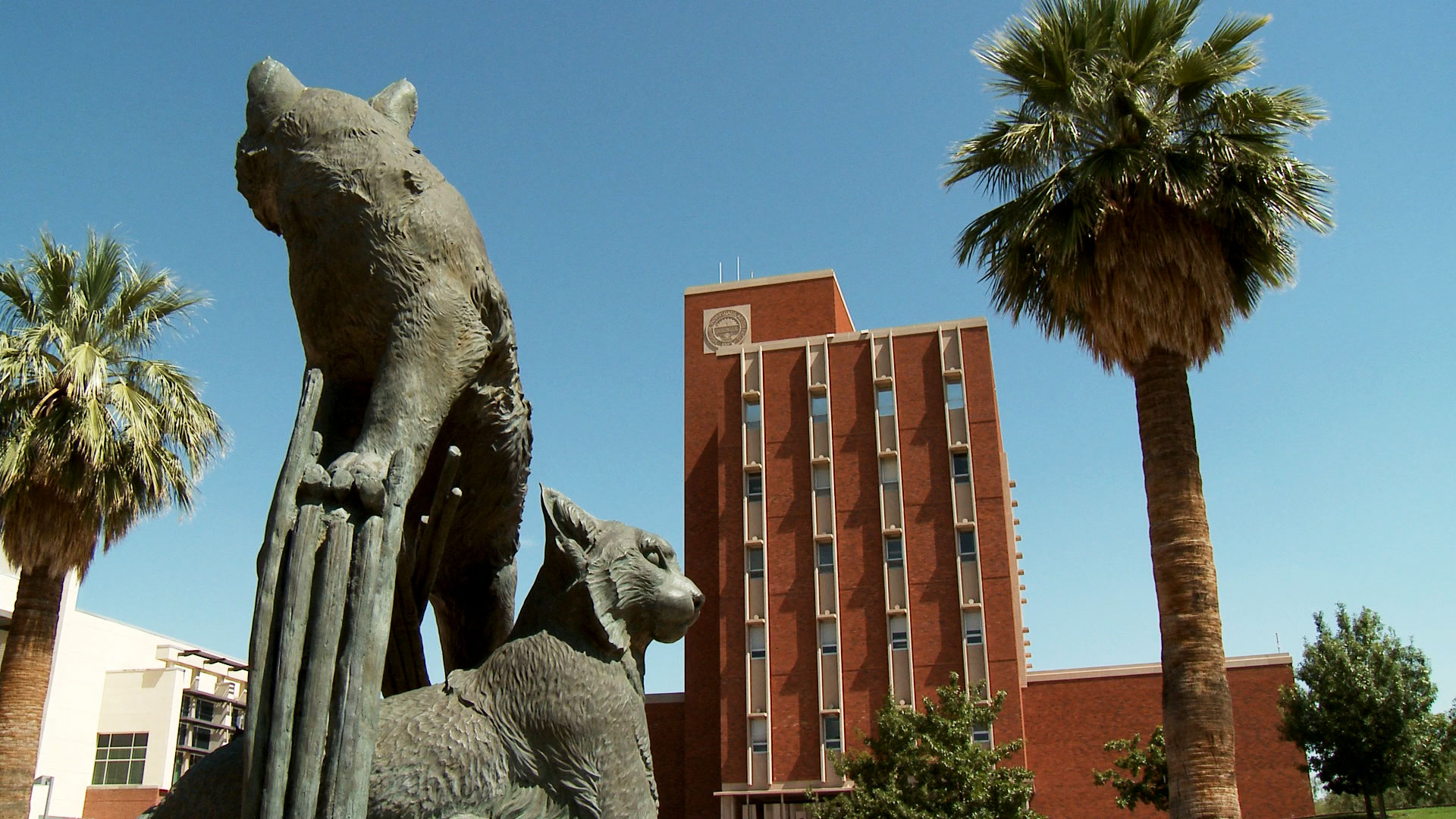 The University of Arizona Administration building.
AZPM Staff
The University of Arizona has acquired an online, for-profit university with a controversial history, leaving some in the university community wondering what the deal means for the UA's reputation.
The UA acquired Ashford University's 35,000 students Tuesday in a bid to create a new independent nonprofit entity dubbed UA Global Campus to compete in the online education space. Ashford has a controversial history, and its parent company will continue to operate the online university as a contractor.
"We have a tremendous opportunity here to build upon an established program and build an educational ecosystem that works for working students," said Global Campus interim CEO Paul Pastorek in a press release.
The Western Association of Schools and Colleges approved the deal last week, but that approval comes with conditions. The UA has 90 days to figure out how it will address Ashford's low student graduation and retention rates.
The UA acquired all of Ashford's assets for the symbolic value of one dollar. The new Global Campus is expected to generate over $225 million in revenue over 15 years, according to the UA. Under the terms of the deal, parent company Zovio will receive 19.5% of the tuition revenue from the campus in exchange for providing education technology services.
The Global Campus will be governed by a nine-member board. The board will be chaired by Nivine Megahed, a clinical psychologist and president of National Louis University. Craig Swenson, president of Ashford University since 2016, will continue on as president of the Global Campus.
The deal has attracted controversy in the months since it was announced. Sens. Dick Durbin (D-Ill.) and Sherrod Brown (D-Ohio) sent a letter to UA President Robert Robbins in August urging caution and warning the acquisition "poses major risks for your current students and your institution's reputation as one of the nation's top public universities."
Ashford has been accused of engaging in aggressive and dishonest recruitment tactics, particularly targeted at veterans. The state of California sued parent company Zovio in 2017 for allegedly misleading students about their educational prospects and saddling them with tens of thousands of dollars in debt. The suit is set to go to trial next year in San Diego Superior Court.
The private nonprofit Global Campus will be financially independent of the public University of Arizona, but some university faculty and staff say the deal doesn't make sense for the UA. Over 80% of the 1,074 respondents to an August faculty senate survey did not endorse the deal.
"The Ashford acquisition is full of contradictions," said Leila Hudson at a faculty senate meeting Monday. Hudson co-chairs a faculty committee that released a report outlining steps they say will be necessary to responsibly govern the new university.
Hudson said she's most concerned about the Global Campus board of directors, on which four of the nine members will have direct ties to the UA. She says that's too few to ensure the best interest of the UA community.
"Specific, concrete mechanisms that provide for oversight by the University of Arizona, because our name is on this new entity, should be established," she said.
The faculty report also says the new Global Campus should not negatively affect the existing UAOnline or UA Global and that the board needs to ensure ethical recruitment and financial practices.
Over 200 members of the university community subject to nondisclosure agreements were able to provide feedback on the deal prior to its announcement. The board of directors is completely independent of Zovio, said interim CEO Pastorek.
He said the board recognizes things will have to change.
"The challenges of past allegations of aggressive marketing and debt collection, federal and state investigations, declining enrollments, low retention and graduation rates. We cannot avoid these challenges, we have to face them head on," he said.
Pastorek said the Global Campus will make higher education available to a much more diverse set of students than the University of Arizona currently serves. Over half the inherited Ashford students are nonwhite, 89% are over 25, 71% are women and a quarter are connected to the military.
He said the Global Campus will make changes to ensure strict oversight, such as audits of communications with students and 26 new performance metrics.
The Global Campus joins an increasingly crowded online education space. Arizona State University has expanded to 56,000 online students. Southern New Hampshire University with its 135,000 students opened its western support office in downtown Tucson earlier this year.