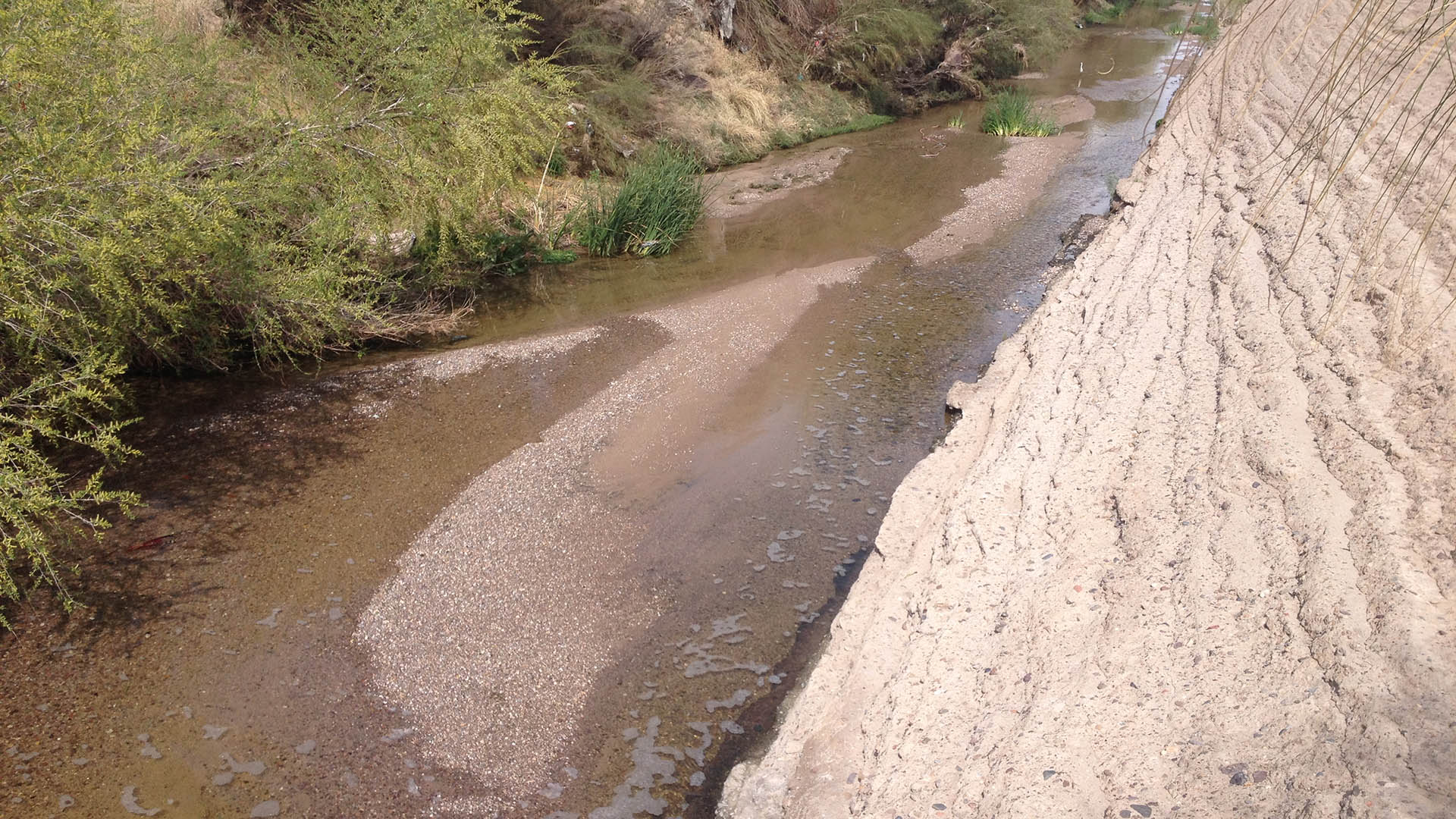 The Santa Cruz River flows downstream of the outflow from the Agua Dulce wastewater treatment plant.
Sara Hammond, AZPM
The Arizona Department of Environmental Quality is beginning to draft a set of regulations to protect surface water following the Trump administration's rollback of the Clean Water Act.
The changes that took effect in June significantly narrow the list of waters that receive federal protection from pollution and contaminants, known as "waters of the U.S." or the acronym "WOTUS." And that leaves a big regulatory gap in Arizona, which currently has no surface water protection program.
In a Friday stakeholder webinar, ADEQ presented a framework for the new state regulations, asking for feedback and input.
Water Quality Division Director Trevor Baggiore said the goals of the new program are to protect public health and the environment in state waters and sustain the economy, since water-based recreation is such a key part of life in Arizona. He noted many favorite state rec areas, including Roper Lake near Safford and Granite Creek in Prescott, will no longer be protected under the Clean Water Act.
"And as Arizonans, we live mostly in a desert climate, where there's water we go and play in it, right? We recreate in it and around it, so it's important from our perspective that these waters and the people interacting with them be protected," Baggiore said.
The proposed state surface water framework would protect all waters of the U.S. (which are already protected under the Clean Water Act), all eight major state rivers, including the Santa Cruz and San Pedro, and a yet-to-be-created list of additional waters.
"What the agency is proposing to do is to use the existing framework that exists for the Clean Water Act permits...and to develop a second tier of those waters, what we've internally been calling our 'protected waters list,'" Baggiore said.
The new regulations will exclude ephemeral waters (those that only flow after rain or snow), ditches and canals, swimming pools and stock tanks, among others. According to Baggiore, the current proposal will not regulate non-point source pollution (like agricultural or urban runoff), and will not create a state dredge and fill permit like the 404 permit under the Clean Water Act.
The state department has been working on gathering input on these rules for the last year, and could put forth legislation to create the new regulations during the upcoming session. If such a bill was passed and signed by the Governor, the new regulations could take effect sometime next summer.