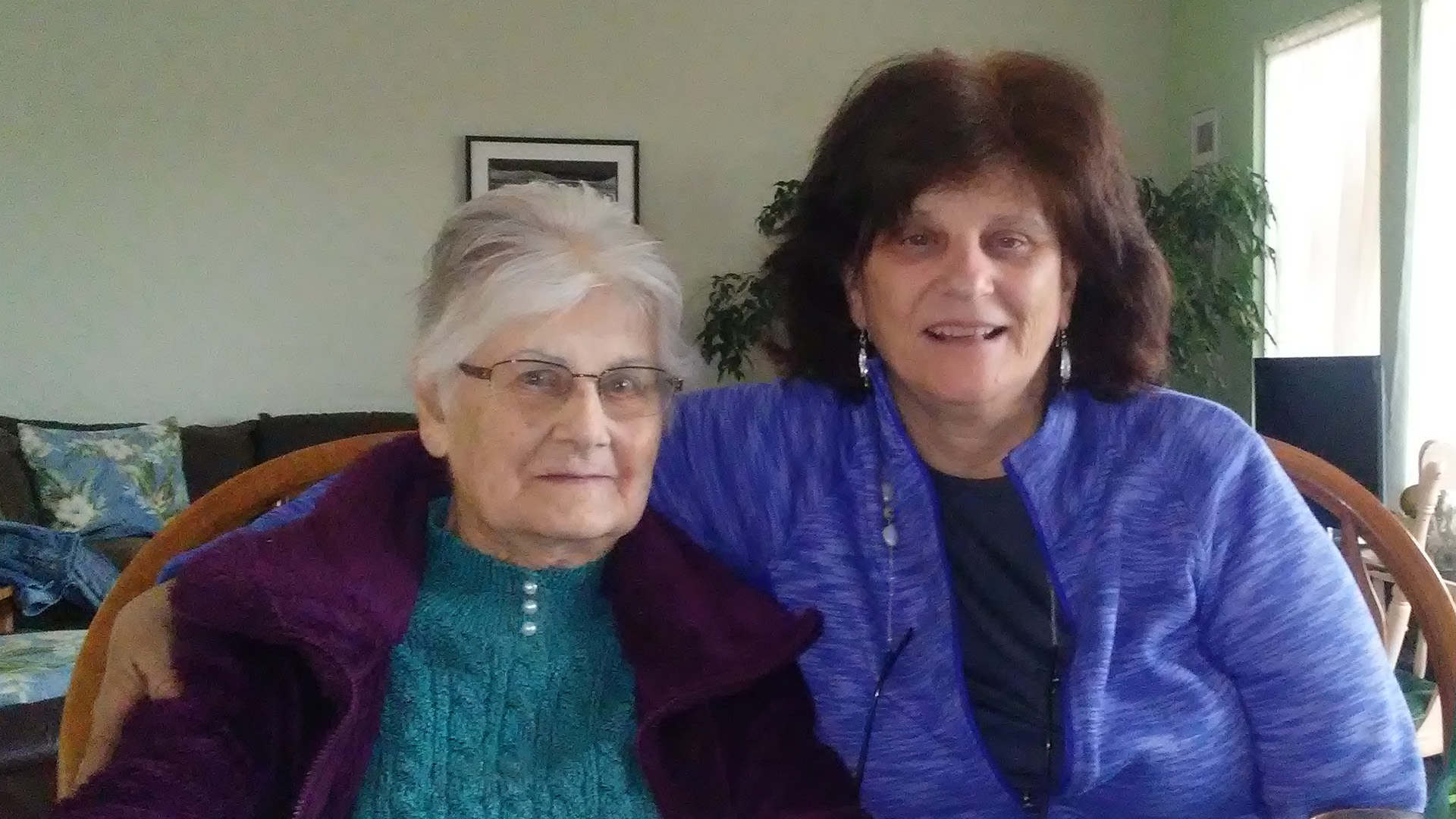 Margaret and Cathy Kay in January 2020, a few months before Margaret's death.
Courtesy of Cathy Kay
Cathy Kay said though her mom didn't die of COVID-19 while living in an assisted living center this spring, the circumstances of her death are connected to the pandemic. She said she thinks her mom died of loneliness.
When COVID-19 took hold in Arizona in late March, some of the places it hit hardest were long-term care facilities. Older people living in close quarters with existing health conditions were vulnerable targets.
May 28, 2020, was the day Elizabeth "Margaret" Kay died in her assisted living facility in east-central Tucson.
"She had lost all reason to live, because all of her family was taken away from her. Everybody was taken away from her," said Cathy.
With Thanksgiving just around the corner, families who have loved ones in assisted living centers may want to bring them home for the holiday. With COVID-19 cases in Arizona rising rapidly, Gov. Doug Ducey's task force on long term care isn't recommending residents of assisted living facilities go home for the holidays. The task force continues to emphasize the roles of designated essential visitors to attain in-person visits and boost mental health.
Cathy said before the lockdown, Margaret had a stream of visitors each week. She liked to look smart and have her nails done.
"There was a bright-eyed, bushy-tailed 96-year-old, with a lovely laugh, who thoroughly enjoyed her family, and just was left lonely — how horrible," said Cathy.
When Arizona's shutdown began in late March, Cathy said her mom was plunged into isolation. Like many loved ones, she begged to see her mom, but facilities weren't allowed to let visitors in, as a way to keep COVID out.
Cathy said on the rare occasion she was allowed to see her mom through the window, Margaret wasn't herself. Cathy said her clothes had food on them, she wasn't eating or drinking as much, her nails were long, and she couldn't hear Cathy because she didn't have her hearing aids in.
Dr. Melvin Hector is a geriatrics specialist and associate professor at the University of Arizona
Dr. Melvin Hector is a geriatrics specialist and associate professor at the University of Arizona. He said the severity of mental health effects of isolation, like those seen during the shutdown, depend on the person's pre-existing health. In Margaret's case, she had dementia.
He said isolation can affect blood pressure, anxiety and depression. It can also accelerate cognitive decline like dementia, as can loneliness.
"It is as much a factor leading to patients' premature death as things that we would classically consider, like smoking or obesity or a sedentary lifestyle," said Hector.
Hector said it's important to note that being alone doesn't always mean a person feels lonely or isolated. However, if someone is both lonely and socially isolated, he said they're getting a double dose of sorts, which can weaken their immune system.
"Which is kind of remarkable, because we don't often think about asking — when we see a patient, when we see a colleague, when we see a friend — how socially isolated they are," said Hector.
Ducey established a task force on long term care in June to respond to the pandemic. Chair Christina Corieri said a top priority of the group is finding ways to help the mental health of residents. Corieri recognized that in-person visits mean a lot to people, even if virtual visits are an option.
"That's why we were able to come up with a program to safely allow designated essential visitors to come in, and we know those will be especially important during the holiday season," said Corieri.
Along with their visitation guidelines, the task force allowed residents to name two people who can come inside to visit and help with care — designated essential visitors. But they must get tested for COVID-19 at the same frequency expected of facility staff: once a month to twice a week, depending on the level of spread in the community.
As for the upcoming holidays, Corieri emphasized that with the bulk of Arizona counties now exhibiting moderate spread, the task force doesn't recommend residents leave their facilities at all, except to go to the doctor.
"The reason for this is when someone goes off site for a visitation, they come into contact with more people. They could potentially become infected with COVID-19, and then if they came back, potentially spread that throughout the facility," said Corieri.
Corieri said these are just recommendations and that if a resident does decide to have an off-site visit during the holidays, it's in the hands of the facilities to decide if they'll need to take a COVID-19 test or quarantine when they get back.