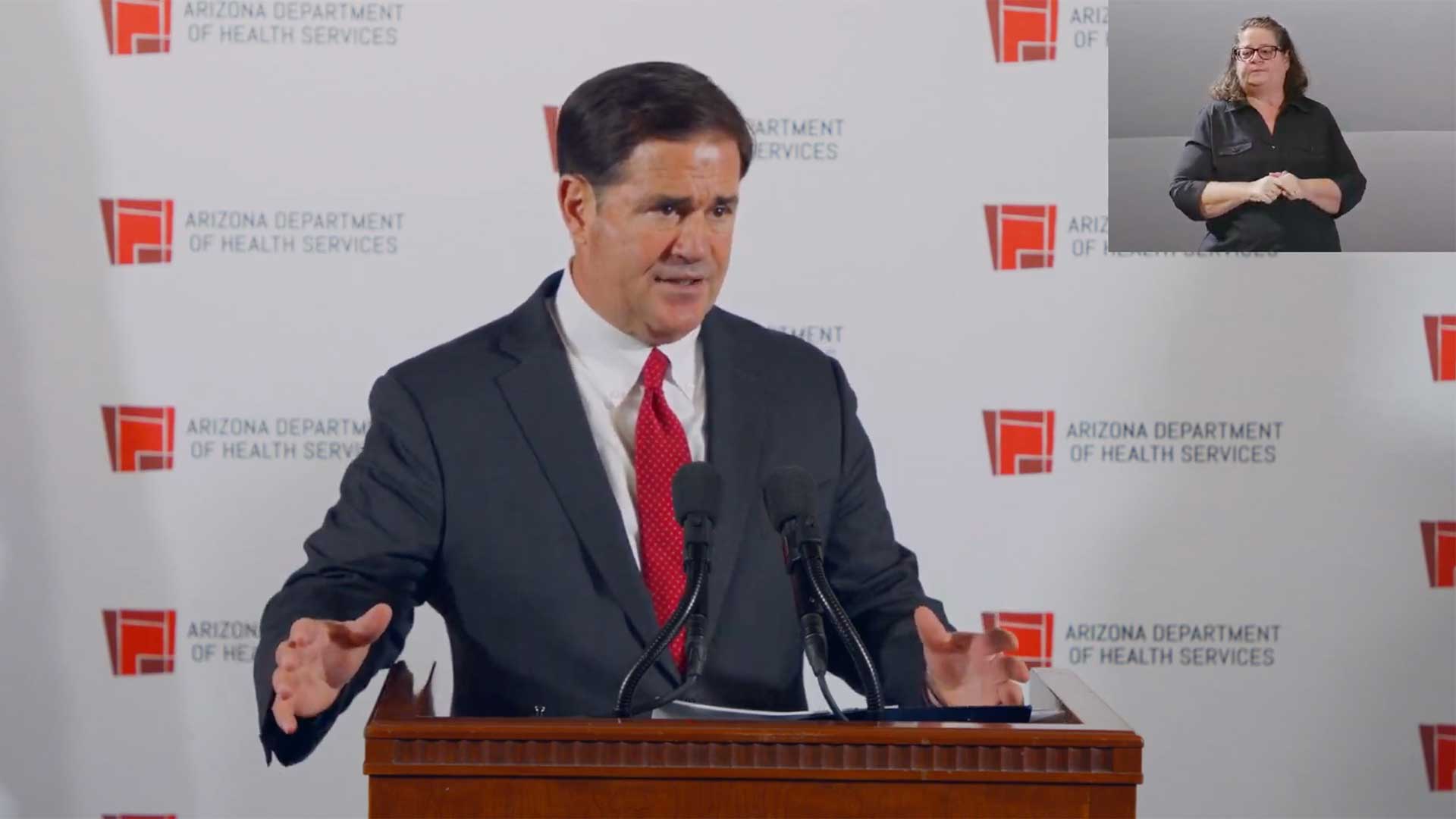 Gov. Doug Ducey at a Nov. 18, 2020 media briefing on the state's COVID-19 response.
Office of the Arizona Governor/YouTube
Gov. Doug Ducey ended his relative silence on Arizona's COVID-19 response Wednesday in his first live media briefing since late October, using the opportunity to ask Arizonans to wear masks but not to impose any additional restrictions as the state reports a surge in cases.
All major measures of COVID-19 were "heading in the wrong direction," Arizona Department of Health Services Director Cara Christ said at the briefing. Those rising trends have been noted for weeks, and are showing no signs of slowing as the holiday season approaches.
"We are over 200 cases per 100,000 (people), one of the highest weeks we've had overall if you look at that," said Dr. Theresa Cullen, Pima County Health Department director.
Ducey said, "We aren't out of the woods," but didn't change any other restrictions and asked people to follow state health guidance for celebrating the holidays, including moving celebrations outside and limiting gatherings.
This summer, Ducey allowed local governments to put mask mandates in place. Tucson Mayor Regina Romero was a strong proponent of that. Now, she wants a statewide mask mandate.
"The city of Tucson could potentially go it alone. But, as I said, we are not in a bubble. If Tucson goes it alone then Marana and Sahuarita, and Oro Valley, and unincorporated Pima County — if they have other strategies then it is not going to help. We have to do it together," Romero told AZPM.
Asked why he hasn't imposed a statewide mask mandate, Ducey responded that many local municipalities have their own mandates, adding he wanted to avoid some of the "division and politics."
"Many of the policies we put in place over the summer are still in place today. Nearly 90% of the state is under local mask mandate and statewide masks are required in restaurants, move theaters, gyms and more," Ducey said.
Romero said while Ducey needs to put in statewide restrictions he also needs to communicate better with local governments.
"We have asked the governor to renew his calls with local jurisdictions. He started out really well, having his staff connect and inform mayors throughout Arizona. We haven't seen one of those calls, I would say, easily in the last four months," Romero said.
The governor has so far stopped short of following the lead of officials in neighboring states like Utah, whose Republican governor announced a statewide mask mandate earlier in the month.

Noting recent news of two promising vaccine candidates, Ducey issued an executive order to extend the "enhanced surveillance advisory to collect information on these vaccinations," which he says will help people complete the vaccine courses and target certain communities.
The race to roll out vaccines is moving at a breakneck speed. Top infectious disease expert Anthony Fauci said he hoped they would be available to Americans soon, but cited April as his earliest estimate.
Ducey also said he was asking for better messaging and more targeted testing, adding that he was asking Christ to issue an emergency measure to make sure schools in the state are implementing mask policies they are already required to have.
The governor said he was directing $25 million in funds to improve hospital staffing, to address staff costs and reward existing employees with bonuses.
The briefing came as the state continued its steady climb in increasing spread of the coronavirus, with 3,206 cases and 53 additional deaths reported on Wednesday alongside rising hospitalizations and test positivity rate. Several state and local officials have called on him to institute more preventive measures such as a statewide mask mandate.
The Associated Press contributed to this report.