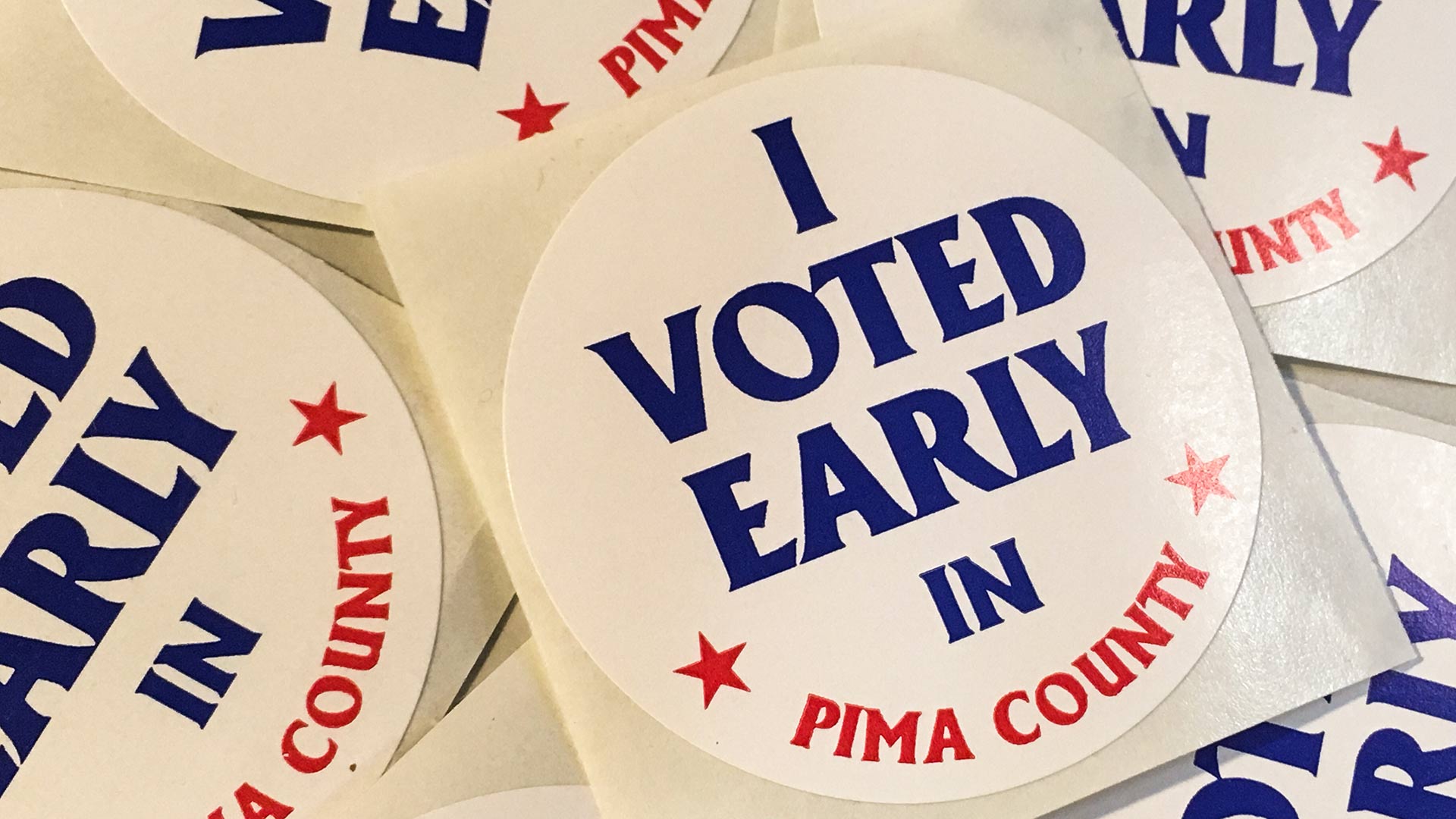 Early-ballot stickers for voters in Pima County.
AZPM
U.S. presidential race
Republican President Donald Trump and Vice President Mike Pence face Democratic challengers Joe Biden and Kamala Harris in the Nov. 3 general election, which is taking place during a pandemic that has fundamentally altered daily life. Find the latest national election coverage from NPR.
U.S. Senate: McSally faces challenger Kelly
In one of the most closely watched races in the country, Democrat Mark Kelly hopes to unseat Republican Martha McSally in the U.S. Senate, an office she was appointed to following the death of Arizona Sen. John McCain. Polls leading up to the final month show Kelly, a former astronaut, ahead of McSally, a former Air Force pilot.
Watch the Oct. 6 debate between the two candidates.
Learn more:
3rd Congressional District: Grijalva (D), Wood (R)
Arizona's longest-serving Democrat in Congress and the Republican challenging him each blame the other's party for not making progress on immigration reform. Read more at the link below.
Wood, Grijalva debate in Phoenix
1st Congressional District: O'Halleran (D), Shedd (R)
Arizona's 1st Congressional District is one of the largest and most diverse in the country. In the coming election, voters will choose between two candidates who each claim to represent a broad range of concerns.
The sprawling 1st District reaches into the Phoenix and Tucson suburbs, touches 11of the state's 15 counties, and goes all the way to the state's northeastern tip at the four corners.
Since 1940, it's been represented in Congress by seven Republicans and five Democrats. The current congressman, Tom O'Halleran, has a bipartisan history of his own. He served as a Republican in the state Legislature before switching parties in 2015, and being elected to the U.S. House the next year as a Democrat.
Republican challenger Tiffany Shedd is a farmer, lawyer and small-business owner based in Eloy. This is the second time she's run for Congress from the 1st District. Her website describes her as a "constitutional conservative." Read more below.
Shedd challenges O'Halleran in Arizona's 1st Congressional District
Prop 207: Recreational marijuana
Arizona voters will have another chance to legalize recreational marijuana, four years after rejecting a similar initiative.
This year's Smart and Safe Act, or Proposition 207, looks to decriminalize recreational use. If passed, adults 21 and older could legally use and buy the product, and possess it in limited quantities. Prop. 207 spokesperson Stacy Pearson said the new bill is informed by criticisms of its predecessor.
Prop 208: Wealth tax to boost education funding
Arizona voters will finally have the chance to weigh in on the so-called "Invest in Ed" ballot measure this November after the Arizona Supreme Court knocked it off the ballot two years ago.
Teachers unions and education advocates are campaigning hard for Proposition 208, which they say will help address Arizona's teacher shortage. The measure aims to make up for lagging state funding with a tax on the wealthy.
But Prop. 208 opponents question whether advocates' predictions are accurate and argue that the measure would make a tiny fraction of taxpayers disproportionately responsible for funding public education.
Arizona Corporation Commission
The role of the Arizona Corporation Commission may not be that well understood by most state residents, but it is a powerful part of state government. It is responsible for regulating the state's utilities, including approving the rates they can charge customers. It also regulates railroads and pipelines, business corporations and securities. Some describe the commission as the fourth branch of state government.
Learn more about the utility regulator and hear from the candidates looking for a seat on the commission on this episode of The Buzz.
25 judges to vote on? Start here.
There are 25 judges on the ballot in Pima County, and it's up to voters to decide whether they should keep their jobs. But many voters aren't sure how to judge a judge.
Judges aren't politicians. They don't create policy or spend taxpayer dollars, but their rulings have a big impact on life in Arizona. This year alone, the Arizona Supreme Court ruled Gov. Doug Ducey's order postponing the enforcement of evictions could stand after it was challenged by landlord groups, yet Ducey was forced to allow gyms to reopen after a ruling by Maricopa County Superior Court Judge Timothy Thomason.
Click here to learn more about some of the judges on the ballot.
Pima County Board of Supervisors
The Pima County Board of Supervisors sets public policy for a range of key areas, including taxes, economic development, roads, public health, natural resources and how the county spends money in all of those areas. The supervisors represent five districts and hold four-year terms. All are up for election this year, with a Republican and a Democrat candidate running in each district. AZPM surveyed the candidates for their views on the issues. Find their answers here.
Hear a discussion of the candidates and their platforms in this episode of The Buzz.
Pima County sheriff
Republican Pima County Sheriff Mark Napier is running for reelection this fall. His opponent is former Pima County Sheriff, Democrat Chris Nanos.
AZPM hosted a debate between the candidates. Watch the debate here.
During the debate, candidates answered questions on topics ranging from the department's budget to maintaining the southern border to increased scrutiny on law enforcement, including their personal records with the Sheriff's Department. The candidates also had the chance to explain why they are running and touch upon campaign season conflicts with each other.
Pima County recorder
Retiring Pima County Recorder F. Ann Rodriguez has been in her position for nearly 30 years. The county recorder position entails several responsibilities but is best known for the work running and supervising local elections.
Democratic candidate Gabriella Cázares-Kelly faces Republican candidate Benny White. Learn more about the candidates and their platforms on this episode of The Buzz.
Pima County attorney
Defense attorney Laura Conover, a relative outsider, easily defeated her two Democratic opponents to win the primary race for Pima County Attorney, leaving her running unopposed in the race to replace Barbara LaWall, who held the position for 24 years.
TUSD School Board
Tucson's largest school district has seven candidates running for three open seats on its governing board.
Learn more about the candidates' views expressed in an Oct. 8 forum The League of Women Voters Tucson held a candidate forum in August. Find video of that forum here.

Read more coverage of national, Arizona, and local elections at our 2020 elections portal,
Your Vote 2020
.