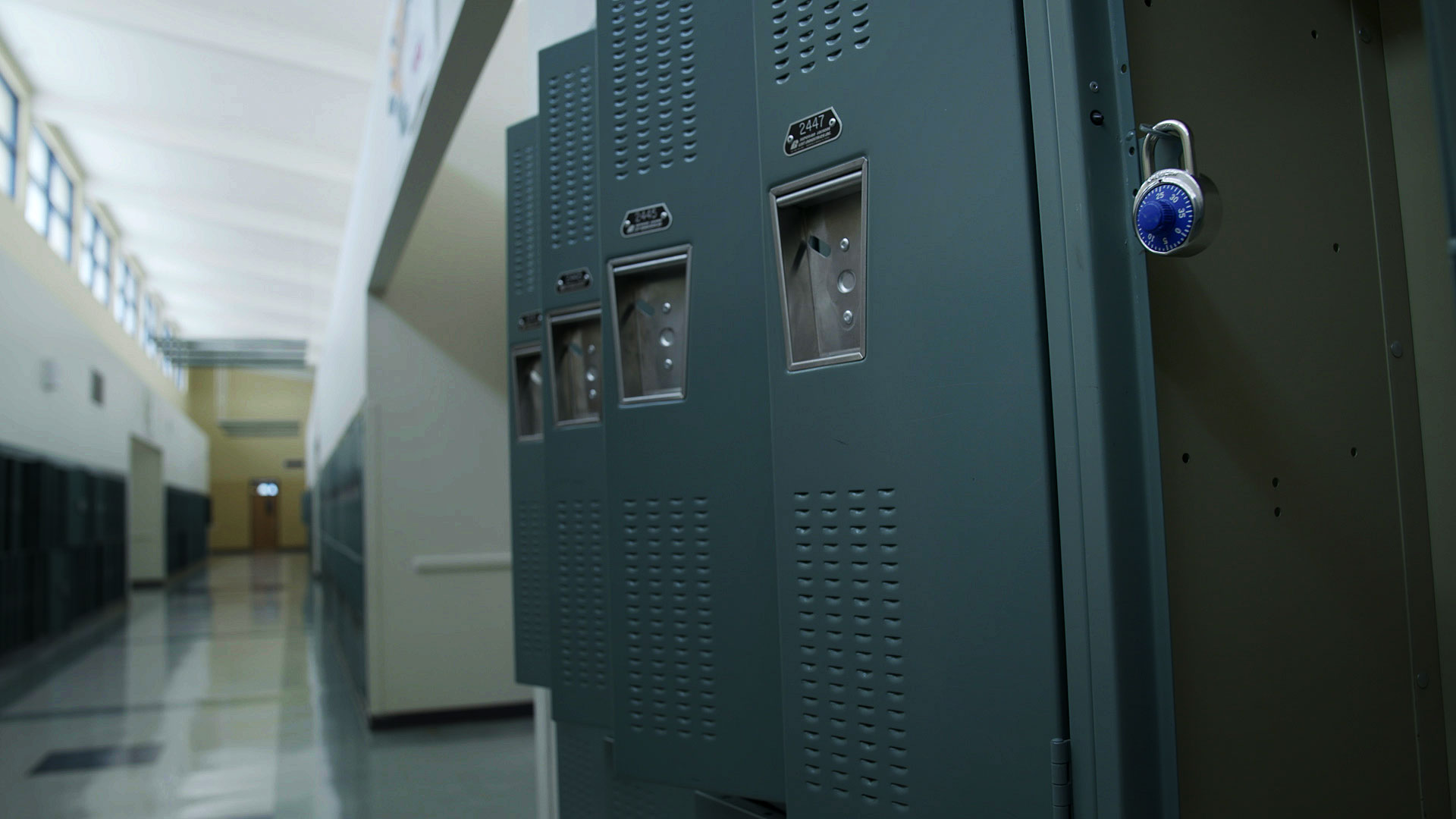 A row of empty lockers in a hallway at Marana Middle School.
AZPM Staff
Election Day is nearly here, and with it comes the potential for changes in leadership on school district governing boards. The Tucson Unified School District Governing Board has three empty seats with no incumbents running. No matter who wins Tuesday, the majority of the board will be new members.
The new members of the governing board will be tasked with dealing with major budget cuts in the district. At a Tuesday night meeting of the board, school officials announced an expected loss of at least $15 million in funding next school year.
That expected loss is due to a decrease in student enrollment. TUSD has seen a 5.7% drop in enrollment, as of Oct. 23. Statewide, enrollment is down 5%, with kindergarten enrollment hit particularly hard.
Partly out of an effort to stop the flow of families leaving, the TUSD Governing Board approved a Nov. 12 start date for hybrid classes in the district.
Rising COVID-19 cases in the state pose a threat to school reopenings. However, this week the official guidance on when to close schools and transition back to virtual learning changed. Unless all three of the benchmarks that the Arizona Department of Health Services set for schools are in the red zone, counties will not be expected to close schools. Previously, only one of these metrics needed to be red in order for schools to close.
Meanwhile, the University of Arizona must reckon with its own pandemic-related financial losses. Though enrollment was down this year, UA president Robert Robbins said the financial loss was not as large as was estimated.
Since it is Halloween, those with school-aged children might want to check out the guide the Centers for Disease Control and Prevention released to make Halloween activities safer this year.
---
Arizona officials split on school guidance
AZPM
When it comes to guidelines for switching schools from in-person to virtual learning, Arizona's top officials don't all seem to be on the same page.
The state health department tracks three benchmarks for each county. Until this week, the state recommended that a school district switch to virtual learning if any one of those metrics turned "red," indicating rising infections in a county.
State Health Director Cara Christ says local officials told her that was a problem.
In sparsely populated areas, just a few cases of COVID-like illness could prompt officials to send students home for remote learning. As of this week, though, all three benchmarks have to go into the red zone to change the guidance for schools in a particular county.
Christ says the state Department of Education was part of the conversation. But State Superintendent of Public Instruction Kathy Hoffman tweeted that her department did not request or recommend any changes to the school benchmarks.
---
TUSD to start hybrid classes Nov. 12
AZPM
The Tucson Unified School District will begin hybrid-learning classes Nov. 12. The TUSD Governing Board approved the start date in a 3-2 vote during its meeting Tuesday night.
Under the plan, students enrolled in the hybrid model will attend morning classes on campus four days a week, with time in the afternoon for independent work online. For students who remain remote, mornings are for independent online work and afternoons will feature real-time instruction from teachers.
The board initially approved the hybrid plan without a set start date during its Oct. 6 meeting.
---
TUSD enrollment decline puts finances in jeopardy
AZPM
The Tucson Unified School District has so far experienced a 5.7% drop in student enrollment compared with last school year, officials said this week, which they expect will lead to a loss of millions in funding.
The enrollment decline, as of Oct. 23, will likely require the district to make cuts, officials said at Tuesday's TUSD Governing Board meeting. Public education funding in Arizona is tied to student enrollment.
Statewide, enrollment in public and charter schools is down about 5%.
---
Arizona school enrollment loses approximately 50,000 students
Arizona Republic
Public and charter schools experienced a 5% decline in student enrollment since the end of last school year. That is an estimated 50,000 kids, the Arizona Republic reports.
Changes in population and increases in homeschooling cannot fully account for the loss.
Kindergarten saw a particularly large drop in enrollment, at 14%. Kindergarten is optional in Arizona, but missing out on early childhood education has some experts worried.
Learn more at AZCentral.com .
---
Arizona education board makes Holocaust a learning requirement
AP
PHOENIX — The Arizona State Board of Education has voted to make learning about the Holocaust and other genocides a requirement for middle and high school students across the state, mirroring proposed legislation that failed.
KJZZ-FM reported that the board has added these subjects to the minimum course of study and competency goals and graduation requirements for Arizona students. Previously, these subjects were part of the board's History and Social Science standards.
The House bill, sponsored in part by Aaron Lieberman, was introduced earlier this year but didn't go anywhere after the coronavirus pandemic cut short the legislative session.
---
Pandemic worsens Arizona teacher shortage
Arizona Republic
Partly out of concerns related to the pandemic, over 300 more teachers have left Arizona schools this year compared to last year. The Arizona Republic spoke with three teachers who left.
A survey sent out to teachers who left found that over 300 of these teachers said the COVID-19 pandemic was a major factor in their decision, the Arizona Republic reports. That's out of 751 teachers who have resigned or quit this school year.
---
UA president urges caution over Halloween
AZPM
University of Arizona officials are urging students to be responsible when celebrating Halloween this weekend. The university has continued to break up large parties and officials said that kind of behavior will lead to an uptick in cases of COVID-19.
University President Robert Robbins reminded students and the university community that even in costume, people need to wear masks.
Last week, the university broke up a dozen parties, including one with more than 100 people in attendance.
UA has a month of on-campus classes left before the Thanksgiving break. After the break, all classes will finish the semester online.
---
UA fall-semester revenue better than expected
AZPM
University of Arizona officials estimate that 20-25% of students decided not to attend the university during the fall semester due to the COVID-19 pandemic.
Initial estimates from the university put the cost of those lost students at about $90 million. Robbins says, so far, the shortfall has only reached about $50 million.
Registration gets underway next week for the Spring semester and university officials are uncertain how many students will return for classes.
Robbins said next semester will look similar to this one. Classes will begin online and then slowly transition to some in-person classes if there is no major outbreak.
Currently, the university allows classes of 50 or fewer people to meet in-person. Robbins said about 6,000 students are on campus at this point.
In-person classes for everyone probably will not happen for a year, according to Robbins.
---
Arizona Supreme Court explains education tax ruling
AP
PHOENIX — The Arizona Supreme Court says a trial court judge misconstrued an earlier court ruling when he blocked a voter initiative over the summer that the high court later revived.
The high court on Monday issued a written ruling explaining its reasons for reinstating the Invest in Education Act to the November ballot. It will appear as Proposition 208. The high court said the judge went much further than it intended in a 2018 ruling that blocked a similar initiative from appearing on that year's ballot.
The court also issued guidance clarifying how courts should review similar challenges in the future.
---
AP source: Arizona accused of 5 Level I violations by NCAA
AP
Arizona was accused of nine counts of misconduct, including five Level I violations, in a Notice of Allegations sent by the NCAA last week, a person familiar with the situation told The Associated Press. The person spoke on condition of anonymity because the violations have not been publicly released.
The Athletic first reported the violations on, citing a letter sent to the NCAA by Arizona's outside counsel, Paul Kelly. The violations include a lack of institutional control and failure to monitor by the university, and lack of head coach control by men's basketball coach Sean Miller.