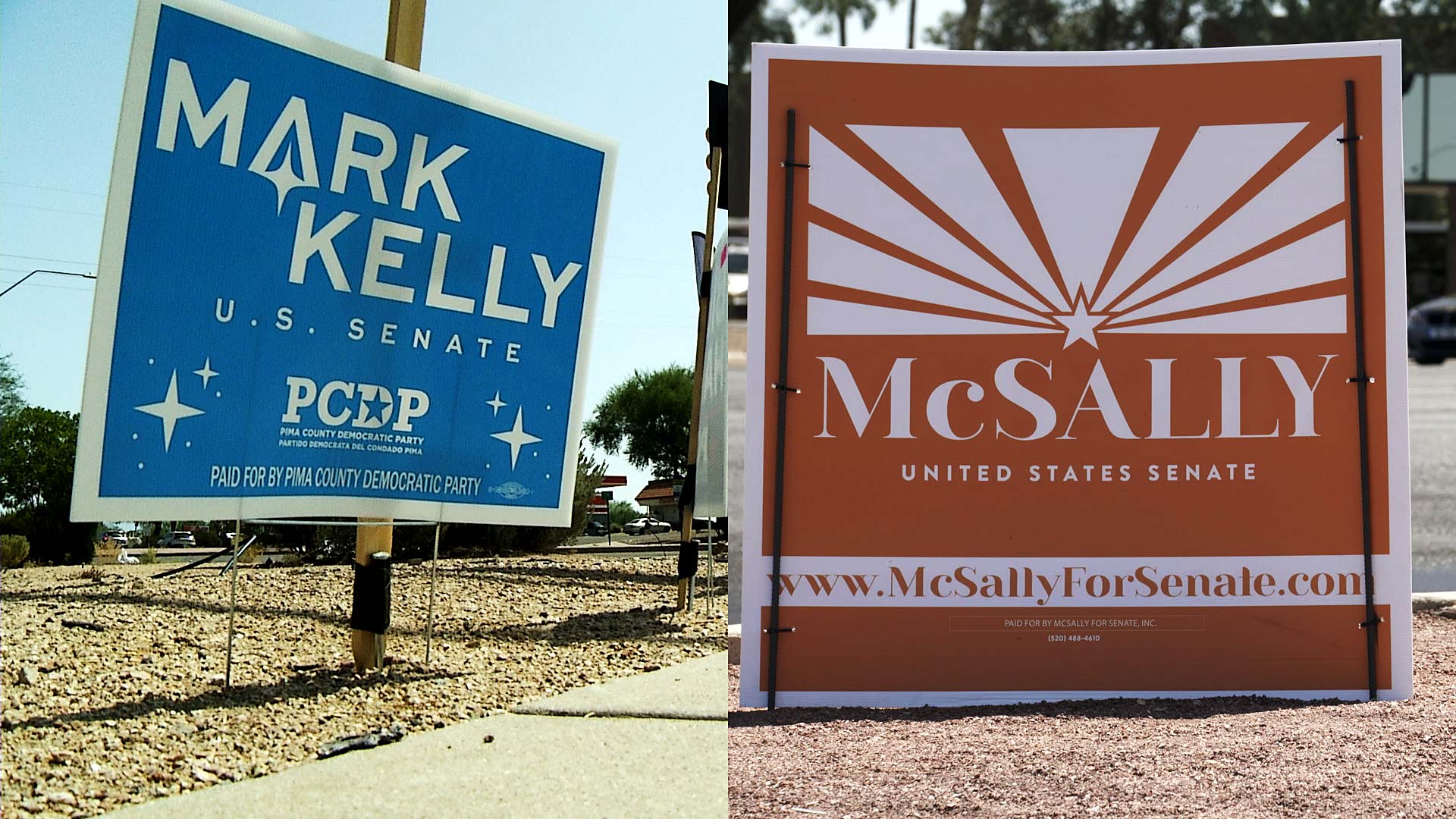 Experts say Arizona's demographic shifts partly explain the changes in voting trends, but don't tell the whole story.
John DeSoto/AZPM
Robbie Shaw is a lifelong Republican who identifies with the party's beliefs in small government, the rule of law and veneration of the Constitution.
But this year, she's actively supporting Democrats, and trying to convince her fellow Republicans to do the same.
"Part of it is I feel like I have to repent because I voted for Donald Trump in 2016. And I really feel like it was probably the biggest mistake of my life," she said.
Democratic candidates Joe Biden and Mark Kelly have held consistent polling leads over their Republican opponents this election season. The state that birthed Barry Goldwater is moving to the center, and Republicans are helping to take it there.
Shaw, a moderate Republican, feels abandoned by the party under Trump. She was turned off by what she sees as the president's disregard for the separation of powers and an independent judiciary. She feels the party no longer represents the unique brand of conservatism embodied by the late Sen. John McCain.
She's part of a group that includes national figures like former Arizona Sen. Jeff Flake, who starred in a Biden ad this week. The president and state GOP have dismissed these defectors as a small share of the electorate. But a recent poll from the Arizona Policy Lab at the University of Arizona indicates those moderate voters are likely to decide which candidates will take Arizona.
When you fill out your ballot, ask yourself: Who will best restore decency and civility to the White House. Who can I be proud to tell my children and grandchildren I voted for. pic.twitter.com/dwZ1YH25QL

— Jeff Flake (@JeffFlake) October 28, 2020
"The common narrative is that because of demographic changes, Arizona is moving to the left. I would say that's certainly true. It's probably more accurate to say Arizona is moving to the center, though," said Christopher Weber, associate professor at the UA School of Government and Public Policy.
Registered Republicans still outnumber Democrats in the state by about 130,000 voters. But the survey of over 1,100 Arizonans in early September found as many as a third of Republicans identify as moderate, with softer views on immigration and support for efforts to contain the spread of COVID-19. Many value independence in their elected officials.
The same is true of Arizona's third-largest voting group: independents. Roughly 60% of independents in Arizona identified as moderate. A third of Arizona voters are registered with no party preference.
Weber said Democrats are getting better at appealing to these more moderate voters, which is how Democrat Kyrsten Sinema was able to win over enough Republicans and independents in 2018 to win her Senate seat. He said Democrat Mark Kelly is waging a very similar campaign, positioning himself as an independent voice in the party.
"I can't think of many races where someone challenging the incumbent and the challenger without a record airs so many advocacy ads and so few negative advertisements," he said.
The survey found a majority of independents support Biden and Kelly. Nearly a fifth of Republicans in Pima County are backing Democrats this year, according to a recent Arizona Daily Star poll. Weber said he doesn't expect this is a permanent realignment of voters. There's a strong element of negative partisanship involved — that is, casting a ballot against Donald Trump and his Republican Party rather than for Joe Biden.
"Many voters who maybe are crossing the aisle are doing so cautiously and probably want to see what happens in four years of a Biden administration," he said.
If trends hold, Democrats appear poised to repeat their 2018 success in Pima County's suburbs. The exurban communities of Oro Valley, Marana and Sahuarita trended in the opposite direction, with more voters backing Republican Senate candidate Martha McSally over Sinema than backed Donald Trump over Hilary Clinton in 2016.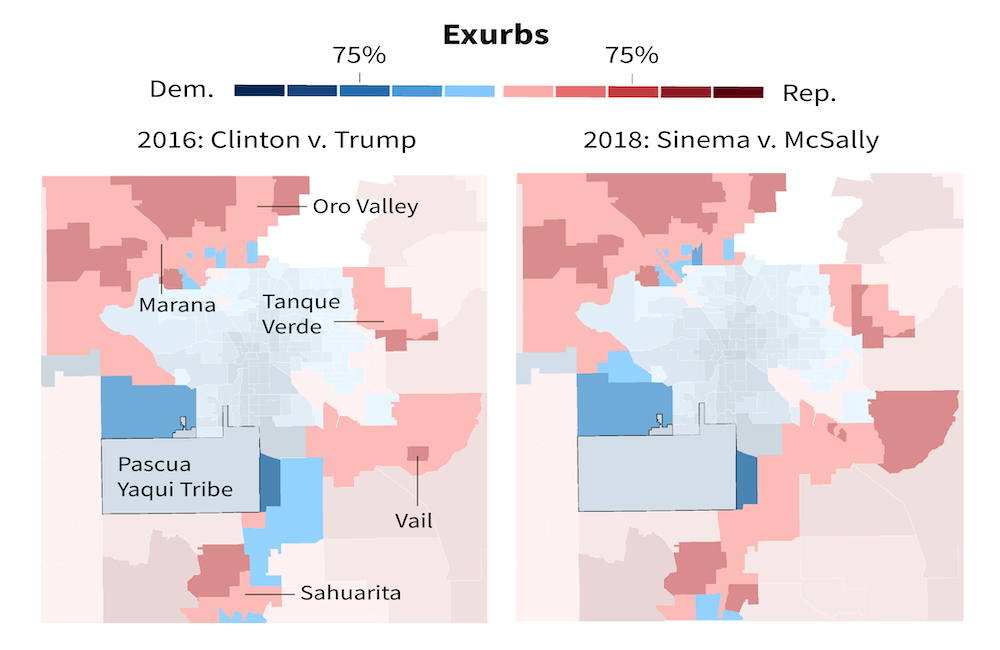 VIEW LARGER Republicans have been able to build on their lead in the exurbs around Tucson.

Jake Steinberg/AZPM, Sources: Arizona Secretary of State, Pima County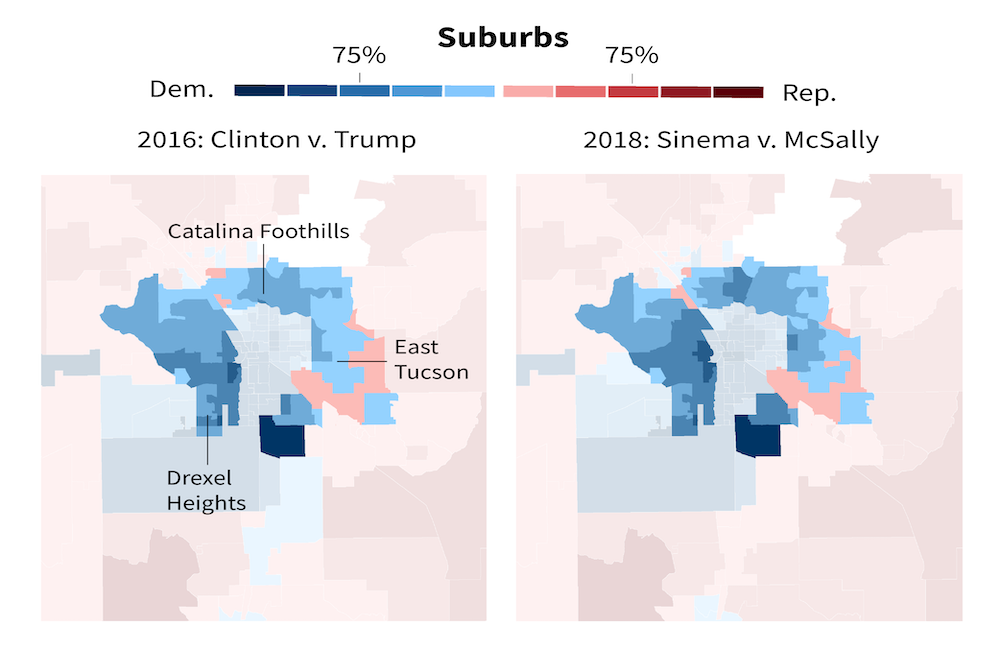 VIEW LARGER Democrat Kyrsten Sinema fared better in Tucson's suburbs — where there are more registered Republicans — than Hillary Clinton.

Jake Steinberg/AZPM, Sources: Arizona Secretary of State, Pima County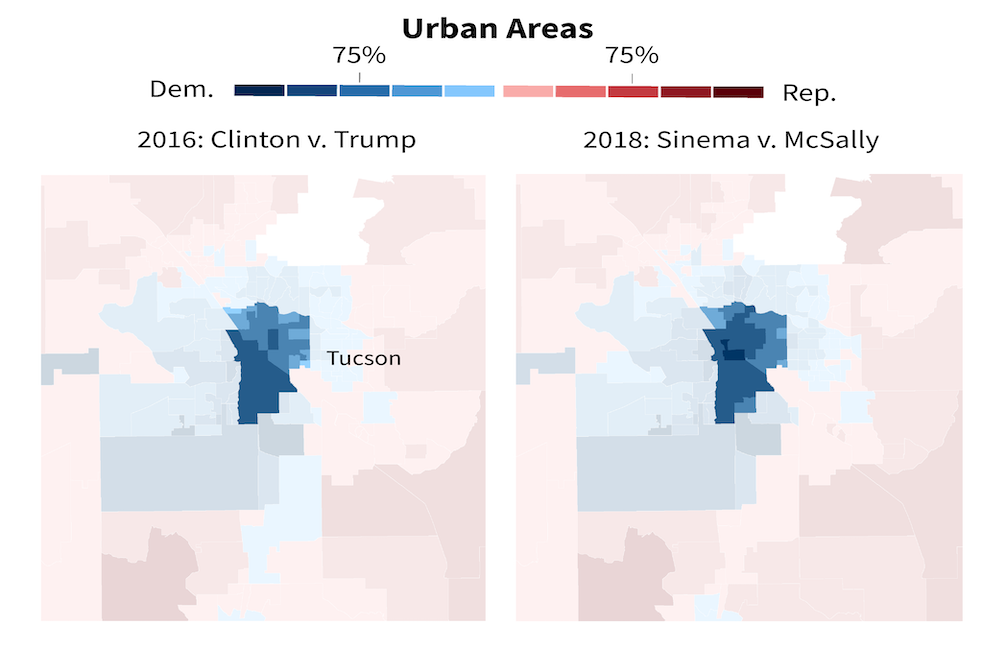 VIEW LARGER Urban Tucson, already a stronghold for Democrats, went even bluer in the 2018.

Jake Steinberg/AZPM, Sources: Arizona Secretary of State, Pima County
UA political psychology professor Barbara Norrander said the COVID-19 pandemic is likely to lead to more women supporting Biden. "One thing about the COVID-19 crisis is that it hurt women's jobs more than men's jobs, which is the opposite of what happened in the 2008 recession," she said.
Data from the Labor Department show more women are leaving the labor force — voluntarily or not — likely due to women being more likely to hold jobs vulnerable to the pandemic and the increased burdens of child care while working from home.
Republican voter Shaw said doesn't view this as a race between conservative versus liberal. She and her Republican friends are simply tired of the president's trademark brand of chaos. She said she's content to worry about policy differences later. But she said the Republican Party she identifies with is dead, but not voting isn't an option.
"You know, we're just tired of the anger and the division between the rich and the poor, and the Blacks and the whites and women and men. We're just tired, we're weary, we're sick," she said.